Tallahassee Welcomes New Faculty with Unique Initiative
First annual event helps community newcomers get to know each other — and their new city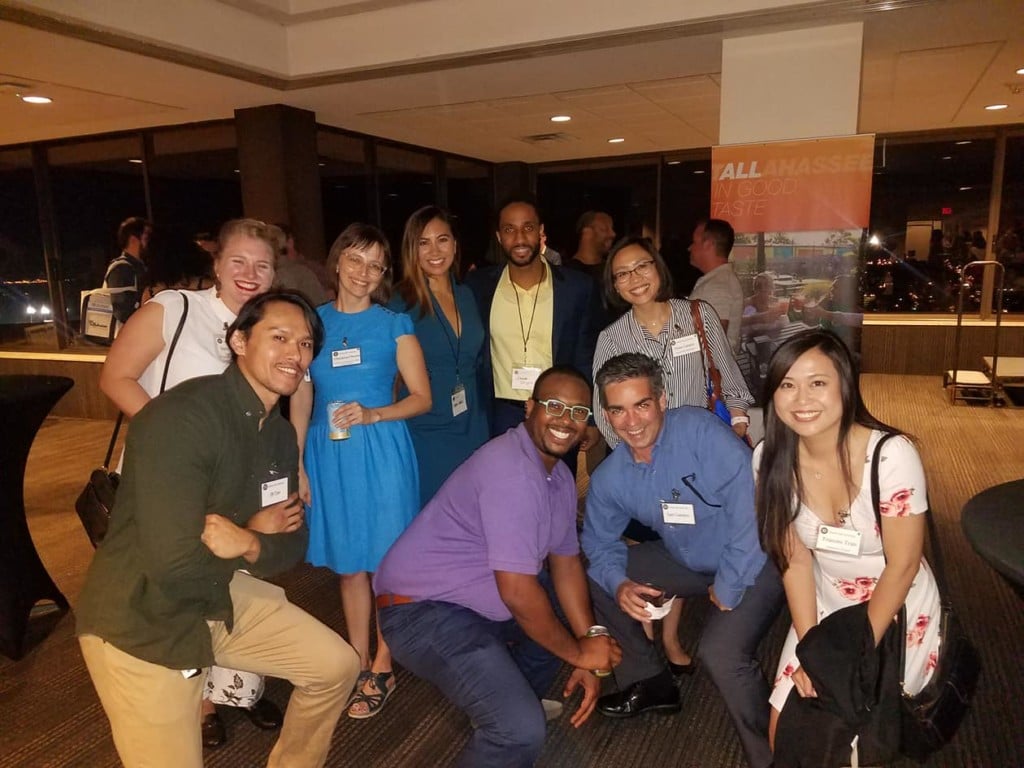 The first annual Tallahassee Welcomes U reception took place at the capitol last week. This new, unique initiative was created to welcome new FSU and FAMU faculty to the Tallahassee area by offering in-person networking and resources in a fun, inviting atmosphere.
"This year FSU welcomes its largest-ever cohort of new faculty members," said Janet Kistner, a co-organizer of the event and FSU's Vice President for Faculty Development and Advancement. "The Tallahassee Welcomes U initiative sends an important message to our new faculty and their families about how much this community values them. I have no doubt that this initiative will reap benefits in faculty recruitment and retention in the years to come."
Organized by Lester Hutt, Director of Communications and Outreach at Diverse Computing, the three-hour networking event was held at the 22nd floor of the capitol with a spectacular view of the Tallahassee skyline. Approximately 200 faculty from FSU and FAMU attended the event.
"I loved having an opportunity to meet leaders in the community," said Associate Professor Kelly Farquharson-Bevens. "I study speech and language development in children and how it impacts their literacy skills. I got to have great conversations with individuals who may become future research partners or participants. I'm really grateful for those connections so early in my time at FSU."
Attendees also heard from elected officials and administrators. The speakers included Representative Loranne Ausley, Leon County Commissioner Kristin Dozier, Chamber President Sue Dick, City Commissioner Curtis Richardson, Synovus Market Sales Leader Jaime Fiore, Auto Data Direct Dealer Services Manager Michael Samaan and Diverse Computing Director of Operations Nichole Moore.
"I was thrilled to be a part of the Tallahassee Welcomes U initiative's inaugural welcome event for new faculty," said Rep. Ausley. "It was great to meet so many incredible faculty joining our institutions of higher learning — and our community. Tallahassee is a wonderful place to call home, and we welcome our new community members with open arms."
The organizers hope to foster an ongoing network of elected officials, businesses and community leaders that will connect newcomers with Tallahassee's most valuable assets — from dining and doctors, to parks and professional networks.
"What a brilliant idea for Tallahassee's newest residents to experience why Tallahassee is the best place to live, work and play," said Sue Dick. "Tallahassee Welcomes U provided a welcoming, high energy and informative social gathering for new faculty and their partners. Talent recruitment and support is a priority for the Tallahassee Chamber, and we were thrilled to be a part of this event."
Each attendee received an exclusive gift bag of locally sourced goods, contact information, referrals and a list of the top 50 things to do in Tallahassee, all donated by local businesses. They were also invited to participate in the Facebook community page where conversations and updates will continue well beyond the reception.
The event was built from the ground up with help from all across the Tallahassee community. Special thanks go out to:
Elizabeth Emmanuel, Program Coordinator at Leadership Tallahassee

Jordan Engelke, Communications Coordinator at Diverse Computing

Honoka Hamano, Graphic Designer at Diverse Computing

Tiffany Baker, Museum Director at Florida Historic Capitol Museum

Jenny Dawson-Dorminy, Coordinator of Recruitment and Marketing at Flagler College
To get involved with TLH Welcomes U, please visit facebook.com/groups/tlhwelcomesu.