Tallahassee Teens Get a Hands-On Lesson on the Importance of Responsible Driving
Driven to Safety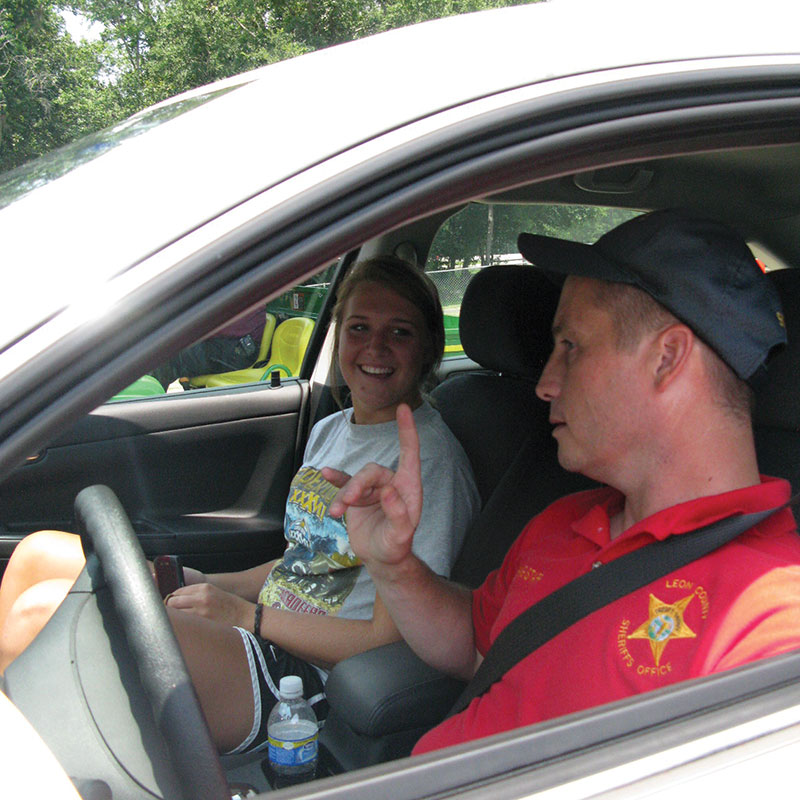 Thirteen teenagers sitting in the sheriff's office might look like the tail end of an awful lot of trouble.
A student gets instructions from Sgt. Lonnie Seay of the sheriff's traffic unit before taking a ride.
courtesy Elizabeth Landers
But this group, including me, recently sat listening to Deputy Mike Peters describe the Teen Driver Challenge, which includes thrilling activities such as riding along in a car driven by a sheriff's deputy as it squeals across a "skid pad." Sponsored by the Leon County Sheriff's Office, the Teen Driver Challenge is a free, two-day program designed to teach young and inexperienced drivers how to handle emergency driving situations in a hands-on environment. As a young driver myself, I decided to take the challenge after school let out this summer.
The course takes place over two days. The first day is spent in the classroom for four hours reviewing an interactive PowerPoint presentation about driving safety. Day Two is spent on the hot asphalt at the Pat Thomas Law Enforcement Academy, weaving in and out of cones and hydroplaning in a sheriff's car. Our group was composed of teens between the ages of 15 and 18 from almost every public and private high school in town. During brief personal introductions, most attendees candidly admitted that they were there because "my mom wants me to be."
During the classroom session, we were bombarded with scary statistics — such as the fact that Leon County has the highest fatality rate for young drivers of any county in Florida. If we remember one thing from the course, it will certainly be "shuffle steering," which was drilled into our heads. This technique, involving no crossover of the hands, is proven to be more efficient and quicker during a crash.
At the end of our session, Deputy Peters reiterated that "today is a lot of prepping. Some of it's dry, some of it's interesting." The real test came the next day.
I was fairly impressed with the group's punctuality, considering we had to be in Quincy by 8 a.m. Each of the drivers was paired up with an officer, and we immediately started with the serpentine exercise, which involved quick steering between large cones. Those of us with larger cars (myself included) found ourselves running around afterward to pick up cones we had knocked over. By the end of the day, I was named the "Cone Queen" because I had managed to hit the most cones!
Though running off the road and regaining control was smooth in my SUV, the tight maneuvering through cones was surprisingly difficult and gave me a new sense of the large size of my car.
"It's bad when the first time you are reacting to emergency situations is when you are on the road. It can kill you," said one of my instructors, Deputy Andrew Dawson of the sheriff's Traffic Homicide Unit.
Courtney Barnes, a 17-year-old junior from Chiles High School, said hydroplaning was her favorite exercise.
"My favorite part of the course would have to be watching the instructors on the skid pad," she said. "It was crazy to see that people can actually hydroplane with technique and teach others how to do it correctly and safely." The exercise allowed us to ride in the car while an instructor spun, skidded and shifted across a wet surface.
Like every other participant in our challenge, I spoke at the end of the two days about how the session had changed my driving: I understood the limits of my car and especially its size. While everyone took away something different, the consensus was that we had all learned a great deal from our course and were ready to recommend it to friends.
---
Teen Driver Challenge classes offered by the Leon County Sheriff's Office are currently full, with a waiting list for later dates that will be announced in the near future. Classes are held at the Leon County Sheriff's Office, 2825 Municipal Way, in the Citizen's Academy Classroom. The practical is held at the Pat Thomas Law Enforcement Driving Range in Quincy. Call Sgt. Annaliese Wierenga for more information at (850) 921-3602 or e-mail her at
wierenga@leoncountyfl.gov.