Local Soul Food Spots Preserve Black Culture
If you haven't been to Olean's Cafe, you're missing out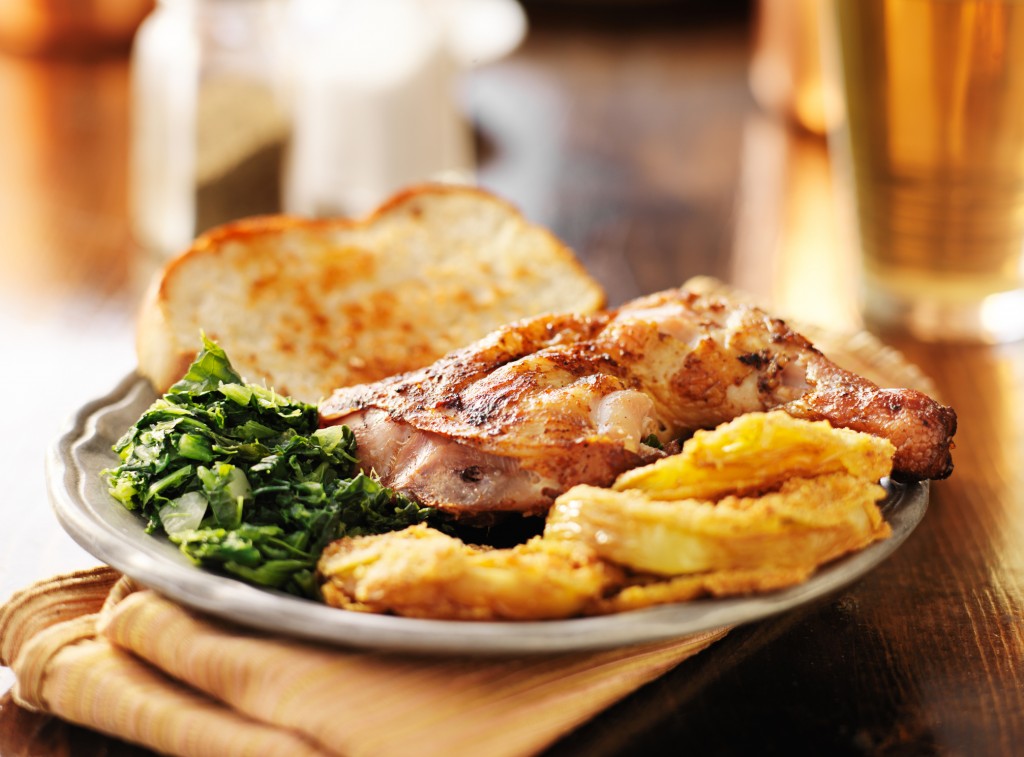 When it comes to soul food, you've got to have that fried chicken, collard greens, mac 'n' cheese and cornbread.
That's just for starters.
Stop at Olean's Cafe, open on Adams Street for 26 years, and you'll also find smothered pork chops, green beans swimming in pot liquor, oxtail, chitlins and catfish, all served to a soundtrack of gospel music. 
The venerable restaurant is a storied place that has been visited by both President Obama and President Joe Biden; both have dishes bearing their names. 
"Biden loves soul food, too," said owner Olean McCaskill.
She learned to cook when she was just a girl, watching her mom and grandma cook on a wood stove in Conecuh County, Alabama. By age 14, McCaskill was working in Tallahassee restaurants.
To this day, she cooks from the heart.  
"Soul food is something that is good for your soul, and it makes you feel like home," said McCaskill. "Customers, students, they come to Olean's and they get soul food, they get gospel music, they get everything they need."
Jennifer Young understands the connections. For her, soul food has been synonymous with family and fellowship.
"It was all about bringing family together for Sunday dinners," said Young, owner of TC Bakery on Tallahassee's Southside. "It was all about fellowship."
When she was a little girl, Young's mother and father ran a popular soul food restaurant in Tallahassee called Ma Mary's Kitchen from 1989 to 1994, in the same location where Young now has her own bakery. 
She was 10 years old when her mother, Tommie C. Williams, passed away in 1994 at age of 45. Young's dad, Isaac, then taught her how to cook her mom's recipes, which were  "passed down from generation to generation. I have five children, and I hope to pass these recipes down to them."
Young originally served soul food as well as baked goods in her cafe, but since the pandemic, she now sticks to her cakes, cupcakes and cheesecakes.
"I'm the only bakery on the south side with a Southern soul," she said.
Soul food has a rich history immersed in the African-American culture.
A style of cooking "now associated with comfort and decadence, was born out of struggle and survival," Vanessa Hayford wrote in an article titled "Humble History of Soul Food" for the site "Black Foodie."
To Syrheda La Shae, "soul food, like soul music, makes you feel good, is addicting and carries the fondest memories for each person who consumes it."
She is the mother of three daughters — Lyrica Leo, 13, and sisters Zaira, 12,  and Nadira, 9 — who founded a business called Bourne Brilliant. The young entrepreneurs cook plant-based dishes, baked goods and natural products for sale at a cafe on Orange Avenue and in a shop in Railroad Square.
"Soul food can be whatever you interpret it as — there are no longer any rules," said Zaira. "It represents your culture, as well."
While foods like collards and kale are packed with vitamins, minerals, fiber and antioxidants, there are concerns that they become unhealthy when cooked in fatback or with lots of salt. 
Southern cooking may have similarities "but soul food and Southern cooking are not exactly the same things," said La Shae. "In our opinion, soul food speaks to the struggles that African-Americans have faced with gaining access to healthier or alternative foods."
"We were used to being given the scraps, the most unhealthy or undesirable portions of animals, the waste, and so now that translates to our gravitating towards heavily processed foods and beverages," La Shae said.
While her daughters are learning healthy alternatives, they do have family favorites based in longstanding culinary traditions.
"We are lovers of mac 'n' cheese, mixed greens and candied yams," they wrote in an email. "All of these things remind us of gatherings of our family that are located here in the States. Our Nonnie has always made the best baked mac 'n' cheese; she even changed many of her recipes to accommodate our dietary choices. So, her mac 'n' cheese is now mac 'n' pleeze."
"I feel soul food evokes emotions when eating," added Lyrica. 
And for Nadira: "Soul food just tastes very yummy."
If you go …
Olean's Café
1605 S. Adams St.
(850) 521-0259
TC Bakery
614 Eugenia St.
(850) 577-1776
Bourne Brilliant Cafe
618 McDonnell Drive (at 242 E. Orange Blvd. and shop in the Breezeway Market at Railroad Square Art District)
(850) 391-8541