Tallahassee Soccer Club Is Rooting Local
We interviewed their President, Chris Petley ahead of their inaugural season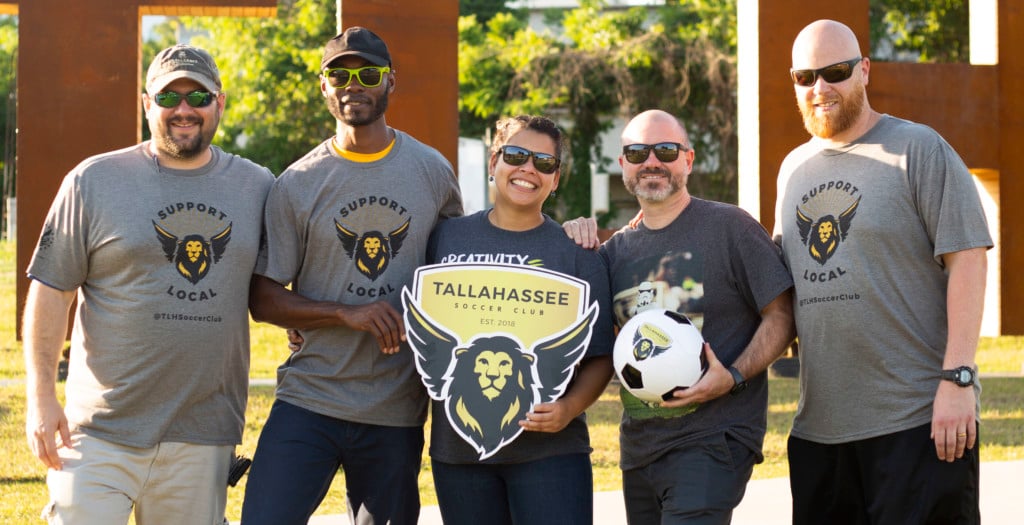 Tallahassee Magazine: Tell us how Tallahassee Soccer Club got started?
President of Tallahassee Soccer Club, Chris Petley: Tallahassee Soccer Club grew out of just being a fan of the game and being a fan of this city.
I've lived here for a little more than a decade and my friends have been here longer and we just started talking about what is it that Tallahassee could use and unite behind that may not be a part of a college that folks in town could really unite behind.
When we started talking about the process and planning it, the crux of everything was that we were gonna highlight the community and that our team would feature local players that live here, that grew up here, that go to school here, that work here, and that's what is very important to us.
It's been about 18 months and we're 30 something days away from our first game and everything has really come into place.
We've been lucky to have amazing local companies that are united behind us, we have over 200 memberships as of just last week, so the support from the community is there.
Soccer is the fastest growing sport in our country and the most played sport by youth under the age of 13 so all of the factors are there for this to be a success.
Our number one mission is to focus on everything local and to give men playing on our team right now, the ability to play something they love and then for younger people to come out and watch them and be inspired that there's something they can do when they grow up.
TM: Your coach and players were recently announced. What was the process for bringing them on board?
CP: It's been more than a year process but we are excited about our coach, Josh Bruno played up the street at Thomas University, he is the sixth leading scorer there.
His name kept coming up with everyone we talked to about this team and we're super excited and honored that he's on board. He's the head soccer coach at Lincoln High School, he's the Program Director for Florida Elite-Tallahassee, so you talk about soccer in this town, his name comes up.
He's gonna be just a wonderful addition to what we're doing. And then through Josh and some other local coaches, we put together tryouts.
We had one in November and one in February. Over 75 players tried out for our team and we kinda went through and shrunk that number down to this week we had our first two practices and had about 34 individuals who are practicing with the team.
Of that list, we have checked off representatives from Godby High School, Leon High School, Lincoln High School, Chiles High School, we have about 6 Noles, 6 Thomas University Nighthawks, 3 FAMU Rattlers, and 1 TCC Eagle.
I think in talking to a lot of lower division minor league soccer clubs they tell us that you most avid fans and the people that get the most out of this are not necessarily soccer fans, they're people who love the city.
So that's what we're gonna continue to focus on, you'll hear it every single day from us, local, local, local.
TM: Was the success of Orlando City an inspiration or has this been long in the process?
CP: The cities we looked to for inspiration are not MLS (Major League Soccer) teams, we looked to smaller clubs like Detroit City FC.
Detroit started I think 7 years ago, the same exact level we are, 40 or 50 fans in the first season and now they bring six or seven thousand fans a game.
They play international competitions. We're looking to Chattanooga, who started the same way.
They just really set the tone by offering fans the chance to buy stock in the team and really become owners and I think they've crossed over $700,000 raised and it's a fan-owned club.
There are even smaller clubs that have given us a blueprint to move forward like Kingston FC, which is in North NY. They really laid out the blueprint for teams all across this country to say why not have a team in your city?
So it's really actually the opposite of what's been done in the MLS in Orlando. While we are fans that's not what we're trying to do, we're local, we're a 501c3.
This is a non profit, we are not a business, everyone involved in our organization is a volunteer.
So not one person is here to make money.
It's just a group of folks that have united, men and women, to do something special for this city and this region that's bigger than just a sport and bigger than money or any kind of fame and recognition.
TM: You mentioned women, will we be seeing a women's team at some point in the future?
CP: I think it's definitely in our five year plan, we continue to make sure we do not step on anyone's toes and there are a lot of conversations to be had in that pathway and we look forward to those conversations.
TM: You guys have partnered with Grasslands and Township, what can the community expect from those partnerships?
CP: We're focused on first and foremost being local, but also about the gameday experience.
We'll have six home games played at the FSU Main Complex across the street from Township, down the street from Vale who is also a sponsor and down the street from Grasslands.
It may not happen the first day, but we want soccer culture to come to this town, we envision a march to the match down Madison Street, the entrance will be right there at the end of Madison Street, drums and chants and flags and cheering, that's what we look forward to.
Grasslands has brewed us a beer, To The Goal beer, because To The Goal is our mantra, and they'll be pouring that at Township during the games.
It's just gonna be a really unique gameday experience.
TM: What kind of atmosphere can the community expect?
CP: We're hoping to have an organic developed experience. We wanna have this thing happen organically. But it's absolutely family friendly.
Middle and elementary students are free to the games, you can bring your family to Centrale, Vale, Township or Madison Social to get dinner then go watch a game with your family.
It's not in a giant stadium, there are going to be bleachers set up for seating for 300 but we're hoping people bring lawn chairs and blankets to sit right there on the sidelines and be able to high five our players.
We want you to feel like this is your backyard, this is your team.
TM: How're you feeling about the first game against the Savannah Clovers?
CP: I think right now we've got a bunch of nerves and feel a little bit of pressure now that we've gained the support of the community. We don't want to let anyone down.
I would say we're super excited that Savannah's willing to drive all the way down here for such a historic night. So we're appreciative. But make no bones about it, they're a legit team.
They play in the UPSL (United Premier Soccer League) and they've reached that national semifinals twice so this is no cupcake out the gates for us.
But we're willing and looking forward to that. We actually just announced yesterday that we're going to do a scrimmage on April 27 in Thomasville against Thomasville University to kinda get the first look at the team.
We're just excited. I think the players are also getting a sense of it and what it means in the community as we're out and about doing meet and greets.
They feel the weight on their shoulders that it's bigger than just them and that's what we wanna create.
TM: How can the community get involved and support you guys?
CP: So, we are sponsor funded but more importantly we are member funded.
We sell memberships. We have an annual and a founding member level and we'd love to have folks sign up to be a member as that is what funds our club.
Like I said our club is entirely volunteer driven so, every single dollar we get from members goes to everything from taking care of players to operating costs.
We have 5 or 6 away trips this season and obviously cost money. We would love for people to first and foremost come to a game.
We look to members to guide our club, we hold votes, we look for their advice, they kinda tell us where to go because again this is a community club.
TM: Where can readers get tickets?
CP: We are working with a local company 850Tix to be our ticket provider.
You can go to 850tix.com, click on sports and you will find our entire local season schedule.
Its $7 a game but again elementary and middle school-aged children are free and membership includes season tickets as well.