Tallahassee Seniors Talk About the Time of Their Lives
Threads of History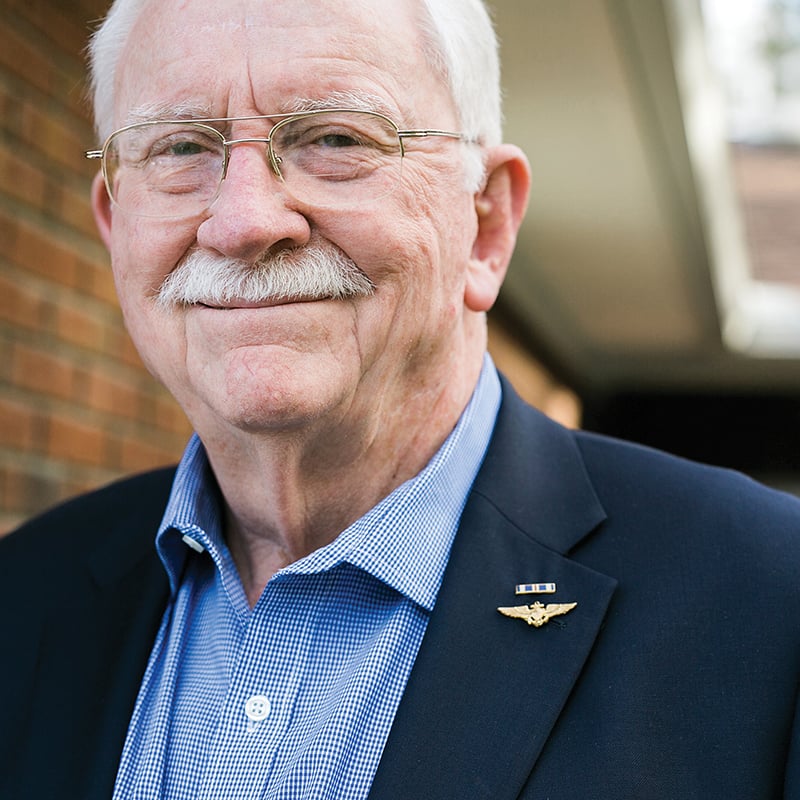 History is about people, the lives they lead, the choices they make and the legacies they leave behind. Historic characters make their mark on our world, but what about the average person? What about people whose lives are spent on the fringes of history? Or unassuming folks who wind up playing roles in world-altering events?
Their stories are worthy of being captured before memory fades and the threads are lost forever.
---
Shannon Griffin
Margaret T. Hamilton
Margaret, 90
Margaret Hamilton's old cat lounges in the front window and basks luxuriously in a sunbeam. Tony is 13 years old, which makes him almost 70 in human years, and she keeps an eye on him as he starts to slow down.
"He has a hard time getting around, but he likes to sit in the sun and watch the world go by," Margaret laughed. "We are the same in those ways."
Margaret is 90, and like Tony, has earned the right to repose. But unlike Tony, she has seen most of what the world has to offer. Over the course of her lifetime she made 116 trips to various exotic locales, including Mexico, Panama and Puerto Rico and has visited old-world countries including Germany, Austria and France as well.
Her life began on a farm in Michigan, but her first husband's government job would take her to Illinois, Florida, Oklahoma, Alabama and then back to Florida. New cities have always enlivened her, but with two small children, Margaret craved a town she could call her permanent home.
"One time we were driving through Tallahassee and I said to my husband, 'This is a nice town, can you transfer here?' He did. I have been here ever since and my, has this town ever changed," she said. "But people are always friendly here, and it's a good clean town. I love the canopy roads. They better not ever get rid of those."
Margaret worked as a proofreader in the publications department of the Florida Bar Association.
"I helped with putting legal books together and copy editing," she shared. "When I was in high school, I was a teacher's assistant and my job was to correct the papers of students. I loved doing that and ended up doing it for a career."
She's not kidding about how much she adored her job. She retired at age 84.
In the midst of pursuing a career, she decided it was time to achieve the college education she had missed out on when she was younger. So, when her daughter started college at Florida State University, Margaret joined her. She received her bachelor's degree in history and English, and pursued a master's degree in historic preservation. But those studies were cut short when her husband died. Instead of continuing on with her academic work, she decided to do some traveling. Something marvelously unexpected happened to her after a while, however.
"I had been a widow for 18 years and never thought I would get married again," she said. "Killearn United Methodist was having a bus trip to Plains, Georgia, to go to Jimmy Carter's Sunday school. Roger was also on the trip. He had just moved to Tallahassee from Miami after the passing of his wife. We hit it off on that trip."
It's not clear whether Margaret believes in soul mates, but if a movie were to be made about her life, Roger would be characterized as hers. They knew each other for 10 years and were married for eight. During that time they travelled together, danced together, created art together and shared piano benches.
Margaret always had the keen eye, creative mind and the steady hand of an artist. She introduced Roger to art classes at the Tallahassee Senior Center. There isn't a wall in her home that doesn't hold her artwork and that of her late husband. The living room alone features at least 10 exquisite landscape paintings. Margaret is humble about her work but will show you an entire wall in her art room dedicated to the multicolored ribbons and awards her art has earned.
The award she is most proud of is the Silver Star, presented to her by the senior center. It acknowledges her countless volunteer efforts at City Hall, Goodwood Gardens, the Little Theatre and the Senior Center's art council.
Margaret will not deny that she has lived a fulfilling life. But one goal remains.
"There is one thing that Roger always encouraged me to do," she said. "Finish my master's degree. I've been thinking a lot about that lately. I know a few professors at FSU and could ask them what I need to do. If I can accomplish that, I think I have done everything."
As she thoughtfully peers over her coffee cup, Margaret looks back on all she has accomplished.
"Overall, I've lived a very good, happy life," she said with a smile. "It hasn't always been wine and roses. There have been a few thorns. But you can't sweat the small stuff. People get agitated about things that won't even amount to a hill of beans. Have some fun or do something constructive. Don't worry so much."
— Rebecca Padgett
Rodney, 80
Retired U.S.Marine Corps Lt. Col. Rodney Letchworth didn't start the Cold War. But had the shooting started, the Leon County farm boy and Marine bomber pilot was well trained to stop it. Fortunately, that war never heated up. However, his skills — and his conscience — would be put to the test in the skies over Vietnam.
Letchworth, 80, and his family moved to Leon County in 1941, and times were tough. For a nation still in the grips of the Great Depression, food was scarce, and the U.S. government sought to change that by encouraging families to get back to farming. He said that the government bought 600 acres along U.S. Highway 27 and subdivided it into 10 farms, each 60 acres.
"These farms were offered at a very low price if the buyer would sign a contract to actually grow crops on the land," Rodney recalled in his 2014 memoir, "Surviving PTSD: A Combat Marine's Story."
On each tract, a wood frame house and a barn was built. The new farm owners received a mule with harness and a plow, planters and a wagon. Rodney's father wasn't a farmer by trade; he was a long-haul truck driver. But he wanted one of the farms badly. There was a problem, though.
"He knew that he couldn't meet all the requirements because he didn't have enough money to finance living expenses for a whole year until he could raise a crop and sell it," Rodney wrote.
But a solution soon presented itself. Rodney's dad convinced his dad to farm the land while he kept his trucking job. That worked well enough — for two years — until Rodney's grandfather got the rambling bug and moved away. Rodney's dad wound up driving the truck during the day and farming at night.
It wasn't long before Rodney found himself behind the plow — "It was taller than me," he says with a chuckle — and he and his brother Gary worked the land and sold enough corn to "satisfy the feds" for the next two years. Incidentally, he said their farm was located on U.S. 27, across from the new National Cemetery.
"You get to be good friends with a mule," Rodney added. "It was a wonderful way to grow up."
After graduating from Leon High School, where he lettered in track, Rodney spent a semester at a Bible college in Columbia, South Carolina, before he returned to Tallahassee and enrolled in FSU.
"In 1956, I had had three years at FSU and decided to go see the world, so I enlisted in the Marine Corps. I enjoyed it. It was a challenge," he said. In 1958, he found himself in Pensacola learning how to fly with the U.S. Navy. Turns out, the Tallahassee farm boy was a natural aviator. And since he was a Marine pilot, he had to learn how to land on carriers, which he said was an awesome experience.
In 1959 he was commissioned a second lieutenant and was assigned to Marine Corps Air Station Kaneohe in Hawaii. There he joined VMA 214, the fabled "Black Sheep" squadron, which had earned a name for itself during World War II. Only now, the squadron wasn't flying the legendary gull-winged Corsair of "Pappy" Boyington fame, but the FJ-4B Fury, a souped-up version of the venerable F-86 Sabre.
At the time, Rodney said, the only nuclear deterrent America had in the Pacific was jet bombers packing nukes that were a great deal more powerful than the ones dropped on Japan in 1945. He said the single-engine Furies carried one 2.5-megaton bomb packing the ferocious capability of one million tons of TNT.
Now, the Fury was fast — but not quite fast enough to get out of the blast zone of an expanding mushroom cloud. Dropping the bomb in a conventional manner was out of the question, so U.S. air doctrine at the time called for the use of something called "toss bombing."
There were three variants of this process; Rodney's squadron practiced the "Over The Shoulder" method. This involved nothing less than sheer guts. A Fury would scream in over the target at 650 miles per hour, at a pulse-pounding 50 feet off the deck. At a designated point the pilot would yank back the stick and put the plane vertical in a gut-wrenching 4-G climbing loop. Just past vertical, the bomb would detach and continue skyward, gaining altitude, while the pilot executed a half-roll and firewalled the throttle. The bomb would descend in a high enough arc that its trajectory would allow the pilot to get out of the area before impact.
"Pilots called it the 'idiot loop,'" Rodney said with a laugh. "We practiced that maneuver every day for three years."
Later, Rodney flew an A-4 Skyhawk in Vietnam and provided close air support for Marine and Army units. This meant he made bomb and gun runs at 50 feet — close enough to see who he was trying to kill. They can see you just as well, too. Skyhawk pilots caught a lot of lead during each mission.
"Our (airframe repair mechanics) had plenty of work digging bullets out of our birds after almost every flight," Rodney said in his book. "Every morning they would present us with our souvenirs (mangled bullets which they had extracted from the jets). When I came home I brought a box full of them with me."
Rodney flew 289 missions in 11 months. On his very first mission, though, he quite naturally had a crisis of conscience. He was orbiting a village, waiting to attack, when it hit him. Could he pull the trigger?
"I asked myself, do you really want to kill all these people? I am a Christian. I try to follow the Commandments. The Good Book says thou shall not kill. I was about to kill a lot of people," he wrote.
It was moment-of-truth time in the cockpit. He could jettison his bombs harmlessly over the water, go back and turn in his wings. He said a lieutenant colonel had done just that and was disgraced for it. Rodney said he made up his mind to do his job. He rolled in and delivered his bombs on target. He's wrestled with that decision ever since.
"To this day I still debate with myself whether or not I made the right choice," he said. "The feeling I experienced the first time I faced that decision and decided to pull the trigger has been forever etched in my brain. I was forever changed."
— Jason Dehart
Gail, 93
Gail Edgeworth is true to her Southern roots and meets you at the door with a pearl necklace and earrings set, slight twang and cheerful attitude. When you take a seat, she will make sure you are good and comfortable because you're sure to sit a spell as she immerses you in the tales she tells.
She was born 93 years ago in Sulligent, Alabama, a tiny ink dot of a town with less than 2,000 residents. Her family was in the hatchery and feed store business there, and despite her humble beginnings, Gail has lived a vibrant and fulfilling life.
Gail was a progressive thinker for her time and place. She received her undergraduate degree from Auburn University and a graduate degree from the University of Alabama. She put off marriage and having kids until she secured a quality education. She knew love would come, and it did. All it cost was the price of a movie ticket.
"It wasn't that I didn't know him because he grew up only 10 miles from me, but I didn't really know him until one Saturday night," Gail said with a smile. "I went to the movies and was standing in line when a soldier came over to me and we ended up talking. He was home on leave. We dated every night until he left for South Dakota. When he was in South Dakota they dropped the atomic bomb so he was able to come back to Alabama. From there it was history."
They waited four years to get married, dated constantly and never missed a night, she said.
"We were married nearly 50 years. We were a good, solid couple," she said. His name was Hubert, but you will never hear her call him that. She affectionately dubbed him Edge, short for the last name they shared.
They both had a deep appreciation for education; she for home economics, he for finance. Both taught at Florida State University, after teaching at the University of Alabama and University of Southern Mississippi.
"The summer of 1959 I began teaching textiles and clothing and fashion merchandising
at FSU," she explained. "I loved teaching. It was my passion. I would go back right now, if they would take me at my age. Boy, do I miss it. We loved FSU even way back when we didn't win football games."
Their work at the university enabled them to teach and travel as a couple for five semesters in London. Over the years they traveled throughout Europe, Australia, South America and even back home in the United States.
Her eyes have taken in beautiful sights, and she has visited some of the most intriguing spots on earth. For all that, though, her home in Tallahassee is where she enjoyed being the most.
"We started building a home in Waverly Hills when the development was brand new," she said. "Edge and I used to drive around the nice developments in Tuscaloosa, and we loved this white house with ivy growing up it. We wanted our house in Tallahassee to look just like it, and it did. I lived in that house from 1960 until 2014, but I don't go back now. I don't go back to places too well. The new owners took off the ivy, but oh well, that's life," she said with a shrug and laugh. But her eyes portray how she actually feels.
Gail is the sentimental type, and it shows in the trinkets she has collected from her travels, her treasured family heirlooms and FSU emblems. She takes a keen delight in showing visitors her brand-new touchscreen computer; not so much because it's the latest and greatest in technology, but because it holds family photos.
"My children would have to be my biggest accomplishments," she said. "I have two daughters that live here and my son is in Panama City. They gave me wonderful grandchildren. I am so proud of them all."
She recently took up drawing and watercolor classes simply because she felt the desire to do so. She gave her children the first watercolor painting she completed. Now, she sits in her sunny parlor surrounded by keepsakes of all the things in this life that are dear to her and considers the sum total of her life and what it has meant.
"My experience has been that as we get older we tend to be more pessimistic and less happy. But, that's no way to live," she said. "Life is too short, even at 93, so really what it comes down to is being happy and reflecting that happiness around to other people."
— Rebecca Padgett
Alice, 90
Alice Englert may seem dainty, but don't be fooled. The soul behind those fiery brown eyes is full of moxie and gumption — and was on arrival.
"When I was born the doctor said I wouldn't live," said Alice, who will celebrate her 91st birthday this summer. "He said, 'She may last the night, but that's it.' I didn't quite weigh 2 pounds. My grandmother kept me alive by burning her wood stove. So that was the beginning. God blessed me that way."
Alice Summitt was born in Tennessee on July 9, 1925. Her family moved to Tallahassee when she was 2. Her father was a new hire at Florida Gulf Life Insurance, which was headquartered in Jacksonville at the time. He thought his young and active family would do well in the Sunshine State and migrated to Tallahassee.
The Capital City was a very small town, and at first they lived on Monroe Street then St. Augustine Street. They eventually settled on West Pensacola Street in a house that today is just steps away from the "new" capitol building.
"I spent some wonderful years there. Everything was perfect. I can't even remember anything I didn't love," she said.
Alice's early school years were spent at Caroline Brevard Grammar School, and she remembers chasing after ice trucks from the capital to campus whenever they drove through town. And if the city demolishes her beautiful, beloved alma mater, she said she'll be "extremely unhappy." There are too many good memories and too much history.
"I don't think I could have had better teachers anywhere in the world," she said.
Alice has an unwavering love for education. She still remembers the name of every teacher she ever had. She even remembers how one of her teachers scolded her on the first day of school for ringing a bell exclusively reserved for lunchtime announcements. More than anything, she remembers loving competition as a coed at Leon High School, and P.E. was far and away her favorite subject.
Her parents encouraged her continued education after she graduated from high school, and Florida State College for Women presented the perfect opportunity for Alice to hone her skills. Fellow students there needed somebody with Alice's skill and team spirit to get them motivated to engage in activities such as golf, dance and cheerleading. Alice required no such convincing and quickly landed among the ranks of the college's coveted F Club, a club that only the most active students were invited to join.
"I remember seeing this magnificent looking person walking out of Wescott. She had a great big F on her chest and a couple of stars along her shoulders. I knew I wanted to get involved. F Club was just a whole different thing," she said.
She earned her bachelor's degree in 1947. That same year, FSCW officially changed to Florida State University, although Alice opted to have the former name on her diploma.
A celebratory road trip to California was up next for Alice, who made the drive with two other gals right after graduation.
"We had read about Las Vegas so we went out there just to go to see what it was like. And I had thought, well, maybe I could get into the chorus line. I really did love to dance," she said. "But when I saw those girls I thought, 'I'm not doing that. They can't even dance.' They really weren't dancing. Let's put it that way."
The athletic 20-somethings hit the jackpot on their first night in town and won $150.
"That was a whole month's salary for teachers in Leon County. In fact, the salary was more like $110. Man, we thought we were really big," she said.
The "wild west" may have had much going for it, but Alice soon decided the glitz-and-glam aspect wasn't her cup of tea. Instead of the chorus line, she accepted a full-time position as a Las Vegas teacher. Whatever they needed, she could handle it, whether it was history, science or physical education. She had a diverse group of students who were the children of Las Vegas performers, and they hailed from all over the globe.
"It was unbelievable," Alice said. "Every nationality that you can name in the world, they were in my classes. It was the only high school in town, so if they were in high school, they were in my high school. They were my students, and they were good. That was a great experience."
A few years later, it was time for a change. She wanted to pursue her master's degree and decided Columbia University in New York City would do nicely. The Big Apple had nothing on the pull of a glowing desert sun, though. After graduation she sent out applications and interviewed across the country, but Vegas still felt like home.
"I loved it," she smiled. "Which is lucky, because that's where I met my husband, Roger."
Roger and Alice were colleagues in the physical education department, and their students saw sparks from the very beginning. "We were born on the same day and the same year," she said. "Isn't that something?"
After a whirlwind romance, a happy engagement and an intimate wedding, they decided to come back to Tallahassee and start a family. The athletic gene persisted in daughter Carrie Zimmerman, who went on to represent the United States as a gymnast in the 1976 Olympics in Montreal.
"Family is more important in your daily life than anything else," Alice said. "Be where the people you love are. That's why my life is so good. I've been very fortunate to always have the people I love next to me."
— Chay D. Baxley