Health and Wellness
The Tallahassee Senior Center builds community and connection for Tallahassee seniors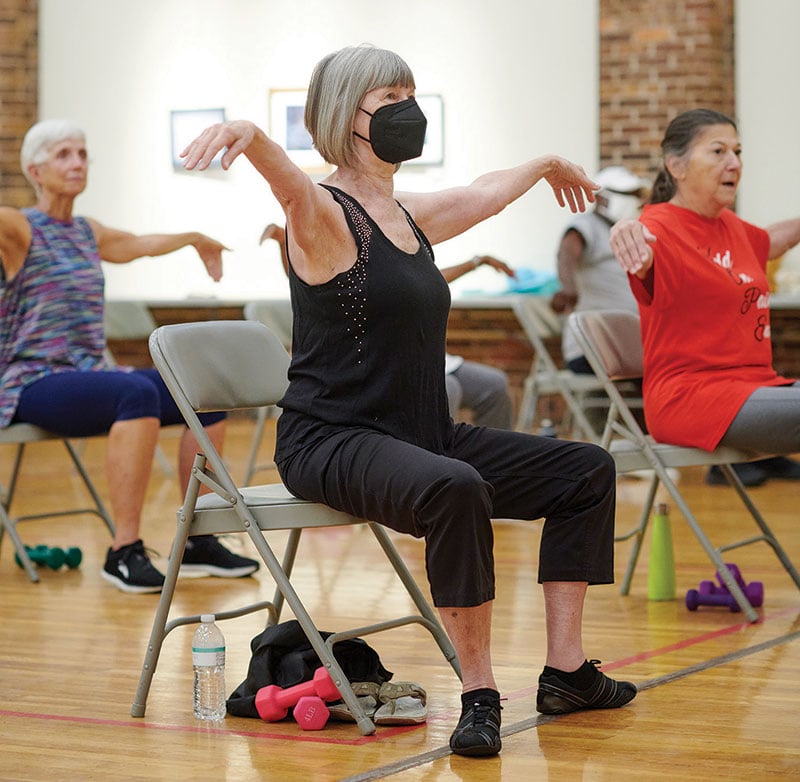 In the early '80s, the entirety of the Tallahassee Senior Center's programming was held in the dining room of a three-story building located at 1400 N. Monroe St. Today, the center not only encompasses the whole building, but it is also bursting at the seams.
"We actually have about 14 outreach sites where we do programming," said Ruth Nickens, the health and wellness program coordinator for the center. "Some of them are in the city limits like Southside and Optimist Park, but we go out to the most rural parts of the community. We go out to Miccosukee and Chaires. We use community centers, sometimes churches or occasionally a school — whatever space we can find that will partner with us to create and facilitate programs in those communities."
In fact, the center has grown so large in its more than 40 years of operation, that they are in the process of designing an entirely new facility, not to replace the Monroe Street location, but to expand its services.
The Tallahassee Senior Center hosts a wide breadth of courses, classes, excursions, clubs and games that promote social engagement as well as physical and mental fitness. Currently, the senior center offers more than 20 fitness classes across 10 different locations, not counting access to pingpong tables, pickleball, billiards and bridge clubs at the center itself. There are dance classes offering instruction on everything from swing to square dancing, a multifaceted arts program taught by professional artists, and classes, seminars and expos devoted to health education and lifelong learning.
"We are starting to expand our outdoor fitness arena because it seems to be very popular and certainly a thing that the adults of today, the baby boomers, are asking for," Nickens said. "That has been really fun, not only to get people outside and exercising, but there are so many benefits that come from being outdoors in nature: lower blood pressure, sense of awe, community building."
Unlike most senior centers around the country, the Tallahassee Senior Center operates as a part of the city government and as a nonprofit, the Tallahassee Senior Center Foundation. Hella Spellman, the director of programs and services for the center, said this unique structure has allowed her and her staff to expand beyond the typical services and culture afforded by a municipal budget.
"Every senior center that we have gone to that is strictly run by the municipality just does not have that dynamic, that culture," Spellman said. "I think we are fortunate here in Tallahassee because a lot of municipalities will not let them have that nonprofit leg. The city letting us have that nonprofit leg and such a strong partnership has helped because the municipal-run places are run by the people at the top, whereas we are driven by what the participants want."
The curriculum is constantly growing and evolving based on the needs and desires of the roughly 10,000 seniors that take advantage of its services every year. Spellman and Nickens take great pride in the center's participant-driven approach to its programming and are often surprised by what services attract a crowd and which fall flat.
"We used to have a pretty robust bingo program on Friday mornings," Nickens said. "For most senior centers across the country, bingo is huge, but a couple of years ago, ours was starting to fizzle. Then we had the pandemic. Now we are back, but they aren't really asking for bingo anymore. To not have a bingo program is, like, sacrilegious for a senior center."
One program that has gained popularity in recent years is UPSLIDE. Nickens and Spellman began to see a need for the program, which stands for "utilizing and promoting social engagement in loneliness, isolation and depression in the elderly," about five years ago. They realized that many who were participating in the center's programs still lacked the foundational support and meaningful relationships needed to live a meaningful, healthy life.
"We started out with a few people, but by about halfway through the series, we had 22 people in the class," Nickens said. "We just thought that was mind-blowing because there is this stigma to being lonely. People think something is wrong with you if you are lonely. This was evidence that so many people were feeling that way, so from that, we grew."
"We experience a great deal of loss in later life, but I think a lot of the loss isn't just people, it's a sense of purpose and meaning," Spellman added. "Sometimes you find people who might have friends, but they're still very lonely just because of that. That program has done a great job with all types of loneliness."
Together with the staff at the Tallahassee Senior Center, Spellman and Nickens are breaking stereotypes and building a supportive community for Tallahassee's seniors regardless of their background.
"We are very diverse here, culturally and socioeconomically," Spellman said. "That is something we are all very proud of. You can go into pingpong one day, and you'll see a homeless person playing with one of the most affluent people in Tallahassee. When you have a culture like that, word spreads."
---
"We are starting to expand our outdoor fitness arena … That has been really fun, not only to get people outside and exercising, but there are so many benefits that come from being outdoors in nature: lower blood pressure, sense of awe, community building." — Ruth Nickens, Health and Wellness Program Coordinator for the Center
---