'Tallahassee' Restaurant Features Other-Side-of-This-World Encounter
An eatery geographically far away yet so close to home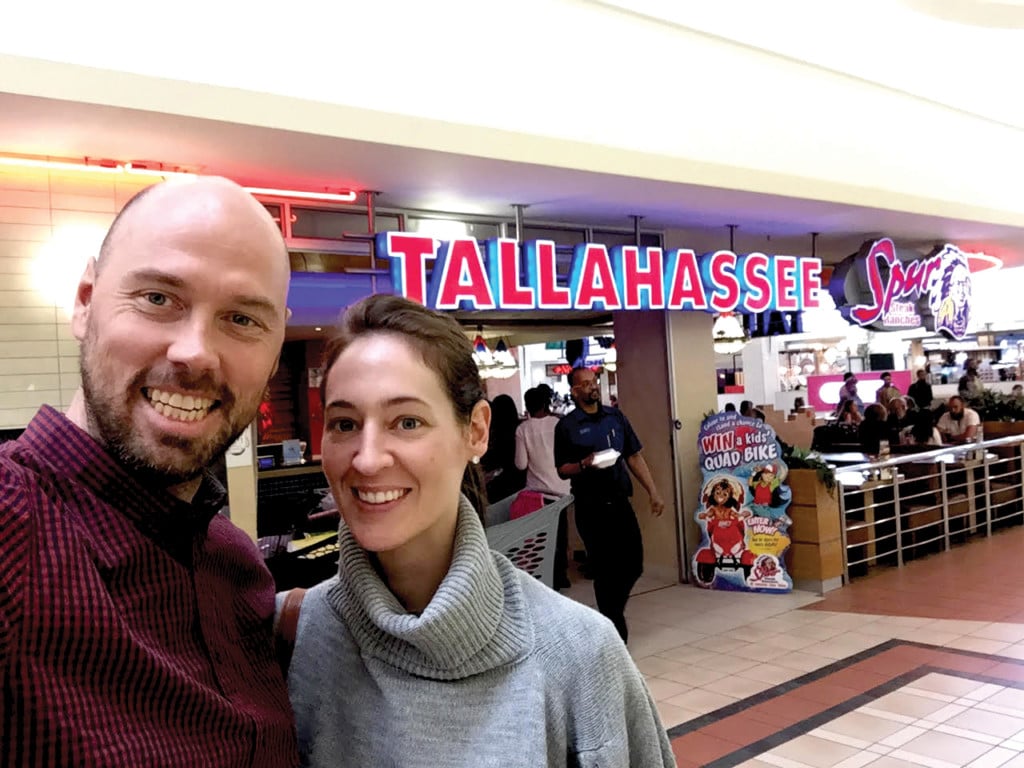 Diners seem impressed with a Tallahassee restaurant known for its steaks, shakes and service.
Says one online reviewer: "Great! Friendly staff, comfortable place to be with friends and family."
And two Capital City natives rave about an uncanny encounter there.
How to get to the restaurant: Head southeast and go 8,000 miles.
By plane and then car, you'll arrive at the Tallahassee Spur Steak Ranch in fewer than 30 hours. Never mind the budget-buster travel and layover. You're going for the "Hunga Busta" double burger.
The Tallahassee Spur Steak Ranch calls home the southern tip of Africa. Its address: Shop 312, Somerset Mall, Cnr Broadway Blvd. & Centernary Dr., Firgrove Rural, Somerset West, South Africa.
For those of us who prefer to get around on a bicycle, Google Maps falls annoyingly short with, "Can't find a way there."
The Tallahassee Spur is one of about 300 uniquely named Spur steak houses, most of them in South Africa. They're products of the Spur Corporation, based in Cape Town, and their logo features a U.S. Plains Indian in impressive headdress.
They're quick-service, sit-down establishments that promote a "relaxed, family-friendly environment" and trumpet the American West.
The restaurants take on random names of U.S. places, states and cities, including Tallahassee, and of places, people or things related to American Indians.
Not far from the Tallahassee Spur, you can find a Texas Spur, an Arizona Spur, a San Francisco Spur, a Coyote Canyon Spur, a Navaho Spur, a Sioux Spur — you get the picspur.
Christina Stanton, a Leon High graduate who lives in Manhattan, says she's a regular South Africa visitor who knew the Spur restaurant chain well in July when she visited the Tallahassee Spur for the first time.
She walked in and talked with a person in charge.
"I said, 'Hey, I'm from Tallahassee, and this makes me laugh,' " she said, referring to a "Tallahassee" restaurant in South Africa. "He said, 'Funny you should say that. There's somebody else here from Tallahassee.' "
Philip Kiracofe, a Godby High graduate who had moved to South Africa in 2013, had already sat down with his wife, Adri.
"The manager comes over and says, 'You won't believe this: There's somebody at the counter, and she's also from Tallahassee,' " Kiracofe said. "I was like, 'That's insane.' "
Stanton and Kiracofe got introduced. They laughed and discussed each other's backgrounds and connections. "It's such a small world," Stanton said.
Stanton said she moved to Manhattan about 25 years ago as an aspiring actress.
She said she spends about two months a year in South Africa as part of a missionary program for Redeemer Presbyterian Church, for which she and her husband work.
She said her church has established a tradition of taking staff members of South African churches to Spur restaurants.
About 25 years after apartheid, poverty and inequality continue to disproportionally afflict the majority black population. Reports say millions live in extreme poverty.
A burger and Coke at Tallahassee Spur costs about $6.50, yet many South Africans can't afford to eat there and consider it a status symbol, Stanton said.
"I still enjoy going over there and feeling like I make a difference," she said recently from New York.
Kiracofe, son of former Tallahassee Police spokesman Phil Kiracofe, lives in the Sea Point community of Cape Town and runs a business-accelerator program that he co-founded.
Of South Africa, Kiracofe said, "It's kind of a crossroads where you have a confluence of Western influence and the African ethos, and it's amazing. It's quite a privilege to be living here."
He said he thought his family would get a kick out of photos of him and his wife in front of the Tallahassee Spur, about 45 minutes from Cape Town.
"We're very, very far from home," Kiracofe said. "It's one of those little nostalgic things to just see the name 'Tallahassee' on the side of a restaurant."
The Tallahassee Spur posted Kiracofe's encounter with Stanton on its Facebook page, as did Stanton, who wrote: "Life is so fun, random and funny sometimes!"
Kiracofe said restaurant employees told him they'd never served somebody from Tallahassee.
And suddenly they had served two from his hometown.
I couldn't resist. I called the restaurant and got manager Leon Liebenberg on the phone.
Kiracofe said Liebenberg had greeted him on his visit.
We had a terrible connection, and I couldn't hear or understand as Liebenberg patiently and politely tried to answer my questions about the restaurant and the encounter.
Then he said he was sorry, he was busy and couldn't talk anymore.
The Tallahassee Spurn.