Tallahassee Pain
A Tale of Two Brothers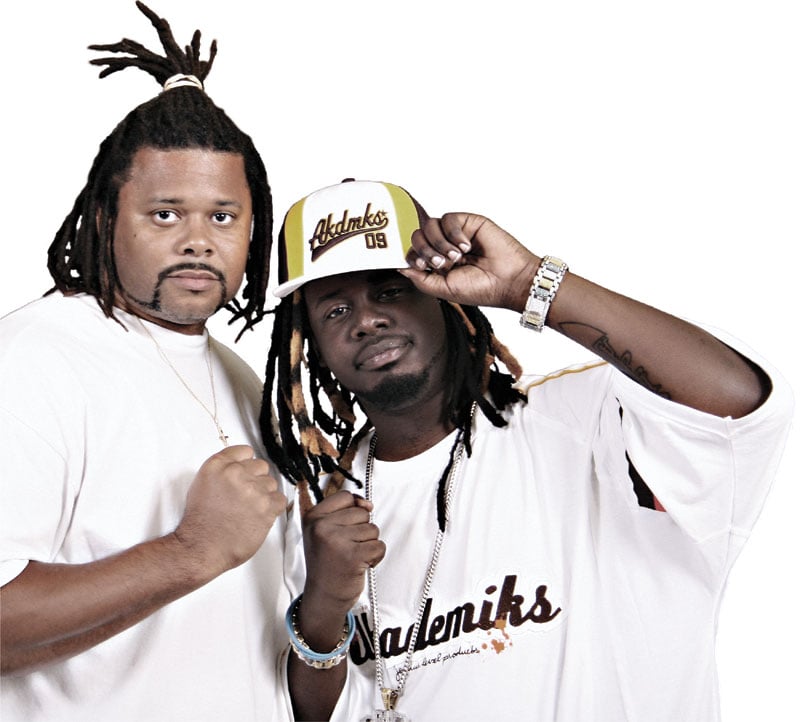 They share a father and a tough life on the streets of Tallahassee's south side. One now uses the skills of boxing to mentor at-risk youngsters. The other became T-Pain, a juggernaut in the raucous world of hip-hop music.
"Driving drunk, selling drugs, all that is suicide. We do a lot of stuff that has only one ending."
That's how hip-hop artist T-Pain describes the profane lyrics of his hit song "Suicide." T-Pain uses songs — their words and music — to make his point about the world's dangers.
His older brother, Tyres Williams, has a similar message, but he uses his athletic prowess — throwing punches in a boxing ring, not on the streets — to keep himself, his family and other kids out of trouble.
T-Pain's stage name comes from "Tallahassee Pain," referring to what he called his hard life growing up in Tallahassee. By the time Williams was in his 20s, two friends had died and more than a half-dozen were in prison.
"The streets are not your friend," Williams said. "You can have prison, jail or be dead. That is not a good retirement plan."
Their story is not unlike many who grew up on the proverbial wrong side of the tracks. What is different in this tale of two brothers is how they have remembered their pain but have not wallowed in it. They simply decided to live their lives in a way that makes a difference in the lives of others. Mega-star T-Pain is reaching kids globally through his music. Williams connects with one person at a time in the gym and the boxing ring.
Early Years
Williams and his little brother, Faheem Rasheed Najm, grew up on what some would call Tallahassee's mean streets. Though born two decades apart, not much had changed for the better between Williams' birth in the early 1960s and his brother's in 1985. Both lived and went to school on the city's south side, graduating from Rickards High School.
Williams worked as a cook at Fish in the Pocket, his family's restaurant off of Orange Avenue. A preteen Faheem would come into the restaurant between his piano and violin lessons.
"Our dad had been in the FAMU Marching 100 and was grooming Faheem for a life in music," Williams said. "He was always running him to some lesson or another."
Along with the music lessons came the attention of young ladies and the jealously of other teenagers. Faheem, who was short and a little chubby at that age, was constantly picked on. At 6-feet, 2-inches tall and more than 200 pounds, big brother Williams had a message for his little brother: "If you are going to fight, you need to know how to fight right."
Those big-brotherly words of wisdom came from a fighter with street smarts that were matched with training in the martial arts, self-defense and boxing. It was at about this time that Williams was waking up to what life on the streets was all about.
"It is so easy to get caught up in that life," he said. "Nothing positive is going on in your life, and you get addicted to your surroundings. You think you are doing right, and it is really wrong."
Williams became Faheem's teacher. In short order, the bullying stopped and Williams found his ticket off the streets.
Before He Was T-Pain
A star may be born, but he or she is not often discovered overnight. And if you're over 40, chances are you've never heard of T-Pain — but your kids have.
Shaheed Najm knew his son, Faheem, was going to be a musician at an early age when he bought the youngster a used keyboard for about $15. Faheem played all of the traditional children's songs, such as "Twinkle Twinkle Little Star." After a few short weeks, the 7-year-old announced to his father, "Dad, I'm going to play your favorite song."
"You don't even know my favorite song," Shaheed Najm shot back.
Undeterred, the precocious child said, "Yes I do, it is 'Lift Every Voice and Sing,'" and he began to play it. By 10, the pint-size musician was rearranging his bedroom furniture to turn his room into a recording studio.
Julian White, the director of bands and chairman of the Music Department at Florida A&M University, knew Shaheed Najm from the Marching 100.
"I watched (Faheem) grow up," White said. "I always thought he was good, but you never dream he would reach the level where he is now. There are a lot of good musicians, but you have to be in the right place at the right time with the talent to get discovered." White added that what surprised him about the young musician was his ability not only to write his own music but also to play, produce and sing it.
Trumpet player Lindsey Sarjeant was a bandmate of Shaheed Najm in the Marching 100, so it was no surprise that Sarjeant's own son, Kevin, was a fast friend of Faheem's. Kevin Sarjeant, a few years older, played the piano, and the two basically grew up as friends and musicians.
"He has charisma," Kevin Sarjeant reminisced. "Every time he came into a room, he always took the spotlight."
Sarjeant told the story of an evening when they were headed to a local nightclub, The Moon. Najm grabbed a hubcap and wore it around his neck.
"Some thought he was crazy, but he was just clowning around and having fun," he said. "He loved to perform and dance."
A musician himself now, Kevin Sarjeant has only praise for his childhood friend, both for his music and his enormous talent.
"His music is unique, hot and different," he said. "That is what makes him great. I always knew he was going to be big. He grew exactly into the star I thought he would. My only surprise is that he is someone I knew."
Faheem Najm bounced around with friends and bands from an early age, finding success with a Tallahassee group called the Nappy Headz. But his first big break came in 2002, when he did a remix of popular singer-songwriter Akon's song "Locked Up."
Since then, there has been no stopping T-Pain's unique blend of rap and R&B. He is probably best known for popularizing the musical technology Auto-Tune in his song productions. Designed to make minor pitch corrections in recordings, Auto-Tune makes voices reverberate and sound tinny and robotic when tuned to a particular setting. In addition to being incorporated into the repertoire of numerous rap and pop artists, the technique became an Internet sensation, with videos giving the Auto-Tune treatment to newscasts, crying babies and the Rev. Martin Luther King's "I Have a Dream" speech. There also is an iPhone app ("I Am T-Pain") that allows users to Auto-Tune their own voices, and he has even sold 5 million ringtones of his controversial hit song "I'm 'n Luv (Wit a Stripper)."
T-Pain's first album, "Rappa Ternt Sanga," came out in 2005. Just two years later, "Epiphany" followed and then album No. 3, "Thr33Ringz." His meteoric rise has included winning dozens of accolades from the music industry for his works. His first Grammy came in 2008 in collaboration with rapper Kanye West; T-Pain brought home his second this year for the single "Blame It" with Jamie Foxx. You can also hear him on this year's release of "We Are the World 25 for Haiti." All of this success has come before he has even turned 25.
Shaheed Najm agrees that the music his son performs is a far cry from the Marching 100 of his day, but explains, "Our parents grew up with Frank Sinatra and blues or jazz. They thought my music was strange.
Music is always evolving. Faheem hears a tree limb fall or a dog bark and he gets an idea for a beat."
Courtesy Troy Johnson III
Training for Titles
Williams, T-Pain's brother, found his calling at the old Lincoln High School boxing center in Frenchtown, and watches as current and future stars of the boxing world work out alongside teens he coaches and mentors. The center's doors open each afternoon after school with anywhere from 25 to 30 young people signed up to use the facility. It's not a state-of-the-art gym by any means, but that hasn't stopped it from producing some world-class boxers. Nestled in the basement of the Lincoln Center, the design is all wrong for a gym, but it has everything needed to hone boxing skills.
Quiet-mannered Lisa Davis, who helps run the gym, is deceptively tough. She calls everyone her "babies," even if they tower over her and outweigh her by 100 pounds. In a no-nonsense, no-excuses tone, she requires students to show their report cards each semester. To stay in the after-school program, the youngsters must maintain good grades.
"Coach Tyres" sounds like a drill sergeant sometimes, although he has never served in the military. With no apologies, Williams explained his approach.
"Yes, I yell at these kids," he said. "I get on them as if they are my own kids. Some of the parents are single mothers, and these kids need discipline. They are hanging out with the wrong crowd."
There are also many moments in which the tough, tattooed boxer listens.
"I'm a shoulder to cry on," Williams said. "I hear the boyfriend problems and the girlfriend problems."
Yes, there is a handful of young ladies who come through the facility. Many of them are looking for a safe after-school haven and a good workout routine.
While hitting the speed bags, 13-year-old Chavis Raynor said, "I like to be fit — I don't want to get obese. If I wasn't here, I'd be home watching TV."
"Come on Velcro, let's work with the mitts," Williams called to Kendrick Burney. Burney, who is turning pro this year, has been coming to the gym since 1992. Velcro is his nickname because "when he hits, it sticks," Williams explained while taking the boxer through his paces.
The ring explodes with noise. Some words are recognizable — "jab," "hook," "1-2-3 swing" and "that's what I want" — but mostly the noises are grunts and random sounds. In another moment, the younger ones are watching around the door corner, and applause erupts as the two stop. It took less than five minutes, and Burney's forehead is glistening with sweat.
"Boxing was a way for me to get out my rage as a young man," said the diminutive boxer, who has a quiet manner. "I fueled my energy on the boxing bag instead of being involved with crime, dead or in jail. That was my life, a broken home. I used boxing as leverage out." Burney's friend and former sparring partner, Tavoris Cloud, also was a regular at the Lincoln Center until he turned professional.
Cloud is the one in a million who made it. In August 2009, he was crowned the International Boxing Federation's light-heavyweight world champion. Legendary boxing promoter Don King has signed him, and Cloud, who has a perfect record as a pro with 20 victories and no defeats, is hoping for the career every boxer dreams of.
"The Lincoln Center was like a hospital for me," Cloud said. "The doors were always open. I wouldn't be who I am today without it."
International Boxing Association heavyweight titleholder Travis Walker, a graduate of Rickards High School, also worked out regularly at the center for about four years before turning pro in 2005. Repeating what appears to be a common theme among many in the local boxing community, he said that "the Lincoln Center and boxing gave me a different path in life. It gave me a skill so I can find my way out of the streets."
Walker speaks fondly of Tallahassee but quickly added, "I didn't want the same fate as many others. I could have been gone by now. I'm lucky it was not my time."
His story is slightly different, but Robert Davis credits the Lincoln Center with changing his life too.
"I was a bitter kid living between a mother and father's home," Davis said. "I needed to channel my anger, and boxing did that by making me humble. I learned to control what I was trying to do."
Davis turned into a three-time Junior Olympian but still comes by and helps out at the center. He says boxing and the Lincoln Center are a magnet for kids like him who he calls "at risk" and that Williams is so effective with them because "he has walked the walk and talks the talk."
Cloud also is pleased that Williams is still working with young people.
"I'm glad to see somebody running the program and continuing the legacy of great boxers from Tallahassee," he said.
When the time comes, Jeffrey Murray may be a major part of that legacy, fighting some of his friends and hoping to take their title belts away. Murray is in the same weight division as Cloud.
"I think boxing is great, it directs the kids," Murray said quietly. "It is a discipline sport. If you really want to be good, there is a lot of stuff you have to do. You can't cut corners."
With the Lincoln Center's track record of having produced a Junior Olympian, two current titleholders and a stream of former boxers turning pro, the gym is obviously not cutting corners professionally. But just as important are the lives of dozens of kids who are off the streets, focused on sports and safe each afternoon. That may be the legacy that Williams truly wants to be remembered for.
A Father's Pride
A father of five, Shaheed Najm speaks with obvious devotion to both boys and his entire family.
"I have always wanted to support my children in whatever they did," he said. Williams is an "excellent boy with what he has done turning his life around. He is a gentle bear."
When speaking of T-Pain, the father remembers a moment in April 2005 when he and his son were making the rounds of record companies. They stood shoulder to shoulder as they walked into Universal Records to discuss a deal. The two turned down that label and others before they finally signed with Jive Records.
"That was one of my proudest moments, when I realized what I saw at 7 years old was finally realized," Najm said. "My son is a musician."