Exploration and Education at the Tallahassee Museum
Creating experiences that cater to the endless wonders that nature and history present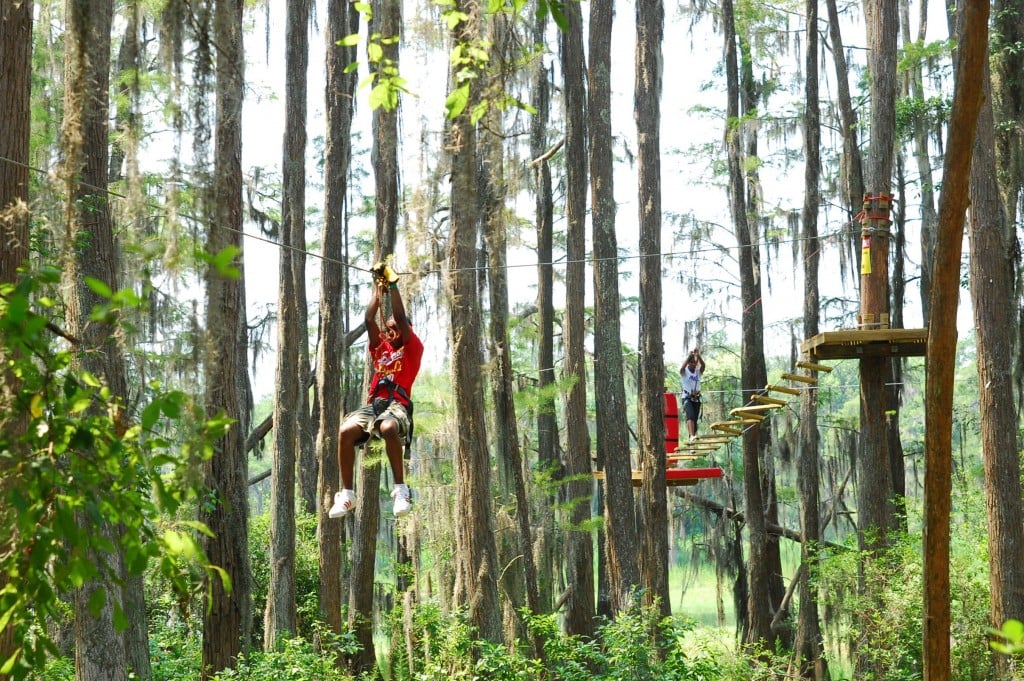 Imagine being a bird, taking in the sights of Tallahassee — the tops of majestic oaks, the blue water of Lake Bradford, a settlement of buildings reminiscent of old Florida, the flash of a fox's tail. While it might not be realistic to gain wings, the Tallahassee Museum can grant you access to all of these sights and more, even from a heightened vantage point. 
The Tallahassee Museum occupies 52 acres of scenic Tallahassee topography offering three tree-to-tree zipline adventure courses, wildlife exhibits, an aviary, historic buildings, a Jim Gary dinosaur collection, an active farm and more. The museum opened in 1957 honing in on the history, native wildlife and cultures that are unique to the Big Bend region.
Whether it's your first time or 50th, if you're in grade school, a grandparent or anyone in between, the Tallahassee Museum specializes in creating experiences that cater to the endless wonders that nature and history present by providing educational opportunities for children, students, adults and seniors.
"The property is relaxing and restorative because you're surrounded by nature, which helps you to slow down and take in the beauty of it all," said Katherine Ashler, vice president of philanthropy at the Tallahassee Museum. "Our hope is that when visitors come, they find a new way to not only connect with nature and history, but also with those in their community. By providing our visitors with the knowledge of and appreciation for our natural environment and history, we hope they will be better equipped to address the challenges they face today and tomorrow."
With social distancing and masks in tow, guests can enjoy fresh air, whether they're walking the paths and boardwalks to view bears, wolves, deer and other Florida wildlife, or they're taking to the trees on one of the three Tree to Tree Adventures zipline courses. 
Two new wildlife additions in March 2021 include the three African civets — part of the guest animal program — and a newly constructed aviary that replaces and updates the one destroyed by Hurricane Michael. The animal action continues at the Big Bend farm, which has authentic 1880s farm buildings with a bevy of farm animals. The farm also allows a glimpse into rural industries, such as turpentining, blacksmithing, milling and syrup-making. 
Continue with your journey to a bygone era by viewing Bethlehem Missionary Baptist Church, the Seaboard Airline Caboose, the Concord Schoolhouse and the Bellevue House, where Catherine Murat, George Washington's grandniece, once lived. 
"We can still keep the core essence of the history of this region, but we also need to keep innovating and reinterpreting stories as times and perspectives change," said Ashler. "We need to tell the truth of the narrative and adapt."
To accomplish continued education of Florida's past and to enhance its present, guests can become members of the museum, which not only grants them special discounts, such as free admission, but also allows them to become partners in the success of this nonprofit museum. The Tallahassee Museum provides a bird's eye view of the region's history while encouraging continued education that will help us soar into the future.
Tallahassee Museum  3945 Museum Road, Tallahassee  |  (850) 575-8684  |  tallahasseemuseum.org