Tallahassee Mayor Andrew Gillum Pulls Off Upset in Democratic Governor's Race
Tuesday's primary set the stage for what will be one of the most closely watched races in the country.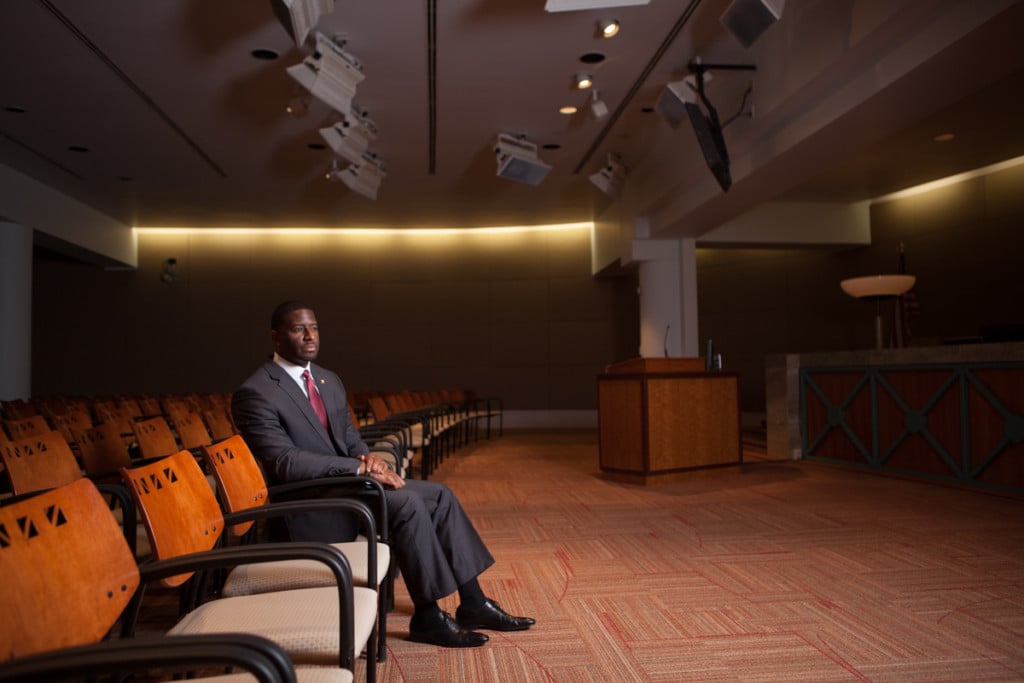 ORLANDO — In what could be one of the biggest upsets in recent political history in Florida, Tallahassee Mayor Andrew Gillum won Tuesday's Democratic primary for governor, setting up a battle against Republican Ron DeSantis in November.
Gillum, 39, captured more than 34 percent of the vote, compared to former Congresswoman Gwen Graham's 31.4 percent.
A crowd of supporters assembled at The Hotel Duval in Tallahassee was exuberant as election results showed Gillum slowly making gains on Graham throughout the evening, chanting "Bring it home" and "I believe we will win."
The race "is not about me," Gillum told an ecstatic crowd.
"It never has been, and it never will be. This race is about every last single one of us," he said. "Those of us inside this room. Those outside of this room. Those who voted for me. Those who didn't vote at all. And those who didn't vote for me because they are Republicans. But I want to be their governor, too."
Gillum has long been considered a rising star in the Florida Democratic Party but trailed in the polls in a crowded primary that featured Graham, former Miami Beach Mayor Philip Levine, Winter Park entrepreneur Chris King and Palm Beach billionaire Jeff Greene.
But Gillum's campaign gained momentum in after picking up endorsements from progressive icon U.S. Sen. Bernie Sanders, and financial backing from billionaires Tom Steyer and George Soros.
"I sincerely believe that what is going to deliver us to victory in November is the fact that there are everyday, hard-working people in this state who believe that they deserve a voice in our government too. We are going to give it to them," Gillum said Tuesday night.
At a concert venue in downtown Orlando, hundreds of Graham supporters appeared stunned by the election results as it became clear that Gillum had bested Graham, the daughter of former Gov. Bob Graham who was long considered the frontrunner in the race.
"I was expecting to give a much different speech tonight," she said.
Graham urged her supporters to "put all of our efforts behind Andrew Gillum," pledging to do whatever she could to help him defeat DeSantis.
"This election is about the future of Florida," she said, reiterating a campaign theme. "That's what we were fighting for. It was never about the candidate."
Privately, some of Graham's supporters — a mix of veteran Democratic organizers, younger voters and women of all ages — appeared skeptical about Gillum's chances for success in November.
But publicly, Democrats quickly rallied behind Gillum, saying he had the opportunity to make history by becoming the state's first black governor.
"He represents the future in many ways," Hillsborough County Property Appraiser Bob Henriquez, a former state representative, told The News Service of Florida at Graham's election-night watch party.
Gillum trailed in the polls and in fundraising over more than a year of campaigning.
"What has made Andrew's campaign so powerful is that he's not just working hard to win an election, he has laid out a vision for a new course for the state of Florida and our country. No one person can take on the economic and political elites on their own. Tonight, Floridians joined Andrew in standing up and demanding change in their community. That's what the political revolution is all about and Andrew Gillum is helping to lead it," Sanders said in a statement following Gillum's primary victory.
Tuesday's primary set the stage for what will be one of the most closely watched races in the country, as Democrats try to flip the governor's mansion after being shut out of power for nearly two decades.
Each of the Democratic gubernatorial wannabes harped on a theme of being the best-situated candidate to recapture the governor's office and rekindle the dominance Democrats held for a century in the Sunshine State.
With support from national groups backing black candidates and progressive politicians, Gillum laid out a campaign strategy relying on "black voters, brown voters, younger voters and poor voters," he told The News Service of Florida in an interview this month.
Greene, a latecomer to the race who poured nearly $38 million of his own money into the primary campaign, insisted that he was the only Democrat who could outspend Republicans. Greene also pledged to unfold his wallet to aid Democrats, who consistently have been outraised and outspent by the GOP, up and down the ballot.
After continuing to trail in the polls, however, Greene appeared to pull the plug on his campaign in the days leading up to Tuesday's primary. Greene on Monday canceled a planned election-night watch party at his Tideline Ocean Resort & Spa in Palm Beach. In a statement issued by his campaign, the candidate said he instead was going to watch the election results at home with his wife and three young children.
Levine, who was shown in some polls as running neck-and-neck with Graham as the election neared, also maintained that he would be the strongest Democrat to take on the Republican contender in November.
Congratulating Gillum on his primary victory, Levine called the Tallahassee mayor "a fierce fighter who has what it takes to lead our state forward, and he can count on my help every step of the way."
Throughout more than a year on the campaign trail, Levine consistently pointed to successes racked up during his tenure as mayor of the popular South Florida destination to support his pitch for governor. But naysayers contended many of his claims were unfounded, and his critics, including Greene, accused him of being a bully.
Levine took credit for addressing sea-level rise, by installing pumps and raising roads, as one of his major accomplishments as mayor. Miami Beach spent $500 million to install the pumps, but some scientists later blamed the pumps for dumping fecal matter into the shores off South Beach. The analysis prompted outrage from Levine, who called the report "sloppy science" and disparaged the Miami Herald for its reporting on the issue.
Levine also took credit for raising the minimum wage in Miami Beach — an effort that's been tied up in court — and for reforming what he called a "broken" police department. He's also been praised for advancing policies that earned the city perfect scores for LGBTQ inclusiveness.
But the former Miami Beach mayor quickly rallied behind Gillum on Tuesday night.
"This is a fight for the future of our state and the soul of our nation, and it's a fight that we are going to win. We're going to elect Andrew Gillum, the first black governor in the history of the state of Florida, re-elect Senator Bill Nelson, and win seats up and down the ballot — we will rise to the occasion and take back our state! Democrats, let's get this done," Levine said in a statement.
In the 2018 midterm elections many have deemed the "year of the woman," Graham played up her role as a PTA mom who once worked for Leon County schools.
Graham, who was both mocked and revered for her predilection for hugging, delivered one of the most memorable lines of the Democrats' campaign season during an April debate in Tampa.
"I seem to be the one," she sighed, after being attacked by two of her opponents. "It's Gwen and the men."
At a July debate in Fort Myers, Graham used a bright pink blazer as a prop as she stood beside her four dark-suited rivals.
"You may notice I look a little different than my other friends up here on the stage," she said, adding that she's "a mom" and a "PTA president."
Facing her supporters after her defeat Tuesday night, Graham explained that she had been living in Orlando for months while on the campaign trail. Her husband, Stephen Hurm, had remained behind in Tallahassee, she said.
Graham's loss had a silver lining of sorts.
Turning to her husband, Graham said, "Sweetheart, I'm coming home."
— News Service Assignment Manager Tom Urban contributed to this report.