Tallahassee–Leon County's Heritage Walk Paves The Way For The History of Florida's Role in The Civil Rights Movement
Behind the Scenes of a Masterpiece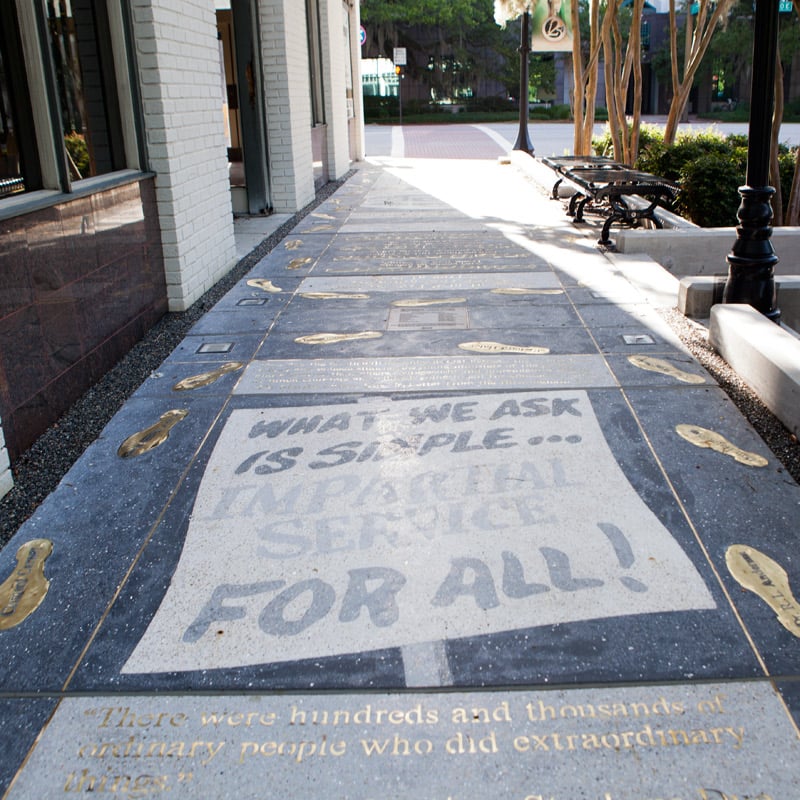 History gives just a passing glance at Florida's role in the civil rights movement of the 1950s and '60s. Now it's hard to forget the capital city's involvement with the installation of downtown's Tallahassee–Leon County Heritage Walk.
Featuring 16 terrazzo panels, the walk, sprinkled with the brass and bronzed footprints and names of more than 50 of the movement's leaders, highlights many of the era's most iconic scenes through beautiful gray scale imagery.
The impressive work lines East Jefferson Street, just west of Monroe Street and north of the Historic Capitol, and is being hailed as the most important display of public art in Tallahassee's history. For longtime Tallahassee residents, the location of the walk (which marks the spot of a number of '60s lunch counter sit-ins as well as the 1956 bus boycott) is as symbolic as it is convenient to the downtown area's pedestrian traffic.
In the realm of city planning, that is what's called a "win-win."
After being dreamed up by Dan Donovan, one of the city's architects, senior planners and urban designers, the walk embarked upon a long process to actualization, the logistics of which were handled by the folks at Florida State University's Master Craftsman Studio.
Bailey and Jazmyn hold hands and learn about the role Tallahasseeans — many of them FAMU and FSU students — played in the civil rights movement.
The project took two years and an array of technologies (from mold making to innovative painting techniques and skilled Photoshop experts) to complete. Working with such industrial materials prompted many of the studio's most seasoned artists to take continuing education classes to hone their skills. Since each panel weighs upwards of 500 pounds, the installation process also required specialized machinery and cranes suitable for heavy lifting.
According to the artists involved, it was one of the studio's most difficult, albeit rewarding, projects to date.
The terrazzo used in the sidewalk is a "heavy, physically taxing material," explained Sarah Coakley, marketing director at the Master Craftsman Studio. "It was challenging in every single way that an art project can be."
Another cool tidbit? The majority of those involved with the protests of the '50s and '60s were students from FAMU and FSU campuses. Likewise, fellow students and academics created this piece in homage to their predecessors and at the request of city officials. It's a link that ties the artists to their work most intrinsically and, Coakley said, gives the project additional meaning.
Though Kenneth von Roenn, the new director of the Master Craftsman Studio, wasn't around for the conception of the Heritage Walk, he saw firsthand the enthusiasm its installation brought to the classroom.
It's an assignment he feels his students aren't likely to forget.
"We're especially excited about it," shared von Roenn, who spent most of his professional career making public art using glass. "We're very proud for several reasons. First, because we think it's a really wonderful work of art for the community, and it recognizes a very significant part of Tallahassee's history. And secondly, because we were exceptionally excited for the process that we developed for this particular project — it was a bit of a technical challenge, and those are always a lot of fun."