Tallahassee Is No Longer the Small Town Remembered
Everybody's Hometown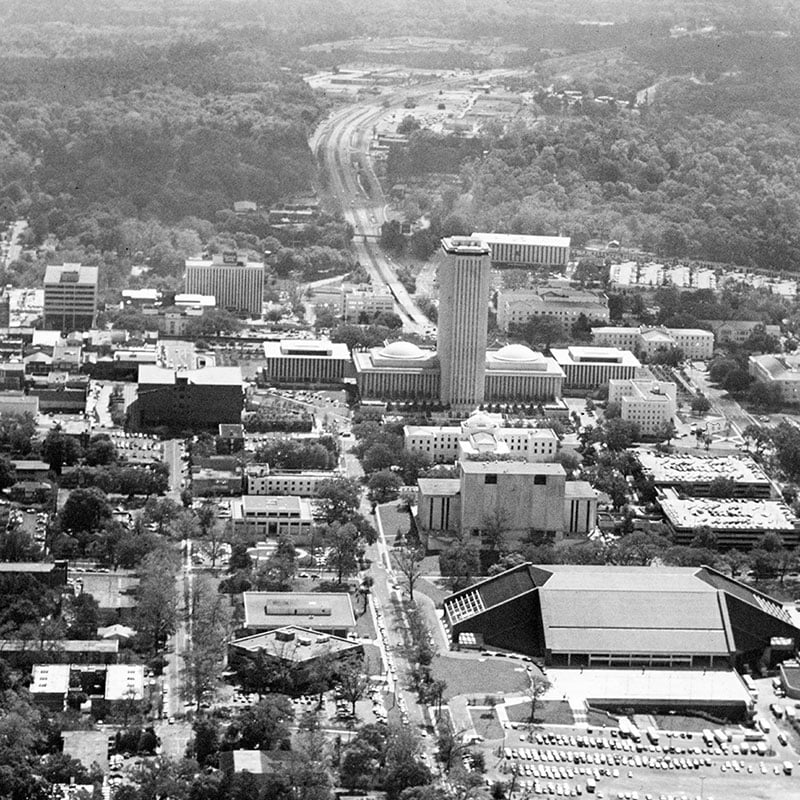 I grew up believing the slogan: "Tallahassee: Everybody's Hometown." But returning after an absence of 16 years, I have one question: "Where's the town?" To understand my question, a person would have had to have lived in Tallahassee in the 1960s. With two-lane streets, one television station, one mall, one hospital and two movie theaters, Tallahassee was a small town.
To escape that place, I said yes to a certain Tallahassee serviceman who offered me a window on the world. Shaking Tallahassee sand from my feet and pine pollen from my clothes, I thought, "I'll eat Cordon Bleu instead of collards." Sixteen years and four children later, that same husband dropped a bombshell: "Honey, the kids need roots."
"They have them in Amsterdam … Brussels … Bitburg … ," my words trailed off. But when I looked at his face, I knew home would again be quiet, laid-back Tallahassee. The World War II song, "How You Gonna Keep them Down on the Farm After They've Seen Gay Paree?" ran through my head, as did the thought, "I'll have to Christmas shop in Atlanta if I want anything other than underwear! Dear Lord, how am I going to survive?"
The first hint that things might not be quite the same came when searching for a house. Our relatives advised, "You've got to go out Thomasville Road." (A two-lane road! They had to be kidding). Or even more ridiculous, "You need to go to Lake Jackson." (A hundred miles from nowhere? Give me a break!)
I drove out Thomasville Road, but not the one I remembered. Slowed to a crawl, head turning, I searched for the landmarks imprinted in my mind. Gone was the two-lane road that had led me to my cousin's house in Georgia. Instead of rolling, green pasture land, new shopping centers were on every corner. Confused, I began inching my way through the bumper-to bumper traffic as I aimed for Lake Jackson.
As I left the Tallahassee's city limits, I began settling in for the long drive, when suddenly, I was in Havana! Embarrassed that I had lost the lake, I headed south again. A childhood memory, a small airstrip, came into view (it hadn't changed), my destination was close. The so-far-out lake was now only five minutes from town.
Then, my troubles really began. When one of my daughters had a serious allergic reaction from medication, I called my husband, who was visiting a brother-in- law, to meet me at the emergency room.
My brother-in-law said that he would also come to the hospital, but he never arrived. When a nurse told me not to worry and that my daughter was doing fine, I told her about my missing brother-in-law. "Perhaps he went to the other hospital," the nurse suggested. (The other hospital?)
After my daughter had recovered, she asked me to take her to the mall — the "two-story one." Sure I knew where the mall was. I bought my wedding dress there at J. Byron's. Heading down Monroe Street, I turned into the Northwood Mall parking lot.
"Why are we at the library?" she asked.
I thought, "Library? This is the Northwood Mall. The library is downtown near the Floridian Hotel!"
With the children settled in school and my husband in his job, I thought returning to school might be fun. After parking, I walked miles searching for the counseling department at FSU. A counselor, noticing my breathless state, suggested a smaller setting for an older returning student. I immediately thought of Tallahassee Junior College with its one building and portables. It would certainly meet my needs. As I approached Appleyard Drive, I met heavy traffic. Then I saw the sprawling campus with a sign reading Tallahassee Community College. Why was I surprised?
Funny things have happened on the way to finding Tallahassee again. I have driven against traffic on one-way streets (who made Pensacola Street one way anyway?)  and discovered the Civic Center, which is larger than five or six Ruby Diamond Auditoriums while searching for Doug Burnett Park. Wanting to take my children to the movies, I drove downtown to the State Theater only to find no theatre, but concrete and steel buildings that momentarily brought to mind San Antonio.
Wanting respite from the disembodied feeling of somehow having been caught in a time warp, I headed out to my favorite hangout, Mutt and Jeff's, only to find an upholstery shop. My favorite record store is now the C.K. Steele Plaza. Former favorite shops are now office buildings and parking decks. Towering over the weatherbeaten 19th-century capitol is a super structure of concrete and glass.
While I was away growing and changing, Tallahassee was changing too. Where's the town? Grown to a beautiful city.