Tallahassee Hotels and Homes Became Hospitals During the Civil War
Capital Angels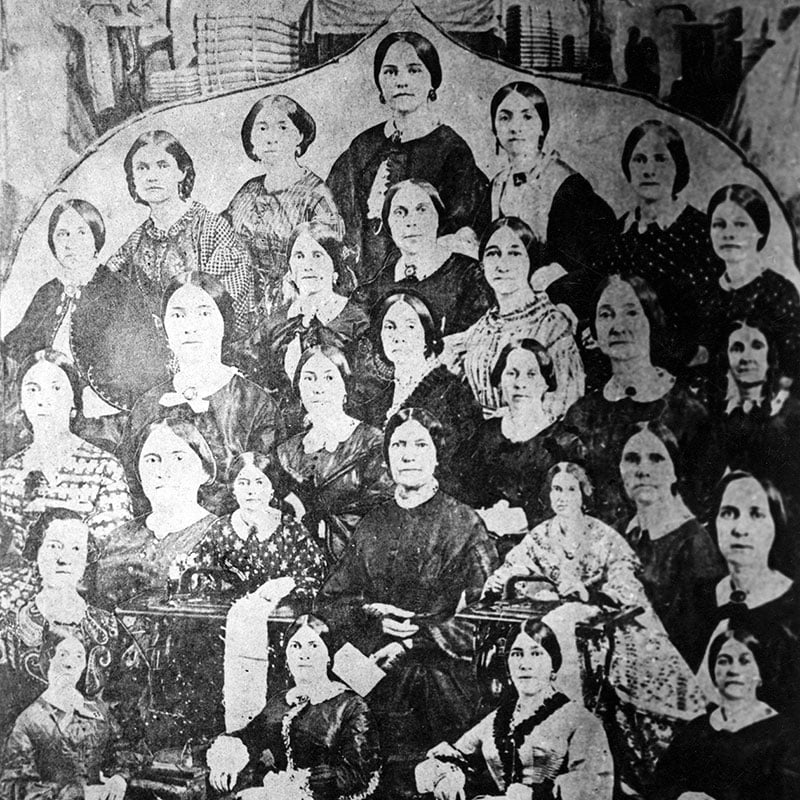 The alarm cannon sounded throughout Quincy before dawn on March 5, 1865. Dr. Charles Hentz, a local physician, paid no mind to it at first. He had heard the alarms before and nothing had ever happened. But this time, it would be different. Before too long he was on a train bound for Tallahassee, and then on to the front lines of war, where his surgical skill would be put to good use tending to the wounded and dying in the aftermath of the Battle of Natural Bridge.
The Ladies Soldiers Friend Sewing Society existed during the Civil War, and shortly afterward existed under the title Tallahassee Memorial Association. In 1898 the memorial association organized themselves as Anna Jackson Chapter 224 of the U.D.C.
State archives of florida, Florida Memory
Small towns, even most capital cities, were unprepared for the carnage of the Civil War. During the three-day fight at Gettysburg alone, more than 46,000 men were either killed or wounded. Modern research suggests that upwards of 700,000 men died during the four-year war. One-third of the soldiers died in combat, while the rest died from wounds or disease. Both Confederate and Union capitals became hospital cities; a hospital was set up in the U.S. Capitol's rotunda, and in Richmond, Va., church pews were used as hospital beds.
In Florida, the "smallest tadpole in the Confederacy," Tallahassee's men and women did whatever they could to find beds and provide care for the sick and wounded. This was a time when the health care landscape was quite different from what it is today. Today, we have a vast array of doctors' offices, clinics and specialists to choose from, not to mention two very fine modern hospitals.
It was quite a different story in antebellum Tallahassee. Perhaps the only purpose-built "hospital" at the beginning of the war was a federal marine hospital in
St. Marks, and it wasn't even being used for the purpose it was intended. It was designed originally to care for sailors sick with yellow fever. But it fell into Florida's hands when the state seceded and became a barracks for Confederate troops stationed at nearby Fort Ward. The two-story structure was built in the late 1850s from materials scavenged from the ruins of the ancient Spanish masonry fort San Marcos de Apalache.
Hentz recalled in his autobiography that on a duck-hunting trip to St. Marks in January 1865, he visited the artillery unit billeted inside the old hospital. In his autobiography, he lamented the dismantling of the historic old Spanish fort and remarked that a great number of human bones had been dug up when parts of the fort were torn up for building material. These old remains offered proof of untold suffering from decades past: "Some of them with shackles on them — and some bearing the marks of wounds; there was an oaken coffin also — I took home a number of the bones," he wrote.
Compassion and Patriotism
Early in the war years, it became apparent that the families of Tallahassee had to step up and do their part to help the sick and wounded soldiers coming into their town from far-flung battlefields. In the spring of 1862, the Florida Sentinel in Tallahassee asked residents to donate whatever food they could spare to aid the recuperating soldiers.
"There are now some twenty … patients in the Hospital in this city, who are being cared for and attended to by the ladies and also have good medical attendance. We learn that they are unable to procure some articles of diet, which are very necessary to the sick, such as young chickens, eggs, butter, honey, … ." the editorial states. "We appeal to persons in the country, who have such things to bring them in for sick soldiers. Donations of small amounts of these things would hardly be felt by the giver, while they would be an incalculable value. When it is recollected that at least every third family (of) this county have dear relations in the camps who are liable at any time to be prostrated on beds of sickness by some one or other of the diseases incident to camp life, it should induce every one to lend his or her aid to this most noble, self-sacrificing and patriotic efforts of the ladies of our city. Let them come to the aid of the ladies, who are untiring in their efforts for the comfort of the sick."
Aside from various locations within Tallahassee, hospitals were set up in Marianna, Quincy, Monticello, Madison, Lake City and Gainesville. Hotels, schools, homes and buildings next to railroad depots were pressed into service to provide aid and comfort to convalescing soldiers. In Tallahassee specifically, several notable buildings were used as hospitals at various times, including the First Baptist Church, the First Presbyterian Church, the City Hotel, the Meginnis-Monroe house, the Masonic Lodge and the old Planter's Hotel. Princess Catherine Murat, Dr. Edward Bradford and other residents took soldiers into their homes, but these were mostly wounded Confederates.
"After battles they generally used the regular military hospitals to treat the Union wounded and put the Confederates in private homes. They definitely did this after (the battles of) Olustee, Marianna and Natural Bridge," said historian Dale Cox. "The Confederates had learned that their wounded were more likely to recover with fewer complications if they were cared for in private residences. They weren't quite as worried about how quickly the Union wounded recovered."
Wherever the wounded were gathered, there were civilians — mostly women — performing essential tasks such as sewing, rolling bandages, scraping lint from white cotton cloth or wool for wound dressings, cooking, baking bread, reading to soldiers, writing letters home and even doing laundry. The Ladies Soldiers' Friend Sewing Society was just one of the Leon County women's groups that provided valuable assistance in the form of food, clothing and medicine.
"Many a citizen would find a place assisting in these and similar facilities," writes Civil War historian Keith Kohl in his book, "Florida's Civil War Years." Kohl notes that "much of the nursing was often in the hands of dedicated women volunteers who devoted time caring for and comforting the sick and wounded soldiers. Collections were organized to gather food and other necessities for the recovering combatants."
Dr. Bradford, father of Susan Bradford Eppes, cared for and housed soldiers not only in his home but another building on his property north of town. He spent much of his waking hours tending to the business of healing his charges, and as medicine got scarce he scoured the nearby woods and fields for medicinal plants and herbs. The rest of the family stayed busy as well. Susan Bradford kept a journal and wrote down on Sept. 29, 1863, that "Three times a week Mother fixes up a basket to send in to the Tallahassee hospital, fresh butter and butter milk; fresh vegetables from the garden, any kind of fruit we happen to have and always two large loaves of delicious home-made bread. This last is a luxury as flour is hard to get. Father raises wheat and he has put in bolting cloths in his gristmill, so the wheat can be prepared for use." The Bradfords also maintained a saltworks and made shoes in their tannery.
Another notable Florida figure, Mary Martha Reid — the widow of former Florida territorial Gov. Robert R. Reid — went so far as to help establish a hospital for Florida soldiers in Richmond, Virginia in 1862. At Florida Hospital, she served as matron throughout the war, Kohl wrote.
"Besides repeatedly holding drives to raise stockpiles of funds, foodstuffs and other necessities, Mrs. Reid ministered to the many Florida soldiers as well as any Union troops who came through the hospital's doors. These facilities often noted a shortage of needed supplies, despite the noble donations that were being sent by the citizens of Florida," Kohl wrote.
Closer to home, Ellen Call Long, daughter of former territorial Gov. Richard Keith Call, recollected in her book "Florida Breezes" how clergy implored their members to lend a hand in the wake of the bloody Battle of Olustee in February 1864.
"… I was at church; the congregation appeared as usual, unexpecting and unmoved, when they were startled by the clergyman returning thanks for 'victory.' Almost every one in the building had some relative or friend at the front. Some gave way to tears; others rushed out to learn the particulars, and those that remained were still more shaken by the request made from the chancel that bandages, lint, and relief of all kinds should be sent to our hospital, where the wounded from the battle field of Olustee or Ocean Pond would arrive before nightfall," she wrote. "So the twenty-second of February — once a proud holiday — found the ladies of our city engaged in making bandages and lint for the coming wounded. One poor wife was so engaged when she heard that her husband had been killed. As the hospital cannot hold the suffering humanity coming to us every house was thrown open for their occupation, and all the good of head, heart and hands showed itself."
Call mentions that this care and compassion even extended to black Union soldiers wounded during the fight and who were prisoners of war.
"The Federal wounded came to us, consisting almost entirely of negroes; three regiments of these poor creatures having been made to receive our bayonets, and their mutilated bodies tell with what effect. They are called, as if in derision, First and Second Carolina Regiments, but their tongues betrayed more Northern origins. These occupy, with their white officers, the Masonic Lodge and Baptist Church of our town, and it is much regretted by the humane that we have so poor accommodation for them," she wrote. "Their condition excites the commiseration of all kind hearts; so much so that many have sent them delicacies and comforts, that have excited comment from the prejudiced, who cannot make a difference between a fallen and a fighting foe. Our battle was so unexpected that there was no provisions made for prisoners, and they were sent here in such numbers that but for the attention of citizens their sufferings would have been greatly increased."
Cox said that in the wake of the Battle of Natural Bridge, Union black and white soldiers were treated side by side at Tallahassee's military hospital.
"They also treated white and black soldiers from Olustee side by side in the hospitals after the battle," he said.
War Comes Home
As the war dragged on, the fighting got much closer to Tallahassee. Cox details the events leading up to the battle in his book about the Battle of Natural Bridge.
On March 5, 1865, the alarm sounded in Quincy. And when
Dr. Hentz learned that the alarm heralded the approach of Yankee troops from St. Marks, he sprung into action. He called in a $200 debt (no small sum in those days) and used that money to buy morphine, bandages, a haversack and other items. He then went home, grabbed a canteen, quickly baked up a batch of biscuits and grabbed a slab of bacon from his smokehouse. Next, he gave his housekeeper some money, told her to look after his children, and was on the
9 a.m. troop train leaving Quincy for Tallahassee. When he arrived in Tallahassee, he obtained more supplies from the army medical department and went off to war as a surgeon for the Gadsden County militia and home soldiers.
A long troop train crammed with men and artillery slowly rolled south and pulled into an army camp around 10 p.m.; from there, the troops marched on to Natural Bridge. Hentz and a small medical detachment joined them on the fatiguing march. During the next day's battle, he and other local physicians realized there was no safe place to be during a battle, for Union artillery shells and bullets overshot their target and landed behind the lines amongst the doctors.
"One shell burst so close to us that a fragment as large as the palm of my hand tore the ground up just beyond my foot and Dr. Mapp's which were about a foot apart," he recalled in his autobiography. "I picked it up without moving my position, and have it yet as a relic of the battle; another burst right over my head as I was proceeding to the field hospital, and the fragments rained all about me."
Hentz survived the battle and spent the next few days tending to the wounded men that lay battered and broken across not only Natural Bridge but in Newport, scene of the first attempt by Union troops to cross the St. Marks River. Overall, there was much work for him and other doctors to manage. Total Confederate losses for the two confrontations were 11 killed, 39 wounded and two captured. This includes five civilians who were killed during the Newport skirmish prior to the fight at Natural Bridge. Union casualties were higher. Twenty-two were killed, 109 were wounded and 38 were reported missing.
Hentz said he was "profoundly grateful to God for our signal victory." His survival was even more welcome news to the family. His brother, Thaddeus, had been wounded and captured during the bitter fighting at Marianna the previous September and languished as a prisoner of war in Elmira, New York.
"The Confederate victory at Natural Bridge kept the rest of the family together and saved them from even greater losses," Cox wrote.