Tallahassee Festival of Books and Writers Conference
A Bigger, Better Conference for Readers and Writers Seeks to Put Tallahassee on the Bibliophile's Map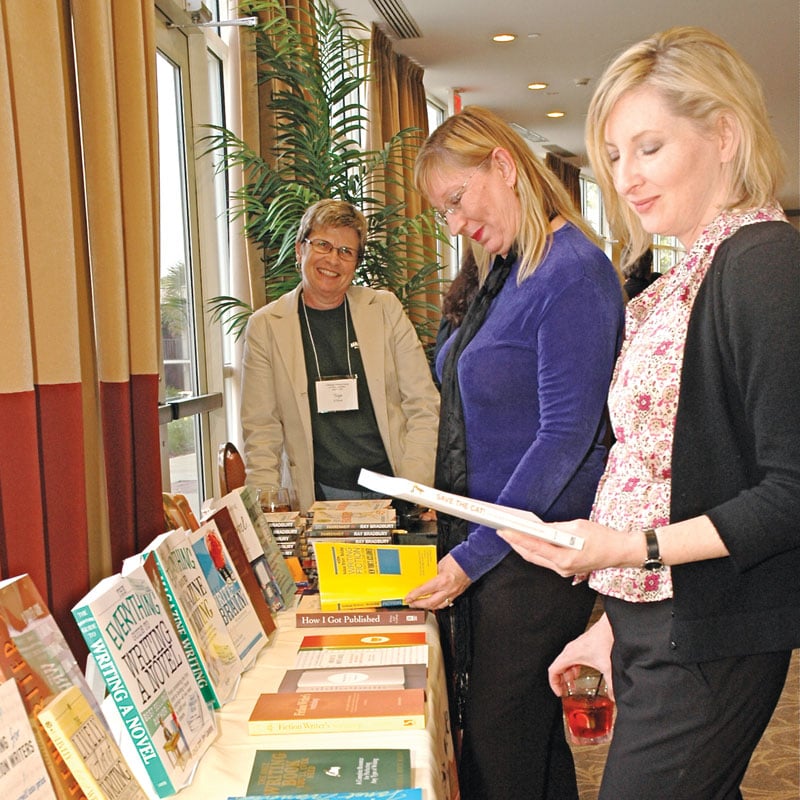 Each spring, the literati of Tallahassee gather in a little-known event to dissect their craft, share unpublished manuscripts and shake hands with ambitious novices, newly published authors and award-winning veteran writers.
Though it's no secret, the Tallahassee Writers Conference hasn't exactly attracted the masses. In 2009, attendance was 160 — a record. However, conference organizers are hoping the addition of a free, open-to-the-public book festival will attract far more local literature lovers. It's the perfect marriage, organizers say, between the city's literary talent and readers.
Held over the weekend of March 19 – 21, the Tallahassee Festival of Books and Writers Conference will feature seminars and workshops geared toward writers and a book festival for readers, complete with author meet-and-greets and sales of new and used books. All events will be held at the newly completed Augustus B. Turnbull Conference Center at Florida State University.
Supporters say the combined festival and conference has the right ingredients to someday equal the national literary prominence of events such as the 26-year-old Miami Book Fair, which last year attracted thousands of people and big-name authors such as fiction writer Joyce Carol Oates, environmental activist and former Vice President Al Gore, and CNN medical correspondent Sanjay Gupta.
For the Writers
For professional writers and wannabes, the Tallahassee conference offers the elusive chance to sit down with a literary agent and receive feedback on a finished manuscript. Sessions will cover topics including "Writing for Tweens" and "The Devil is in the Details," the latter offering tips on how to bring historical characters to life in fiction. This year's festival emphasizes Florida-based writers, with topics such as "Writing the Murky Waters," on water quality and politics in Florida. These sessions, and many others, are open to the public.
"This year, we'll have a big Florida focus," said Donna Meredith, president of the Tallahassee Writers Association, organizer of the event. The noontime keynote speaker on Saturday, March 20, is Julianna Baggott, an FSU associate professor of English and author of more than a dozen books, including coming-of-age novel and national bestseller "Girl Talk."
Meredith said that bringing on FSU as a sponsor gives the conference the literary cachet that other conferences lack. Many accomplished writers teach at Florida State and are eager to speak at a local conference. Besides Baggott, there is Janet Burroway, who has penned eight novels, including Pulitzer Prize-nominated "The Buzzards." She also has penned writing-advice books such as "Writing Fiction: A Guide to Narrative Craft," which is widely used in colleges and universities throughout the country.
For writers, it's a good value. The Florida Writers Conference in Lake Mary, near Orlando, costs at least $250 to attend. By comparison, organizers say the $135 price tag at Tallahassee's event is a bargain. Meredith hopes the low cost will significantly boost attendance this year.
Tallahassee writer Rhett DeVane has published two Southern fiction novels, "The Madhatter's Guide to Chocolate" and its sequel, "Up the Devil's Belly," about the turmoil in a small town after a hate crime is committed. Her third and latest book is a bit of a departure for DeVane — it's a political fiction piece coauthored with former state Sen. Robert McKnight.
DeVane said she attended and was impressed with last year's conference.
"It's on the right track," she said. "They are really in line to compete with some of the bigger conferences."
For some attendees, especially novice authors, writer's conferences offer opportunities to find a literary agent in person rather than hunting for one through a cold query letter.
The in-person method gives a writer an opportunity to receive valuable feedback or even to get his or her name circulated among other agents.
"Agents will even say on their Web sites, 'I'm not accepting any new people except those I meet at conferences,'" Meredith said.
An agent helps negotiate deals with book publishers. In fact, many book publishers prefer to deal with agents and won't work directly with authors.
This year, Meredith is bringing in Donald Maass, who owns a New York City-based literary agency and represents 100 fiction writers. He also has written his own books on writing, including "Writing the Breakout Novel" and "The Fire in Fiction." Maass will conduct an all-day workshop on Sunday, March 21, for writers who pay an extra fee ($125) and are able to submit at least 50 pages of a finished manuscript.
Meredith said the pricey workshop is worth the cost because it guarantees a face-to-face meeting and a writing critique. Though it's rare, at the last conference, an agent even offered to sign a writer.
"It's a great opportunity," DeVane said. "You may meet with somebody and click with them. If they like you as a person and like what you're saying, it gives you a leg up."
For the Readers
The conference's companion book festival started last year, although only about 50 people attended. It wasn't widely publicized, Meredith said, and was held at a smaller venue. It also had to compete with other local book festivals offered around the same time.
Meredith suspects some local readers simply had book festival fatigue.
"We want more attendance for the book festival," Meredith said. "There's free food and all these great authors. You can pick your times of day to suit you … I think it's a matter of making sure people in Tallahassee understand what a book festival is."
A book festival is like a mini-book store with thousands of books available for purchase, often associated with an author who is speaking at the festival. Usually book authors will autograph copies of their book, and there is an emphasis on local writers. At Tallahassee's Festival of Books, many local writers will also be speaking.
The festival is a natural companion to a writer's conference.
"Writers need readers," said Helen Moeller, the director of the LeRoy Collins Leon County Public Library. "Even as a reader, listening to someone talk about writing can be very interesting." It also provides a platform for local authors to promote their books.
Some of the book festival speakers this year include Michael Whitehead, a retired Army colonel who wrote a memoir about his experiences during the first year of the Iraq war; author Dee Merian, who wrote a memoir about Howard Hughes and the airline industry called "Flying High"; and crime novelist Michael Lister, whose latest, "Double Exposure," is set in the North Florida pine flats and swamps along the Apalachicola River.
This year, the book festival runs from 6:30 to 9 p.m. on Friday night and continues all day Saturday from 8 a.m. to 9 p.m. Best of all, attendance is free.
"It's a relatively new and ambitious conference," said John Fenstermaker, a professor emeritus of English at FSU and president of Friends of the Florida State University Libraries. "Tallahassee is a book town; we have lots of readers and organized reading groups. The community will be interested."
The Tallahassee Writers Association doesn't make money from the conference, Meredith said. The organization's aim is simply to break even. In fact, many of the writers are being paid through grants with groups such as the city-based Council on Culture and Arts, the Florida Humanities Council and the Leon County Tourism and Development Council.
Meredith has big plans for the Tallahassee Festival of Books and Writers Conference, with dreams of one day rivaling the literary pull of festivals such as the Miami book fair.
So what are you waiting for? Visit the conference and festival while it's still one of Tallahassee's best-kept secrets.
The schedule for the Tallahassee Festival of Books and Writers Conference wasn't finalized in time for this article. For up-to-date information, visit twaonline.org.