Tallahassee Downtown Improvement Authority Paints The Town
Gallie Alley Graffiti Abatement Project brings colorful content to downtown alley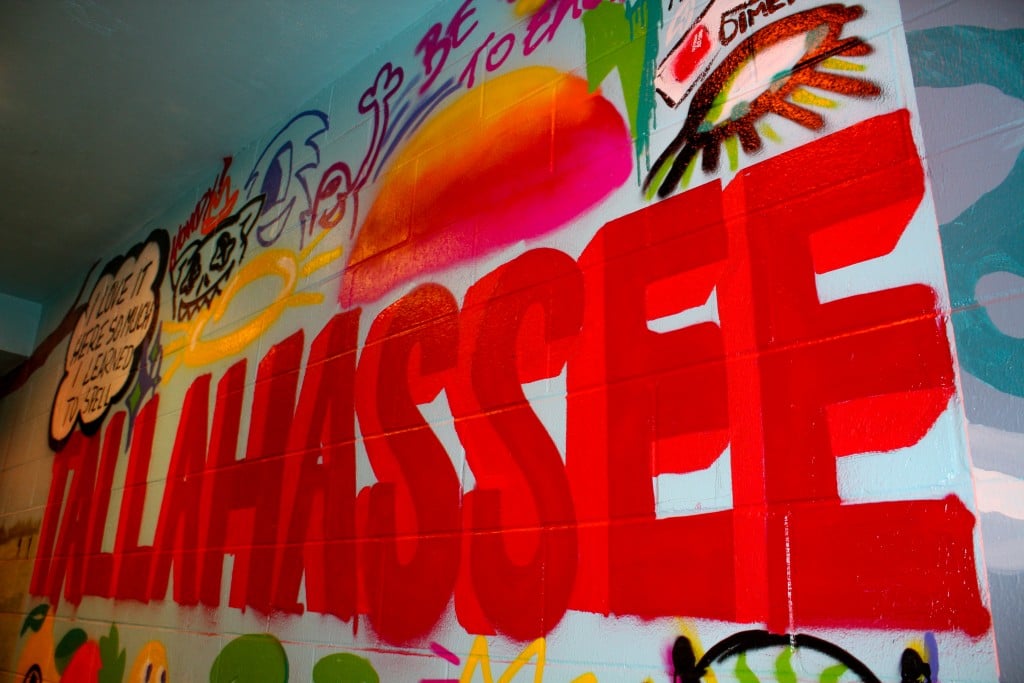 Growing up, we were always told not to color on walls. For the artists of the Gallie Alley Graffiti Abatement Project, they get to defy those rules, using city walls as a canvas for purpose and positive impact.
The project emerged from the Tallahassee Downtown Improvement Authority's mission to make an overarching community impact that included minimizing graffiti marking local businesses, connecting local artists, promoting the arts and attracting residents downtown after months of lockdown.
TDIA worked alongside AIGA Tallahassee to put out a call for artists willing to paint positive images that related to Tallahassee.
"When we were deciding on a theme for the project, we knew that we wanted to capture Tallahassee's spirit and eccentricities through the pieces," said Elizabeth Emmanuel, CEO of the Downtown Improvement Authority. "We were also really interested in bringing positive, uplifting messages to downtown. We want people to feel a sense of pride and a stake in the community, and it's our belief that having public art — as well as beautiful, useful public spaces — allows people to establish that sense of pride and ownership."
Eleven artists were selected and given ten-feet of space to bring their creative craftings to life spanning the alley from South Adams Street to East College Avenue.
The project began on Nov. 14 with volunteers from Access Tallahassee cleaning the alleyway and applying the base coat layer of paint. The following day, the local artists transformed the scene into an outdoor art gallery.
"One of the things we're most proud of is that we were able to showcase local artists and their art in a time when many artists have been struggling to find opportunities to display their work," said Emmanuel. "The pieces they worked on totally transformed Gallie Alley, which was previously filled with graffiti, and gave visitors to downtown a walkable exhibit of Tallahassee-themed art."
Each of the artist's individual styles is represented through the symbols of Tallahassee they chose to highlight, from a piece that represents a topographical map of Tallahassee to a rendition of the downtown skyline to a heron standing tall amongst the waters of St. Marks River Preserve State Park.
When visitors first enter the alleyway, to the left, they will see that very heron monikered as the "Stand Tall" mural painted by artist Lindsey Masterson.
"A heron represents resilience, self-determination and the ability to stand on one's own, living freely and independently," said Masterson. "The mural is a reminder to 'Stand Tall.' If you have compassion and trust in yourself, you have the ability to evolve and grow."
Inspired by this message, TDIA worked alongside Masterson to have the work of art turn wearable. T-shirts featuring the heron were made for a limited time through Tallahassee Downtown.
The alleyway has long been utilized to access local businesses. Before, when the alley was tagged with graffiti, a business would have to pay for its removal. With beauty and symbolism abound the hope is to create a lasting solution to abatement.
"I hope Gallie Alley shows people how a mural can influence the emotions in a space, that art matters and makes an impact," said Masterson. "I hope each mural tells a story and reminds the viewer of what makes Tallahassee feel like home."