Tallahassee Community College Goes Global
The World is These Students' 'Community'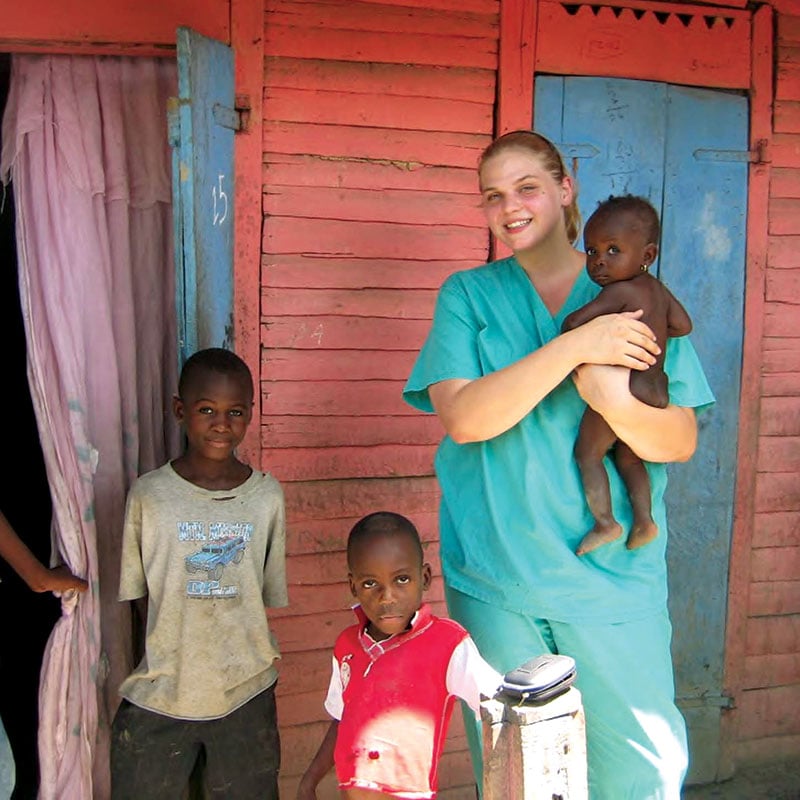 For those who have reached a certain age, the words "community college" evoke a certain image: the two-year "junior" college, populated by local young people who aren't quite ready to venture into a "real" university or want to stay close to home.
When it comes to Tallahassee Community College, that image couldn't be more wrong. Students come here from around the world, while others spend their time globe trotting.
In the summer of 2007, students went to Haiti on a humanitarian mission and to New York City for an art tour of museums and other cultural hot spots. Led by President Bill Law, a TCC delegation visited Tianjin, China, to expand the college's exchange programs with Chinese schools, while TCC students joined Florida State University's summer program there. A traveling party climbed Macchu Piccu in Peru and explored the Sacred Valley of the Incas.
"I'm looking forward to going back to school this fall more than I've ever been," said Blake Cunningham, just back from China. Next on his wish list: Italy.
It's all part of TCC's expanding efforts to prepare students to become citizens of the world. But while the college is developing more and better study-abroad programs – and more student scholarships for them – its Global Education Committee is focused on bringing international arts, culture, business and politics to campus.
In the past year, TCC has hosted performers ranging from Irish fiddlers and African drummers to a Chinese zither player, offering workshops, speakers and panel discussions. A Taiwanese dance troupe from San Tsin High School, the college's sister school, drew a crowd to TCC's Lifetime Fitness Center. "Dali on Tour" brought its traveling exhibition to Appleyard Drive in April. Each November, the college partners with the U.S. Departments of State and Education to observe International Education Week, which in 2006 included a Parade of Nations, where TCC's many international students created a moving display around the campus flagpole, carrying their countries' flags. And the thriving International Student Organization hosts "cafés" at which a country's native art, food and music provide a "you are there" experience.
"Part of global education is bringing aspects around the world to this campus for students who can't travel," said Rick Murgo, TCC's Exchange Program Facilitator. He coordinates the Chinese and Czech Republic study-abroad efforts, as well as TCC's much-honored Model United Nations program. "Even if they don't leave Leon County, they're going to benefit and get some global experience."
But for those who yearn to travel, TCC has that, too. In China, President Law
finalized a partnership to exchange a faculty member, Lucy Tian, with Tianjin Foreign Studies University this fall. Law's group – which included Murgo, Vice President for Academic Affairs Barbara Sloan, and Sally Search, Dean of Academic Support – also met with a high school interested in an English immersion program at TCC and with a two-year technical college. An exchange between the Tianjin law enforcement center and TCC's Pat Thomas Law Enforcement Academy is under way. Lee Kitchen, a business professor and member of the delegation, said Americans have much to learn from their Chinese counterparts.
"Most of us have to wake up to the fact that the Chinese were the leaders in business and commerce thousands of years before the Western world became involved and interacted with them," he said. "So they are terrific businesspeople."
The educational partnerships will allow TCC students "to gain an understanding of the culture and meet students who may come here," said Sloan.
They also will have the opportunity to teach English in Tianjin, said Murgo.
"And a lot of them are going to be able to earn their way to study in China on a scholarship," he said.
In addition to the exchanges with China, TCC offers a popular Humanities Study Abroad Program that has visited London, Paris, Rome, Florence and Athens, to name only a few; the Spain Study Abroad Program in Madrid, Barcelona and more; and the Museum Trips program to major art galleries and museums.
A German student is here this year, opening TCC's involvement in the Congress-Bundestag Youth Exchange. Last year, International Student Organization students went to Montreal to present a paper, "Crossing Cultures with a Model Student Organization," to the National Association for Foreign Student Affairs. And in partnership with the Georgia University System, TCC has a new study-abroad program in the Czech Republic, with side trips to other European capitals.
"When TCC students return home from one of our study-abroad programs, they almost unanimously call it the greatest experience of their lives," said Jeff Knapp, the Humanities Study Abroad coordinator.
---
Margie Menzel is an editor in the Office of Communications and Public Relations at Tallahassee Community College.
TCC Family is Well Traveled
Here are just a few stories of Tallahassee Community College's international family:
Mandi Ruscher, Nursing Student and International Activist
Students from Tallahassee Community College and Florida State University are planning a 10-day trip to Cambodia to volunteer at schools and orphanages during the 2007-2008 winter break. The group is called Students in Action, and they are raising money and collecting supplies to take on their trip.
"I went through Cambodia last year, and I was really just touched by how nice the people were in spite of how poor the country was – and was especially influenced by the street children there," said Mandi Ruscher, the group's director.
Ruscher is a TCC graduate who taught English in South Korea and has since returned to the college to study nursing. The trip will support two projects: orphanages run by monks, where the students will help teach, and a treatment center for victims of land mines.
The trip will help Cambodians, but also will benefit the students who go and the TCC campus when they return, said Rick Murgo, TCC Exchange Program Facilitator and coordinator of the college's much-honored Model United Nations program.
"It's going to be incredible," he said. "I can't imagine what they're going to come back like."
Lucy Tian, Professor of Chinese Culture and International Economics
When Lucy Tian arrived in Tallahassee from China, with hours to spare before her first class, all the faculty of the History and Social Sciences Division met her at the airport. HSS is where, for two semesters, Tian will teach Chinese culture and international economics with a focus on China.
Tian was selected to represent Tianjin Foreign Studies University (TFSU) in its first faculty exchange with TCC. President Bill Law finalized the partnership in China this summer, which is also when Tian won the hearts of the TCC group by translating for them at TFSU.
TFSU gained its reputation with its excellent foreign language programs, including English, Japanese, German, Spanish and Arabian. But now the university is enlarging its majors to business, technology, and international trade and management, says Tian.
"And the president of our university is an expert on Japanese teaching," she adds proudly. "Every time when our government's discussing about some policies concerning to Japan, they will invite him."
Her sunny attitude has made Tian a favorite at TCC as well as TFSU.
"Students in U.S. just the same as Chinese students because they're young," she says. "They want to be independent, they are trying to think something quite new. They accept new ideas very quickly. So it's easier for me to communicate with them, because they are basically the same."
Jorge Pedraza, Humanitarian and Businessman
Last year's Student of the Year, Jorge Pedraza, also is an Iraq war veteran who blossomed at Tallahassee Community College, becoming president of the Eagle Business Society and a leader of the Student Government Association. Today he is known for his organizing and fundraising acuity, which has gone, above all, to benefit Haiti.
This past summer, Pedraza led the Rotaract Club of Tallahassee, a student service group he founded, to Haiti's Central Plateau with Project MediShare. The program provides desperately needed health care and is helping 3,000 local farmers switch from subsistence farming to cash crops that feed the malnourished populace.
The mission visited with patients, delivered prenatal vitamins and other medications, and met with Haitian Rotarians.