Tallahassee Business Journal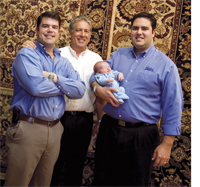 Family-run companies find success through unique situations and close family bonds The Family BusinessMeet local families who are working to survive into the next generation
By Ed George
The odds are long for the family business. Very long.
There was a time in this country's past when the family business was the norm – when it would be unusual to hear that a son wasn't entering his father's trade or apprenticing at his father's shop.
Those days are gone. Today, not only does the family business find its future threatened by the rise of corporate powerhouses, big box retailers and chain restaurants, but also by the likelihood that the founder's children will abandon their parent's business for other career opportunities.
Just how long are the odds? The statistics make it clear how hard it is to keep a family business afloat across generations. According to Family Business magazine, only 30 percent of family business enterprises in the United States survive to the second generation. And only 10 percent make it to the third generation.
Tallahassee Magazine has found five families who have defied those odds – families that know it takes a special type of bond between parents and children to work together.
They know that like all relationships, it isn't always smooth sailing, that taking the bad with the good is one of the challenges they face every day. Overcoming those challenges is perhaps what makes each of their businesses successful.
Brian Barnard's Flooring America

You might have seen the TV commercials featuring a proud father flanked by two strapping sons, all in their Flooring America blue denim shirts. That's Brian Barnard and his boys.
Barnard is a Tallahassee business legend who got his start in the carpet business when he was a Florida State University student living in a trailer and selling carpet remnants to students for their dorm rooms and apartments.
His first store was The Carpet Trader, located in a little concrete building on Lake Bradford Road.
Barnard always has been an entrepreneur – even as an FSU student, when he organized student ski trips to Vermont, as well as sealing and painting stripes in area parking lots.
Today, he flies the Flooring America flag and has three stores; one just opening in Thomasville, Ga.
Barnard has employees who have been with him for decades. His sons have been right by his side since they were toddlers hitching a ride on a warehouse forklift.
"They have always been here with me after school, and we all get along," Barnard said. "I feel blessed having two sons that show this much interest in this business.
"One of my personal challenges is not to stifle them for the next 20 years," he said. "They may want to take the business in a different direction, and I might be sticking to the old way … or my way."
Even though their dad is the boss, the boys work hard.
"Neither of them knows what a 40-hour work week looks like,"  Barnard said, adding that his sons work 60 or more hours each week and that, as with everyone else at the stores, their compensation is commission-based.
Chris Barnard is 23 and Brian Jr. ("JR") is 28. So, could they start up a business like Barnard's Flooring America today?
"I really don't think so," Brian Barnard said. "And that's one of the big advantages of a family business. It costs so much to get started and keep it going with taxes and insurance and owning your own buildings."
He said that his sons are getting a feel for the pressure of making a payroll, the challenge of managing employees, and the costs of providing employee health insurance.
"I know there is a high failure rate for handing down a family business, and I have been working on this since they were 13 or 14," Barnard said.
"You can't learn a lot of this in business classes," he said. "You have to get out there in the real world and do it every day."
Barnard said it is "kind of an honor for me as a parent to see the kids take initiative. We talk every day, I stay involved with their lives, and honestly, they come up with some ideas that are better than mine."
Chris Barnard said it's fun to work in the carpet stores with his brother and father.
"I love it, and I have been doing it the whole time growing up," he said. "Dad won't be here and I will be doing something and (the employees) will say, 'You are turning into your dad.'" 
Chris Barnard said his father made the boys go to work at 13, but that they always got paid. And it was no gravy train.
"We started at the very bottom of the totem pole, sweeping the warehouse floor and unloading trucks," he said. "We worked our way up to selling and managing. I think it was important to earn respect from the people who work here."
Today, Chris Barnard is managing employees who were working at the company before he was born. But they know he paid his dues with that broom. And they helped him along the way.
"It's a fun, family-oriented place to work," he said. "I'd hate to work somewhere stiff. Everybody here has a great sense of humor."
Brian Barnard and the boys make an effort to go to lunch together once a week when possible.
"And we really try not to talk about business," he said. "We get enough of that in the stores."
Marpan Supply: The Williamses

Kim Williams started in the business as a boy working for his parents at Marpan, a multifaceted business that sells an eclectic array of goods and services over a wide area. The company is best known perhaps for its refuse containers, but it also is a major supplier of lamps (light bulbs) for government purchasing departments far and wide. Furniture and other contract goods also have been handled by the company. And at one time, most of the red clay on baseball infields across the Southeast went through Tallahassee by way of Marpan before gumming up all those baseball cleats.
Williams' daughter Johanna, 28, spent some of her after-school and summer time stuffing and collating light bulb catalogs at the company. "I think I was about 10 when I started with those catalogs," she said.
Johanna went off to Savannah, Ga., to get a college degree in graphic arts and marketing. After graduation, however, she had no interest in the family business. She used her college training to land a prime job in New York at the Ralph Lauren fashion empire – quite an accomplishment for a North Florida girl.
After a few years in the high-fashion advertising world, Johanna's father asked if she would be interested in taking over as the property manager of some commercial and industrial real estate for him. She jumped at the chance and is now learning the ropes – and loving it.
"I had to get my real estate license and learn a lot of new things, like finance, that I did not get with graphic arts and marketing," Johanna said.
"He really is an amazing mentor and father," Johanna said. "When I first came back from New York, he took me to meetings and introduced me around. He knows everybody, so I made contacts that would not be possible for someone my age."
But a daughter working closely with Dad has its challenges.
"We are very similar, which can be good and bad," Johanna said. "We can fight and get stressed, but we bounce back quickly. You just have to get along a majority of the time no matter what."
Johanna's younger brother, Andrew, is a 23-year-old with his feet planted firmly on the ground at Marpan.
"I love it," he said. "From the time I was 11 or 12, I have been working with Dad after school, and summers. Marpan is so diverse, you have something different everyday," he said.
Andrew has been working as many hours as he can while also trying to get his college degree. He attends TCC and is transitioning to FSU. He wants to study customer service, small business management and marketing.
"I love Tallahassee, but I have friends who couldn't wait to get out of town. Most of them eventually move back," he said.
What keeps him here while friends relocate in places like Boulder, Colo., or Atlanta? "I really like problem solving, and coming up with my own solutions. Of course I check with Dad on new ideas. One thing we are working on is our communication. With a family business, that's the key."
The Williams family Marpan experience has a blended family counterpart: Target Copy. Mrs. Kim Williams, Maida, is the owner and president of the Tennessee Street icon that keeps the lights on and the copiers warmed up 24/7 for students, professors and professionals who have high-impact, high-volume photocopying needs.
Her daughter by an earlier marriage, Tracey Cohen, a 28-year-old advertising major from University of North Carolina's Chapel Hill, joined the firm 36 months ago. It was a bit of a surprise all the way round.
"I knew I was never going to work at Target Copy. No way. I had to forge my own path," Tracey said.  After college she settled in to a challenging position at a marketing and research company in Atlanta.
But her mother convinced her that Target needed marketing expertise. "As you get a little older, you realize how nice it is to have family nearby," Tracey said. So far the job has not included much marketing because she is learning all aspects of the business.
"The nature of this business is that everybody needs to work the front counter at some point," she said. When she gets a break from customer rushes, Tracey works on a marketing plan.
And how is it working with Mom?  "Much better than I ever thought it would be," she said. "You learn to separate the personal from professional."
Peter Mitchell Associates

Remember the slogan "Arrive Alive"? That was the brainchild of Tallahassee's own Peter Mitchell. It was so widely admired that soon after the Florida Highway Patrol launched the campaign, national groups seized it and made it popular nationwide.
Peter Mitchell now is retired, mostly, but thanks to his two sons, his full-service advertising business is running along quite smoothly. It even is in the same location on the south side of Seventh Avenue near Magnolia Drive, a little bungalow converted to a small but tidy professional office.
"I retired in 1998 and my sons kept on with it," Mitchell said. Drew, 46, and Bart, 43, "are a great deal brighter than I am.
The agency has a wide range of clients and "it has been a nice business for all of us," Mitchell said. He and his sons also are shareholders in, and are on the board, of T-Formations, the 10th largest T-shirt screen printer in the nation. And they began investing in real estate around Tallahassee some years back. "So it's really like three separate businesses," Mitchell said.
Both of his sons majored in communication at Florida State University, but he said they found their way into the advertising game on their own.
"We never encouraged them to get into the ad agency," Mitchell said. "They just gravitated to it. They are creative-minded, and they have the skills to be successful."
As business partners, Mitchell's sons complement each other, he said. Bart is business-minded and Drew is very creative.
"I can remember the last official day that I was in the office," Mitchell said. "It's scary to walk away from what you've done all your life, and especially with no real honest-to-goodness income. But at the same time, it's exciting to see your sons pick up the ball and run with it. 
"Right after I retired, I would go help them out," he said. "Now I don't even come near the office. I think they prefer it this way."
Goodies Eatery: The Henningsens

Goodies Eatery is a downtown Tallahassee centerpiece, a cozy, contemporary spot for breakfast, lunch or a coffee break. But from its prime location on College Avenue between Monroe and Adams streets, Goodies has a firm grip on a very special market. While customers are filing in to eat, huge orders of salads, fresh-made deli sandwiches, chips, cookies and beverages roll out to special events, lobbying affairs and boardroom meetings at law firms. With a phone call, power brokers and political players can have good food at their fingertips while meetings and work continue uninterrupted.
Behind this operation is a family business of a different kind. Rather than the child following the parents, this son recruited his parents right out of retirement in 1995. And they have been working there ever since.
John Henningsen, at the age of 22, was an employee of Goodies while a college student at FSU. He took over the business from the previous owner. Not long after, he realized he needed help, especially with bookkeeping and taxes. He called up his father, Paul, who was retired from the Xerox Corporation.
"I think Dad was a little worried that I did not know what I was doing," John Henningsen said. "He did not hesitate and came in and went right to work in the store and also as bookkeeper on the site, doing all my monthly statements, payroll and taxes."
His mother, Bettie, pitched in everywhere she was needed. And Henningsen's sister, Karen Gorman, a professionally trained pastry chef, is a manager of food preparation work.
"None of us ever worked in the restaurant business, but Mom says this is her favorite job of all time," he said. "I have been trying to cut them back to part time, and especially Mom. She can outwork people who are a third her age."
Looking back over the past dozen years, "it's kind of amazing to me that we all ended up working side by side to build this," Henningsen said. "It's not always the easiest thing to work with family, but we get along and get the work done."
Speaking of family, Henningsen married a long-ago Goodies employee, Stephanie, and they have three small children. Goodies also has expanded in another way, with a second restaurant at the Museum of Natural History's R.A. Gray Building.
"Having people around you that believe in you makes all the difference, but what really makes us successful is the incredible support staff we have," Henningsen said. "It's like another family.
"I have learned from my parents to hire nice people and respect them. That spills over to customer service, so we have the best customers in the world. And as the relationship builds, they keep coming back."
Jody and Sarah Ellis
Stay-at-home-mom Jody Ellis signed up to help with her daughter's elementary-school PTA newsletter in 1990. It turned into a career, and her small graphic design business still is thriving in Tallahassee.
But a funny thing happened along the way. Her daughter picked up Mom's camera and, it turns out, had a knack for taking pictures. A hobby grew into a passion.
Both are in demand. Small and medium-sized businesses – particularly realt-estate agents – seek out Ellis and her graphic-design skills. Before her business ever came into being, Jody Ellis and her husband moved frequently, living in Jacksonville; Ocala; Mobile, Ala.; Atlanta; and Pensacola. But once they got to Tallahassee, with a young family coming along, they decided to stay.
"We really just loved Tallahassee," she said. "So here we are 17 years later."
Ellis' unexpected graphic-design career just kept building from that first elementary-school newsletter. She branched out into Web design before it became popular. Her first Web site was byellis.com.
"I had to turn away work sometimes, but I liked the flexible hours, and the chance to keep my brain cells going," she said.
Jody and daughter Sarah got interested in the Humane Society when president Sarah Earl asked them to do a newsletter.
"It was … what's that called? Pro bono?" Jody Ellis said. "But we share a love of animals and have always had dogs, so we jumped in. We got that 'helper's high' from working with the rescue animals and meeting so many wonderful people and just knowing we were making a difference."
As the newsletter progressed, it became apparent that Sarah Ellis had a gift for photographing animals. Any animals. Groups of animals. Her pictures stood out.
"She has some kind of true bond with the animals, and as one person put it, 'captures the soul' of the animal in her shots," Jody Ellis said.
The animal photos by both Sarah and Jody can be seen at lchs.info. The cats and dogs up for adoption seem to be gazing fondly at something or someone.
"She can get three Labs and a mixed breed to sit still and look at the camera when nobody else can," Ellis said.
Sarah doesn't just take pictures and post them on the Web. She is a well-rounded volunteer, working alongside her mom and having fun while finding foster homes.
Occasionally she even adopts an animal so young it has to be bottle-fed.
For all of their volunteer work with animals, the mother-and-daughter team was recognized recently with a nomination for the Women Making Magic Awards.
They also study digital photography and have attended seminars on Photoshop, a professional-level digital image software program. Sarah was building her own Web sites at the age of 11. Her love of animals and photography provided plenty of material. She said she likes working on her own with Web sites, but for lots of other things she and her mother go as a team.
"We work together on lots of small things, like running errands to pick up work or answering questions on the Web site," Sarah Ellis said. "I might help her with some design work – say a menu or a flyer."
There is no downside to working with your mother, she said.
"We can be silly together, laugh together, cry together and talk about anything," Sarah Ellis said. "Working with your mom every day is just great. She has just been one of my best friends growing up and supports me in whatever I do. I hope we will be working together for a long time. I can't imagine a day without seeing her."