Tallahassee Business Journal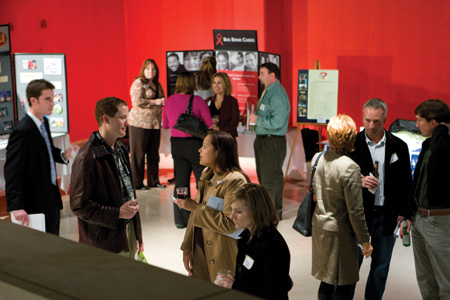 Tallahassee's young professionals are shaking things upPhoto by Scott Holstein

The Young & The Fearless Tallahassee's Young Professionals Capitalize on the Capital City of Today While Actively Shaping Its Tomorrow 
By Ashley Kahn
Youth is impulsive. Youth is ambitious. Youth is ephemeral, but while it is theirs, the next generation of Tallahassee leaders is scaling the proverbial ladder – one social and professional rung at a time.
A national trend in business and social networking organizations for up-and-coming members of the workforce has trickled down to Tallahassee, now home to a handful of dedicated groups for young leaders – also influential voters and innovators – equipped to change the way we live by transforming our politics, technology and culture.
Only five percent of Tallahassee's college graduates choose to pursue a career and build a life here, a statistic that may swiftly escalate with a dynamic community of cleverly monikered "YPs" at the helm.
Just five years ago, such resources were not available for graduates and newcomers seeking direction. Now, they can tailor their membership to their needs, whether to meet new friends, volunteer time and money, or establish new business connections.
Youth can be indecisive, but the youth of Tallahassee have proven they know what they want, and they are capable of achieving it.
Just ask the supporting members of Access Tallahassee and the Network of Young Professionals, two organizations committed to improving our city by making it more livable – for every age group.
Access Granted
When Director of Member Programs & Events Allie Merzer Fleming joined the Greater Tallahassee Chamber of Commerce in May 2006, one of her main objectives was to pioneer a new program for young professionals, a growing trend in Florida and nationwide.
Leadership Florida was in the midst of launching a statewide young professionals organization, originally called Emerge Florida but since re-branded as Connect Florida. Fleming attended the conference, where she met several members of the Emerge Tampa Bay program, what she deems "probably the biggest and the leading one in the state."
Instead of adopting a model that worked elsewhere, Fleming decided to rally a focus group here in Tallahassee. Members of the Network of Young Professionals and Tallahassee 25 were invited, as well as other young minds throughout the community – in all walks of experience, gender, race, job title, marital status, political preference and interests. (The focus group would become a harbinger of the group it was led to create; Access Tallahassee today prides itself on the diversity of its members.)
What came out of that session was this: Tallahassee needed and wanted "a good business organization of young professionals ages 21 to 40," Fleming says. "There were enough volunteer opportunities in this town, enough social opportunities in this town, but there was a gap for people who were just starting their careers."
Access Tallahassee was underway by October 2006. The goal was to attract 100 members and host four events within the first year. The program is event-based as opposed to meeting-based, and dues are structured to offer a student rate, an Access member rate and a Chamber member rate so everyone can afford to participate.
"The idea was to reach out to the business community to help subsidize the events and the cost of the program," Fleming says. "This is an emerging workforce and one we need to nurture."
The first Access Tallahassee event was "Speed Networking." Participation was limited to 70 members who were asked not to pair up with people they already knew. Two minutes were reserved for introductions, the third and fourth for making connections and the last for exchanging business cards. DJ Greg Tish of GT Entertainment blasted '80s and '90s music. At the end of a five-minute turn, members moved one seat to their left or right to advance down the long table. After nine or 10 turns, they continued to network over a buffet lunch.
True to its name, "Speed Networking" quickly became a huge success. Because the program is affiliated with the Chamber, board members were invited to participate, so the younger players were able to sit face-to-face with some of the most influential people in Tallahassee.
Within three months, Access Tallahassee had more than 100 members. At the end of year one, the count had risen to more than 200. Today, only 20 months after its inception, 300 members regularly attend the scheduled monthly events.
"We recognize that volunteering is important, socializing and politics are important, but they each have a place," Fleming says. "Our sanction is that events we put on have to be networking with some form of personal or professional development."
There is always a "takeaway" component, she adds. "You will walk away and say, 'I learned something that I can use at work … that I can use for myself.'"
"Access to the Issues" is an annual event providing members with contact to legislators. Held at City Hall and followed by a meet-and-greet at Andrew's or the Governors Club, speakers connect with young voters on relevant issues that will be raised during the upcoming legislative session, specifically those that merit their attention.
Fleming, a young leader herself, says, "We are a very viable constituency in this community. We make up over one-third of the voting bloc in Leon County, so it's important to listen to our concerns, and it's important for us to get educated."
"Your Access" is a recurring after-hours program held at The Comedy Zone, where prominent community figures speak on such topics as Your Life, Your Money and Your Job. Past speakers include Susie Busch-Transou, ardent philanthropist and part  of the Anheuser-Busch legacy; New York Times bestselling author, consultant and owner of The Comedy Zone Don Yaeger; and former Leon County Commissioner, television host and political consultant Gary Yordon.
The latest addition to Access Tallahassee's event series is the member-exclusive Power Lunch. Each quarter, the power players of our community serve up informative and inspirational presentations – with a side of lunch – in partnership with the Governors Club.
Barney Bishop spoke at the inaugural luncheon, and the second, held this May, featured the compelling firsthand account of wrongly imprisoned Alan Crotzer. Lt. Governor Jeff Kottkamp is scheduled to present in August, and organizers are in talks with Martha Barnett, former president of the American Bar Association, for a future Power Lunch.
Another benefit of Access membership is discounted prices to Chamber events. In August, the Annual Chamber Community Conference will host "Access @ Conference" at Amelia Island Plantation.
"The goal for anyone who comes to conference – but is an additional perk for Access members – is that you really find yourself sitting at a table next to the president of TCC or the president of Capital City Bank," Fleming says.
This year's conference includes a discussion by keynote speaker Tony Villamil, CEO of The Washington Economics Group, on the effects of today's economy in Tallahassee, Don Yaeger's breakout session titled "Branding Yourself as a Professional" and an Access banquet.
Business or Pleasure?
Live. Work. Play. Stay.
It's a motto any Tallahasseean could aspire to, and one the Network of Young Professionals embraces with every happy hour, fundraiser and community initiative.
In an effort to maximize their maxim, NYP concentrates on the 5 percent of graduates who stay in Tallahassee instead of the 95 percent who leave. It's not about how many migrate, but rather making the city a place its proponents can be proud of.
"It really is a shame that Tallahassee is the youngest and most highly educated county in Florida and we cannot seem to keep our graduates in this wonderful city," says Immediate Past President Johanna Williams.
Current NYP President Erin Malone adds: "We strategically chose to focus the majority of our resources on developing programs for the young professionals who live and work in Tallahassee."
The volunteer-driven organization was founded in 2003 with a mission to attract and retain young professionals in our community by hosting social events, charitable opportunities, business seminars and an annual community forum.
Of the difference between NYP and other young professionals groups, Williams says, "I think we all have a similar passion … we love Tallahassee. We want to see Tallahassee residents benefit from having young professionals living, working and volunteering in our community."
She adds that NYP acts as an umbrella, advocating for other YP groups, nonprofits and cultural activities while hosting a wide range of their own events.
"We have a great time and we're a catalyst for change in our community," Malone says.
In addition to holding their signature "535 Happy Hour" each month at a local bar or restaurant, NYP's "Get Involved," "ConnectYP" and "uNightYP" events cover a range of issues from politics to leadership, home-buying and long-term plans for Downtown.
Malone says the annual Young Professionals Community Survey serves as a voice for YPs. Conducted online in January 2008, this year's survey results were revealed at February's community forum.
The majority of respondents were highly educated (88 percent hold a bachelor's degree or higher), stayed in Tallahassee after moving for college and are committed to living and working here for at least five years – at which time they intend to relocate for "a better-paying job." The most important issues for YPs continue to be competitive salaries and affordable housing options.
The good news is 72 percent are satisfied or very satisfied with living in the capital city today.
Public Relations and Marketing Chair Stacey Getz was involved in the distribution and analysis of the survey.
"Young professionals are a driving force in this community, offering talent to local workplaces and passion to local nonprofits," she says. "We want our elected officials to know that we represent a collective voice for young professionals in Tallahassee. We have a clear vision for the future of our city, and we want to be a part of creating it."
Save our Students
While attending a university career fair, the Chamber's Fleming discovered just how many companies from Florida and other states "parachute in to recruit our kids out of the schools."
Access Tallahassee now has a booth at these expos, as well as a listing of local businesses looking to hire.
The group's aim is to foster the people who choose to stay while enticing those who might otherwise leave.
"One of our missions is to help prevent the 'brain drain' and to help graduating students see that there is a community here and there is life beyond campus," Fleming says. "We show them we have met husbands here, we have started families here, we have gone into great careers here, and we've afforded homes here."
Adds NYP's Getz: "As a community, I strongly believe we need to begin to weave our college students into our city instead of treating them like transients. As we begin to do that and work to make Tallahassee a more vibrant and economically viable place to live, we will begin to witness a shift in our population growth in terms of the number and type of people that call Tallahassee home."
Many local companies have seen the benefit of the young professionals groups.
"Capital City Bank is a great example," says Juli Puckett, Director of Communications & Marketing for the Greater Tallahassee Chamber of Commerce. "I think every one of their employees in that age range has joined Access and they come to every event."
Nonprofit organizations and technology-related firms also come out in full force, Puckett says, because "they have a very young workforce, and they are immersing themselves in professional development." (Aegis Computer Services is the presenting sponsor of Access Tallahassee and also maintains its Web site at accesstallahassee.com.)
"It's not named Access Tallahassee just because it was a cool name," Puckett says. "It's because we provide access, and we're able to do that because it's associated with the Chamber."
Access Tallahassee and NYP are dedicated to helping young professionals progress in their lives and careers and to making Tallahassee a better place to live and stay.
"The key is having a dialogue and giving them access," Fleming says. "It's access to business leaders in our community … and to each other."
Even if graduating students or young leaders move outside of Tallahassee, Fleming encourages them to track down the local chapters of similar groups. "There are hundreds of young professional groups across this country," she says. "Get involved where you are because it is a good outlet and opportunity for you."
411 for YPs: Become a Member
Access Tallahassee
Membership Contact: Dana Lashua
(850) 521-3108 • accesstallahassee.com
$30 Student Member, $60 Chamber Member
$90 Non-Chamber Member
Network of Young Professionals
Membership Contact: Christina Welty
(850) 877-3178 • networkyp.org
$30 Annual Dues
Tallahassee 25
(850) 309-2525 • tallahassee25.org
$26 Initial Fee (includes mandatory background check), $25 Annual Dues
United Way's For Young Leaders Only
Membership Contact: Charee Williams
(850) 488-8325 • uwbb.org
Minimum Leadership Contribution (to United Way): $1,000
Meet YPs: Events Calendar
July 9: Black Jack Monthly Social (T25)
Rubie Sky, 6:30-8 p.m.
July 12: WFSU Curious George Kid's Event (T25)
Fun Station, 10 a.m.-Noon
Members Only
July 18: Movie Night (T25)
Walker-Ford Community Center, 7-9 p.m.
Members Only
July 22: Your Access Series (AT)
"A Career in Sports Radio" with Jeff Cameron
The Comedy Zone, 5:30-7 p.m.
Free for members; $5 for non-members
July 22: Get Informed – Get Involved: The Performing Arts Center (NYP)
Location TBD, 6 p.m.
July 25: The Winery Social (T25)
The Winery at the Red Bar, 6-8 p.m.
August 6: 535 Happy Hour (NYP)
Urbane, 5:35 p.m.
August 8-9: Access @ Conference (AT)
Amelia Island Plantation
$165; Members Only
August 12: Meet The Candidates (NYP)
Location TBD, 5:35 p.m.
August 21: Power Lunch (AT)
Florida Lt. Governor Jeff Kottkamp
Governors Club, 11:30 a.m.-1 p.m.
Members Only
August 13: Dodge Ball Monthly Social (T25)
Paradigm, 6-8 p.m.