Tallahassee Business Journal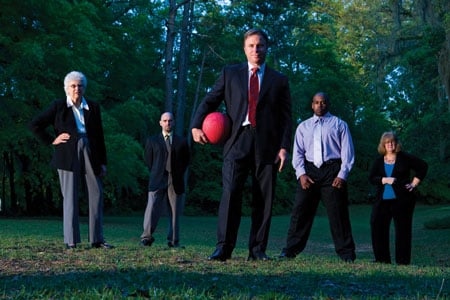 Supporting the health of your employees isn't just a nice thing to do, it's good business sense 
Photo by Scott Holstein
On The Ball – At the Florida Association of Insurance Agents (FAIA), departments take turns thinking up fun ways to promote worker health. (From left) FAIA employees Lynn White, Brian Leibow, Jeff Grady, Dan Francis and Teri Clow stay active with lunchtime kickball games. Grady, who is executive director, says the organization has succeeded in "invoking a little bit healthier attitude."
Wellness PaysEncouraging Health and Fitness at Work Can Yield Dividends
By Rosanne Dunkelberger
 
First the bad news:
No matter how healthy your work force might be, employee health insurance premiums will probably never go down, unless your company is self-insured or extremely large.
But the very, very good news is that, by taking steps to support the health of their employees, business leaders can see real bottom-line, positive results.
And that doesn't mean you have to go out and buy gym memberships for your employees or serve them healthful lunches – although some local firms have done that and more – and you don't have to go it alone.
Tallahassee now is in the second year of a multi-year effort to recruit local companies to join the Wellness Councils of America (WELCOA) and commit to becoming Well Workplaces.
Mary Barley, co-chair of the local Working Well Initiative and director of corporate wellness for Gold's Gym, says the group's goal is to have 70,000 people locally (that's about half of Tallahassee's work force) employed by companies that have joined WELCOA and are working toward earning certification as a Well Workplace.
"We're shooting to do that … by the end of 2009, which all of a sudden seems very close," she says. With 24 businesses representing 25,000 employees signed up, the group exceeded its first-year goal. But the real work is just beginning.
"It's easy to get people in and get 'em started, but getting them over the finish line, to get that designation, seems to be our real goal this year," Barley says. To do that, the local group holds monthly training sessions and offers counseling for individual companies that sign up.
WELCOA offers a "7Cs" strategy for becoming a Well Workplace, and none of them require a huge outlay of cash. (A business's cost to join WELCOA is $365 per year.) The first benchmark is capturing senior-level support – in other words, getting the company CEO and top management to sanction the effort. The next steps include creating a wellness team, collecting data to drive health efforts, crafting an operating plan, choosing appropriate interventions, creating a supportive environment and consistently evaluating outcomes.
While it might be tempting to just jump in with fitness classes, WELCOA stresses a data-driven plan that begins with a Health Risk Assessment (HRA) – a questionnaire of 15 to 50 questions about each employee's health history. (These HRAs often are administered online, and most insurance carriers offer them for free to their clients' employees.) The results will create a picture of the employees' health, help determine what sorts of programs might be appropriate for a specific business, and ultimately allow management to evaluate progress and determine return on investment.
The health insurance plan VISTA (it started as Healthplan Southeast here in Tallahassee and has gone through a series of mergers) offers HRAs to its client companies, as well as a variety of services, including health-related literature and work-site health fairs, says Executive Director Tom Glennon. Individual members also have access to a Web-based program called "My E-Fit."
"Just having health insurance is a big consideration," Glennon says, because reasonable – or even no – copayments lower the barriers to getting health care. Also, with workplace wellness programs, "the employee feels that the employer cares about them on a personal level."
Barley stresses that wellness programs aren't just for big companies with big budgets. In fact, she says, it sometimes is easier to motivate and inspire smaller offices.
"In that smaller group, you know each other better and you feel like this is for you," she says. "Somebody like Comcast that's got people in the field all day – it's really hard to get everybody together for a lunch-and-learn."
With just 41 employees and no dedicated human resources director, the Florida Association of Insurance Agents has had good success "invoking a little bit healthier attitude," says Executive Director Jeff Grady. He decided to buy an inexpensive program called Healthy Quarters and assigned an office administrator that Grady described as a "wonderful organizer" to lead the way.
"At least half" the office workers are on a weight-loss program or have a gym membership, he says, and the association's different departments take turns cooking up fun activities to promote employee health – everything from an '80s-themed exercise class to a lunchtime kickball game. There is a group that walks during lunchtime, and there are designated days of the week when employees are encouraged to get up and move by banning interoffice intercoms and e-mails.
"I'm absolutely blown away as to how well it's done," he says. Grady estimates that his association invested $2,000 to $2,500 in the first year's healthful efforts. "It's a small sum for what's going to be a huge benefit."
There has been top-level buy-in at Municipal Code Corporation. Company President Lawton Langford and Executive Vice President Rick Grant are among those using the firm's on-site gym every morning.
The company, located on an 11-acre campus on Capital Circle Southwest near the airport, also has laid out a quarter-mile walking trail for its 170 employees.
With a somewhat remote location that makes it hard for workers to go out on their 30-minute lunch breaks, the company used to bring in a cook who served lunch twice weekly. "I made her cook as good food as she could and people would still eat it," Grant says.
One of the odder company benefits that seems to be a great stress reducer, says Grant, is an on-site laundry facility. Employees are invited to bring their own soap and use the machines during breaks and after work.
The one health benefit Grant wishes employees would use more is the smoking cessation program, which pays cash bonuses for those who quit for six months. The company has yet to award its top incentive – skybox seats for the Florida State University-University of Florida football game for the person who can stay smoke-free for a full year.
Grady says the unintended payoff has been a boost in intra-office morale and camaraderie. "I'm convinced we've gotten more productivity with it than without it," he says.
While huge amounts of health resources are used by people with major or chronic medical problems – heart attack, cancer, lung disease and diabetes, for example – surprisingly, much of what causes employees to miss work are smaller ailments that afflict them or their family members.
Last year, Pfizer sponsored a wellness inventory in Leon County that polled 694 people. The study was not scientific – the respondents were skewed toward women who were in relative good health – but the results were illuminating.
The top ailment reported by 53 percent of the group was rhinitis – allergies – followed by stress (36 percent) and migraines (27 percent).
These health problems might not have as great an impact on direct health care costs as, say, cancer or diabetes, says Barley. But they do contribute greatly to indirect costs such as absenteeism and what is known as "presenteeism" – in which employees are at work but distracted or not working to their full potential.
For example, migraine headaches are something that can negatively affect a person's work for a long time before they are properly treated.
And then there are allergies, with their attendant headache, watering eyes, sneezing, sore throat, coughing and runny nose.
"Every company in Tallahassee should really have some sort of program to talk about allergies and sinus infections," Barley says. "A lot of times, people suffer with it because they don't take the time to go to a doctor and they think it's a cold."
'Start!' to Help Employees Get Going
The American Heart Association has created "Start!," a free online resource (americanheart.org/start) for individuals and employers to develop healthier lifestyles. "Start!" includes an online fitness and nutrition tracking tool, a company recognition program, a program to encourage walking at work and the "Start! Heart Walk."
Here are some tips compiled by the American Heart Association that businesses can use to help employees become healthier and more active:
Offer healthy vending machine snacks, like pretzels, baked chips, cereal or oatmeal bars and popcorn.Offer discounts or incentives to join a workout facility.
Encourage walking meetings.
Offer training in CPR, first aid or the use of an automated external defibrillator (AED).
If you have a cafeteria, offer at least one healthy option for both food and beverage.
Involve exercise and movement into quarterly and annual meetings.
Post signs at elevators reminding employees that taking the stairs is a healthier choice.
Include health tips in company newsletters and e-mail. Use the American Heart Association Web site as a resource.
Encourage employees to create walking teams or find a walking buddy. 
Healthier Meeting EatingThe Centers for Disease Control and Prevention offers these suggestions for choosing food and beverages when planning menus for meetings, conferences and work-related events:
Offer a variety of grains – especially whole-grain foods – along with fruits and vegetables.
Provide fat-free, low-fat or low-calorie foods and beverages.
Offer foods and beverages low in added sugar.
Serve foods low in salt and sodium.
Include smaller portions such as mini-muffins or mini-bagels and 1-inch, low-fat cheese squares.
Consider offering only beverages at mid-morning and mid-afternoon breaks.
FOR MORE INFORMATION
To learn more about bringing wellness to your workplace, visit:
getworkingwell.com
Devoted to Leon County's wellness initiative, this site includes a listing of all the local companies currently involved, as well as information about joining.
welcoa.org
You can join the nationwide group through this site, or link to wellness information — all free — on more than 50 other sites by clicking on "Free Resources" and then "Helpful Sites."