Tallahassee Business Journal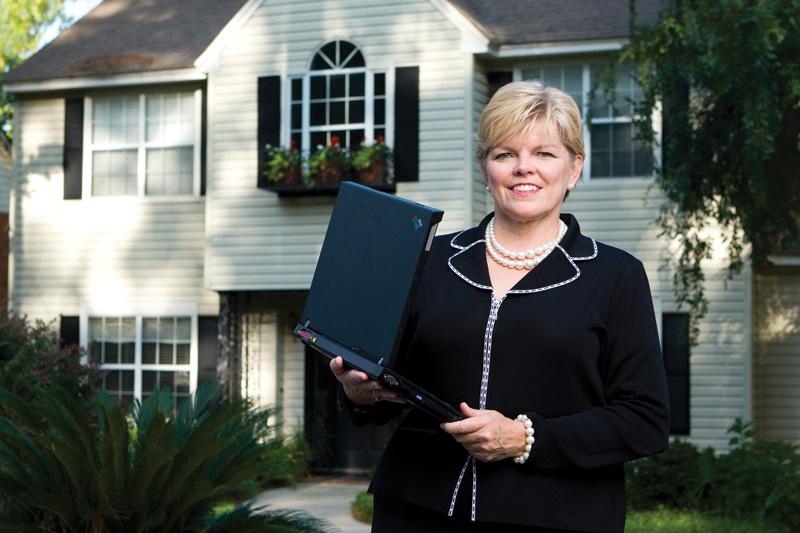 In today's world of ever-evolving technology, it's essential to make your business known on the WebGetting High on GoogleMake Your Company's Web Site Work Harder
Today, a Web site is almost ubiquitous in the business world. Whether online selling is the bread and butter of your operation – or you just want the world to know your address and phone number – there are ways to assure the Internet is working for you.
  Click for more images.
 
Gonna Take You Higher
Tallahassee Realtor Patti Ketcham was so eager to increase her Internet knowledge, she stayed up until 4 a.m. taking an online course.
Photographer Thomas Eads started up a Web site six months before the doors of his new fine art gallery opened.
Both are sold on the importance of the Internet, but they also are savvy about having their respective sites rank high on search engine pages such as Google.
"Google is it," said Ketcham, whose real estate listings have been on the Web more than two years. "If you ain't hitting it in Google, you ain't hitting it."
According to a 2006 study by Forrester Research, 93 percent of all Internet traffic is generated by search engines – and Google is the most popular U.S. search engine on the Internet. Google logged 4 billion searches in May 2007 and, according to Nielsen NetRatings, dominated the market with a 56.3 percent share of searches, compared to second-place
finisher Yahoo's 21.5 percent.
While techno wizards abound to help Web site owners reach high rankings, Eads said he took some simple but sage advice from a marketer friend to help give his Web site a boost.
For example, search engines "prefer meta tags to be honest with respect to content," he said.
A "meta tag" is a special Web device that provides information about a document, often including keywords and descriptions of a Web page's content. They can be helpful in achieving high rankings.
"In the meta tag, I list every artist and every style of art," Eads said. "I use (more specific) phrases. I never paid anybody to position my site or increase my ratings … but we are near the top of Google listings for most artists that I represent."
Already a well-known photographer, Eads opened a fine art gallery about a year and a half ago, featuring paintings, photographs and sculpture by regional artists. But art fans in the community already were flocking to his Web site before the gallery's grand opening.
Today, about 40 percent of Eads' customers – most come from within a 150-mile radius of his Midtown location – use his Web site to review the gallery's offerings.
"Self-promotion works, linking also helps, and programs that index you might be helpful – but I rose by putting keywords in the meta tags," he said. "It was slower, but it worked."
Ketcham, who has had an office location in Midtown since 2000, said she recently has taken at least two Internet education courses offered by the National Association of Realtors.
"Now, we've had a Web site for two or three years, and it's effective, but it's not at the level I wanted it to be," she said. "I wasn't proud of it."
Becoming Internet-savvy is important, Ketcham said, particularly in her industry. Potential homebuyers are using the Internet to shop for homes, and they know exactly what they want before even calling a Realtor. According to the National Association of Realtors, 80 percent of potential homebuyers get information from the Web.
"They typically look for approximately six months on the Internet before they intend to buy," Ketcham said. "In our industry, we have to make it easy for them. We have to make it accessible."
Not only must your Web site be easy for the consumer to use, it also must be easy to find on Google.
Conventional Internet wisdom holds that if your Web site isn't at the top of the first Google page, there is a strong chance that nobody will find you. Most people won't go past the first three pages of results, according to the search-engine marketing company iProspect and JupiterResearch, a marketing and analysis firm.
"I would say it's very important to show up on Google," said John Bowers, a computer science student at Florida State University and self-described computer geek. "If you're not in Google, you don't exist – at least on the Web.
"I think what they need to do, typically, for a small business, is have content that's relevant and keep it up to date, and figure out ways to optimize for Google searches," he said. "You want to have people link to you who have relevant pages."
Ketcham said she quickly realized the importance of search engines in one of her classes.
"I had my laptop in there and was on the Internet, and I bought eight domain names while I was sitting in class," she said. "Because what will happen is, when people search that domain name, it'll bring them to our Web site. If they type, for example, 'I want to buy a house in Tallahassee,' one of the domain names I bought has a lot of those words in it."
Call a Pro?
Bowers said hiring a Web design team can help put you at the top of a keyword search.
"One of the best things is to go to one of these Web site designers and hire somebody who really knows what they're doing to help build your presence," he said.
Ketcham is taking a similar route, but for different reasons. She said she has hired a Web consultant who caters to real estate agents to help her manage her Web site.
"I've done as much as I can without literally stopping serving my clients and devoting myself entirely to the Internet, which is not what I'm about," Ketcham said. "I'm more of a techie than I thought I would be, but I've reached the point where I need to hire out. I need to get a higher level of help."
But hiring a professional is not the only means for getting a higher search-engine ranking. Charles Hofacker, an electronic and Internet marketing professor at FSU, said basic marketing principles apply to the Internet, regardless of the new technology.
"I actually think a person with a marketing sensibility and a marketing orientation who has some technical knowledge is going to do a better job at Web marketing than a computer person who might know that end of it really well with a little bit of marketing know-how," Hofacker said.
"Marketing really is the interface between the firm and the customer," he said. "And so just because the interface becomes electronic does not really change that fundamental fact."
Bowers, meanwhile, said one approach to Internet marketing is something called "guerrilla marketing."
"That's where you personally go onto Web forums that are talking about the type of product you are selling, and you talk about what you have," he said. "Now, the difficulty there is you don't want to overdo it, because there will be kind of a backlash against being too much of self-promoting. Or there's some kind of voodoo stuff people do called 'search engine optimization' that tries to make your Google page rank go up. But you have to be careful, because you don't want to buy space on what is called a 'links farm,' where somebody posts an index and charges you money to post a link to your site. If Google catches you doing this, they'll write you out of the search engine. Google does not look favorably on trying to cheat the system. You have to find relevant sites and say, 'Hey, I'll give you guys a link if you give me a link,' stuff like that, which is fine."
"Don't get links from 'links farms,' but try to get sites in your industry to provide a link," said Doug Harrison of LiquiFusion Studios, which specializes in Web applications. "The more heavily trafficked the site that links to your site, the better. Again, I would not recommend links for the sake of links, but seek valuable links from sites your target audience would visit."
Content Counts
Ranking highly in a search-engine search might take care of itself – if you have great content that generates a lot of links.
Gallery owner Eads said his site's content has proven to be a "treasure trove" of information on the artists he represents.
"There is so much information about the art and artists that I can't say it all when somebody walks in, and people like to look at (the information) at their leisure," he said. "The premise is the more you know about art and artists, the deeper is your appreciation and understanding of its value."
Eads' Web site content is so popular that customers aren't the only ones using it. Museums, cultural institutions and even newspaper reporters view his page all the time, thus ensuring its popularity. That kind of popularity can pay off in Web links that can help search-engine ratings.
"Content is king," said LiquiFusion's Harrison. "I would recommend focusing on enhancing/upgrading content rather than trying to trick the search engines into finding your site. Good content – and value to your users – will win out in the end."
Some people think high search rankings can be achieved by learning a few "tricks" or finding the right consultant, Hofacker said.
"The truth is, it is not something you can do so easily. The algorithms that Google and other search engines use to float site names to the top of its list are based on how many other Web sites point or link to your Web site. It has to be worth pointing to. It has to be worthwhile visiting.
"The logic is, if I have a Web page out there and nobody cares about it or nobody links to it, even though it's spot-on exactly matching the search terms that the user has keyed into Google, it's probably not worth anything," Hofacker said. "On the other hand, if I have a Web site that contains those keywords and I have thousands and thousands of people who have a link to it, something's going on, something kind of interesting about that site, and the page-rank algorithm and calculation causes your site to be much higher – maybe in the first two or three listings."
Harrison said a Web site owner should start with "the basics" when considering optimization strategies.
"Your HTML code should be clean (using Cascading Style Sheets) and not created by wizards," he said. "They put a great deal of extraneous code behind the scenes. It could take months to rise to the top for keyword searches, if you ever get there, but you can use Google Adwords to place an advertisement for your business near the top in the paid ad section on the search screen. This allows you to control cost, where it is displayed and how often it is displayed. You can also track how many times the ads were viewed."
Hofacker said improving a Web page's ranking starts with improving not just the site's content but its usability. There is a relatively inexpensive way of doing that, he said.
"Put a human in front of your Web site, and get him or her to do stuff," he advised. Give them some tasks and see what happens, see what they think – and get them to talk out loud.
"You may discover – especially if you try to actually motivate them by giving a little task to do that you think should be doable – they can't do it," Hofacker said. "There's a phenomenally high error rate when you actually put live human beings in front of live Web sites."
Web site owners also should try to keep things simple. Stay away from fancy animations and movies that momentarily block potential customers.
"Don't overuse technologies such as Adobe Flash unless there is a compelling reason for its use," Harrison said. "For example, no flash intro pages. If someone cannot find what they are looking for within about eight seconds, they are gone. It better be very easy to accomplish their objectives, or you will lose them."
"I think people have to be very wary of using a new trick or technology for its own sake," Hofacker said. "They should make sure it serves some customer need first. For example, maybe a movie would be great for a Realtor. I could click on a house and take a virtual tour. But not when I'm just landing at their site and trying to figure out what their 1-800 number is. That's ridiculous.
"Everything has a time and place, and it has to be driven by the customer's need for convenience and for the reason they showed up at our doorstep," he said. "The last thing we want to do is slow them down. They need to get to their task, whatever that is, and we need to stand out of the way."
Prune the Dead Information
Out-of-date information also is annoying and can likewise drive away visitors and potential customers.
"Keeping the site updated is critical," LiquiFusion's Harrison said. "This is where most small business clients fall down – maintaining the site with fresh information. We recommend an easy-to-use content management system that allows users from different areas within the business to each maintain their own area of the site. You can require someone in management to review the changes before they are posted live to the site. For most small businesses, one person should be responsible for maintaining the site. But they should encourage content from various people in the business."
"I think it's a big turn-off for people on the Web to go to a site and it hasn't been updated in a year," FSU's Bowers said. "I'm much more likely to look around a site if it's been updated recently."
"You really have to keep your site fresh, and prune the old links and make sure they all work, and you have to make sure you don't have last year's price information," Hofacker added.
The Next Big Things
It's called Web 2.0, and it's the next big thing in Internet applications. While hard to define, Web 2.0 basically is a way for different Web sites to connect to one another – an Internet within the Internet. Web 2.0 allows a Web site owner to pool together a variety of services and functions from other Web sites without having to write up those same programs from scratch.
"Instead of being a user at one Web page where all the things you do on that page are dictated by the people who own it, the paradigm has shifted to something called Web services, which 'chains together' different Web sites with different functions," Bowers said.
 "One of the earliest Web 2.0 applications is Google Maps, because Google Maps has an (Application Programming Interface) that allows somebody to put it into their own Web site," he said.
But this concept may have limited applications for promoting small business.
"Unfortunately, it is hard for a small business to take advantage of this, since you need a critical mass of visitors to make it work," Hofacker said.
Meanwhile, Web applications such as MySpace and Facebook allow private individuals to meet, network and promote their interests. MySpace in particular is useful for "indie" artists, musicians and writers to promote and sell their wares.
"One of the things the Internet does best is connect people, and because it gives so much power into the hands of the user; they can talk," Hofacker said. "This is not a mass media where marketers can talk and (customers) are forced to listen.
"I think (sites such as MySpace and Facebook) are valuable in their own right," he said. "They are very creative and very clever, and … they fulfill a real need. I think we're finally figuring out what the Internet does best."