Tallahassee Builders are Homing in on Buyer Personalities to Match Houses with the People Who Live in Them
Make Yourself at Home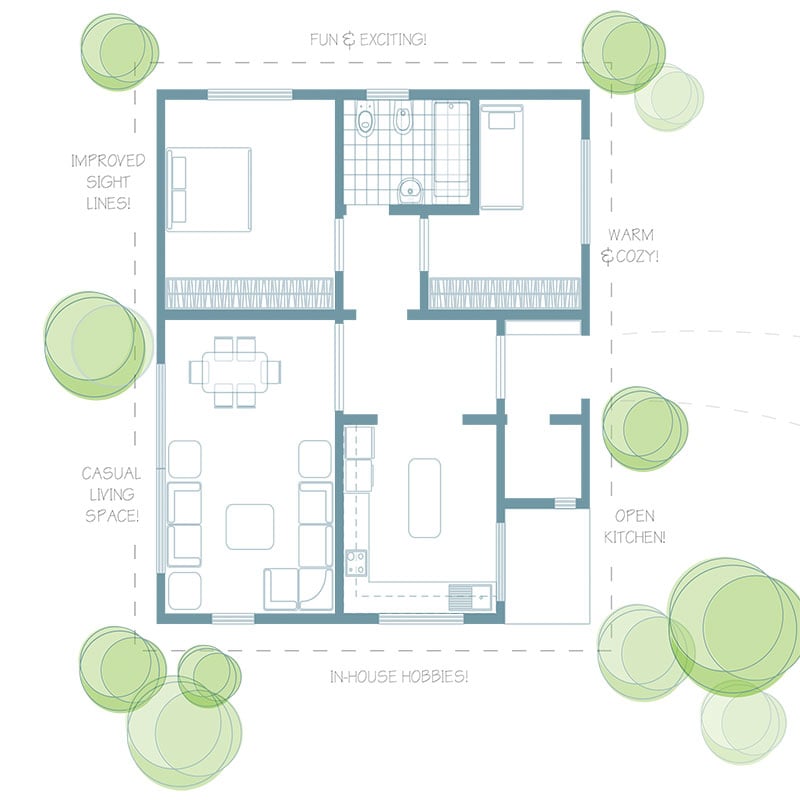 Home means something different to everyone.
illustration by marc thomas
Some say it's where the heart is. Others think it's simply where the bed is. Many view it as the one place they can be themselves, while a few feel at home no matter where they go. There's the man whose home is his castle and the one who thinks it's nothing more than a roof over his head.
One thing's for sure – there's no place like it.
Our homes are our shelters, our stomping grounds and our personal havens from the outside world. Providing comfort, protection and a sense of belonging, they are central to our memories and never far from our thoughts.
Your home says a lot about you, from the way it's decorated to the state of the kitchen junk drawer. Whether you are looking to buy, build or remodel, there are steps you can take to transform any house into a distinctive home that reflects your personal interests, needs and desires.
Have you ever walked into a home and said, "I could live here!" or, conversely, "It's beautiful, but it's not me"?
You may not know what causes your immediate response, but rest assured that area homebuilders have analyzed people's "house personalities" and used them to create floor plans to suit every lifestyle.
An Emotional Investment
When it comes to knowing what Tallahassee homebuyers want, Turner Heritage Homes has the advantage of longevity. The all-inclusive team of salespeople, market analysts, financiers and design experts has been building homes in our community for more than 50 years.
Using a system that charts levels of emotion and assertiveness developed by consultant Charles J. Clarke III, the company gauges individual personalities to match buyers with homes they will love.
"We feel that the whole core of this process is who the buyers are," said Doug Turner, president of Turner Heritage Homes. "As long as people are open and honest and will share with us what they are feeling, it's easy because we know all the right questions to ask."
Bottom line: "How you want your house to 'live,'" Turner said. Do you want it to be:
Striking and impressive?

Practical and efficient?

Warm and cozy?

Fun and exciting?
How you choose to describe your dream home helps the Turner team determine which floor plan is right for you.
"For single-family homes, we have about 30 floor plans in this market, and the house fronts can have different personalities," Turner said. "We have a base floor plan with several different options that you can plug and play to fit your desires, your lifestyle, your needs and personal tastes."
Take a look through the following pages to see what your answers say about you and your ideal living space.
Personality 1: Striking and Impressive
If striking and impressive tops your list, you likely are far more assertive than you are emotional. You want your home to make a statement before your guests even make it to the front door. (Think thick columns, bold window treatments and a circular driveway.) Inside, you want the most luxurious fabrics and the latest technology. You may claim a room as your own – hey, it has only one chair for a reason – and your favorite colors are deep, strong shades such as black, chocolate brown, navy blue and hunter green.
Personality 2: Practical and Efficient
Choosing practicality and efficiency indicates mild to low levels of both assertiveness and emotion. You don't care for clutter – if you have anything on your coffee table, it probably is the most recent issue of Tallahassee Magazine – and your kitchen is closed off because you'd die of embarrassment if a guest saw a crumb on your sleek countertops. You don't consider your gray and neutral palette to be lacking in color. Your life and your home are compartmentalized and totally organized.
Personality 3: Warm and Cozy
If you picked warm and cozy, chances are you're extremely emotional and rarely assertive. Friends often joke about your chronic indecision. Your favorite room is the family room because it's charmingly chaotic – toys and books are scattered everywhere, and there are family photos on every flat surface. You can't decide whether to paint the guest bedroom rose, mauve, country blue or mint green.
Personality 4: Fun and Exciting
Placing the most importance on fun and excitement means you're both very assertive and highly emotional. You live life to the fullest and with no regrets. Every wall in your home is an accent wall – "Wasn't the bathroom red when I was here last week?" – because you love bright, vibrant colors. You'll have 20-foot ceilings no matter what it costs to heat and cool, and there may even be a fireplace in your master bathroom.
Turner Heritage Homes has found that most people are a combination of two or more personality types. Once they get a feeling for who you are, what floor plan you want and where you want your home to be, it's time to take a trip to the design center – an experience Turner compares to "shopping in a candy store." From there, you build your dream one piece at a time.
"People still see the house as a sound investment, and it needs to be designed so they'll be comfortable in it," Turner said. "That's why we've designed our system to be open and flexible … As a large-volume builder, we try to meet a lot of different dreams."
Hobbies at Home
Beazer Homes' SmartDesign Pet Care & Cleaning Station
Courtesy BEAZER HOMES
At Beazer Homes, the emphasis is on interests – yours in particular. New to the Tallahassee market, Beazer recently redesigned its logo and elevated its buyer profiling strategies with the introduction of an innovative, national program called SmartDesign.
"We design the houses around the buyers, what their needs are and the different stages of life they go through," said Matt Brandman, president of Beazer's Northwest Florida division. "Then we try to break it down and figure out their driving motivations … not only what they require in a home, but what kind of options we need to offer in terms of upgrades."
These upgrades come in the form of extra rooms and exciting features you can elect to incorporate into existing
floor plans based on your family's hobbies
or lifestyle.
For stay-at-home moms, a home office is outfitted with a craft station with ample space for scrapbooking or gift-wrapping. Animal enthusiasts can add on a Pet Care & Cleaning Station. The gourmet in your family will indulge in the Chef's Dream Kitchen, inspired by professional chefs.
Other options include The Handyman's Garage, Kid's Hideaway and Designer Closet Series, all designed and selected with the intent of making the home live better – and all providing details of a custom home without the custom price tag.
SmartDesign is the brainchild of industry professionals led by organizational guru Monica Ricci. Garnering the input of top chefs, interior designers and homeowners, Beazer Homes created floor plans and optional upgrades designed to deliver the ultimate in form and function.
"We try to allow the customer to personalize the house as much as possible by offering options that fit their certain niche or lifestyle," Brandman said.
"I don't build custom homes; I offer and design plans that, based on research I do up front, will fit and encompass different buyer groups."
In a sense, the home is customized before the buyer ever shows interest. Beazer takes the effort out of the process by anticipating what customers want and offering items they never knew they could have for less than they thought they would have to spend.
"We've taken a stance as a company to take the big homebuilder mentality to a different level and make it much more personal than it might have been in
the past," said Brandman. "But we do it at a much better value because we do more homes."
SmartDesign is all about living better, with options that allow for a healthier, more efficient and organized home.
"It's a pretty intimate process because it's the biggest purchase you'll ever make," Brandman said. "The idea is to kind of bring the dream to every product and every buyer profile."
The Living Space That Keeps on Living
Instead of catering to buyers' emotions or hobbies, David Weekley Homes specializes in the way people – and their houses – live. The brand focuses on delivering more home for your money by incorporating personal lifestyles into established floor plans.
"I don't think a successful house is how it looks," said Bob Rohde, vice president of design for David Weekley Homes. "To me, a successful house is how it lives."
At David Weekley Homes, the way a home "lives" is largely dependent on the flow of movement from room to room.
This concept is carried out through the company's LifeDesign program, a process of creating "a home that lives as good as it looks" by analyzing fundamental design principles such as room placement, traffic patterns and sight lines that allow potential homebuyers to preview living areas as they enter and exit each one.
"We design circulation in the house so it doesn't interrupt the function of what's going on in the space," Rohde said. "What you view, plus how you move around, is all part of LifeDesign, and we apply those principles in the original concept, long before we meet any individual homeowner."
This alternative structural design results in houses that feel more spacious than their actual square footage. David Weekley Homes are designed to allow you to move fluidly through the living space as you travel from public to private zones.
In many floor plans, the master bedroom or "Owner's Retreat" is placed at a distance from noisy gathering areas, while the kitchen is becoming more central as it evolves into the social hub of the modern home. Formal dining rooms are falling by the wayside, and sunrooms are moving into the spotlight.
"We're more of a casual person today, so we're living more casually in our homes," Rohde said. "People didn't want to lose the main living space; they really just wanted it in a different location in the house because of how they live."
You hold the key to your front door … and everything that lies beyond it.