Tallahassee Ballet's Future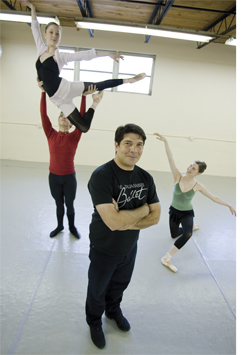 The Tallahassee Ballet looks to spice things up in the new season
Raising the BarreNew Directors Bring New Vision to The Tallahassee Ballet
By Ashley Kahn
Listening to artistic director Henry Hernandez and executive director Janet Pichard outline their plans for the future of The Tallahassee Ballet, it's hard to believe that this accomplished organization emerged from a small dance studio and one woman's dream.
More than 30 years ago, Helen Salter founded the company that has come to represent high artistic standards and exceptional outreach, thanks to the support of the community and the perseverance of the ballet's directors.
If the studio is larger today, it is only to accommodate the enormity of the dream. With plans for a professional wing, an expanded performance schedule and further educational outreach, the ballet's current leaders, Hernandez and Pichard, look to take it to the next level.
Steady as We Grow

As with any great company, The Tallahassee Ballet couldn't have achieved its current level of success without the hard work of a dedicated staff. Through the years, many people have put in countless hours of time and effort to make the latest plans possible. One such woman is former artistic director Joyce Straub.
"Part of my focus as director was expanding our outreach programs," Straub said. "That's how we started 'DanceChance.'" The popular program, which celebrated its 10th anniversary this season, provides an opportunity for economically and culturally disadvantaged children to study classical ballet.
"I felt strongly about it," Straub said, "because if you're fundraising, your community needs to see you're doing more than putting on productions." This attitude helped launch the ballet's emphasis on community outreach, which now includes 10 programs ranging from adult classes to discounted tickets for schools.
However, Straub doesn't discount the importance of quality performances – both as an opportunity for dancers to develop their skills and for the community to be exposed to new aspects of the ballet world. It was for this reason that she added a third production to the company's annual series that originally included "The Nutcracker" and a spring story ballet.
In conjunction with the Florida State University College of Music, "Evening of Music and Dance" combines progressive choreography with live instrumental performance. Straub is exceedingly proud of the production, and the new directors are equally enthusiastic.
"It's a great concert to introduce people to the ballet," Hernandez said. "When you go and see a story ballet, you have to follow the plot. With 'EOMAD,' you don't have to know the story to like it."
Following the success of "Evening of Music and Dance" and "DanceChance," after more than 20 years of contribution to the ballet, Straub decided to leave.
"It was time for change, in many ways," she said. "Sometimes one change invokes another, and hopefully the change is good."
In this case, it seems she was right.
A Perfect Pas-de-Deux

When Straub retired in 2004, the ballet's board of directors performed its first-ever national search to find a new artistic director. It also hired a full-time executive director to take on the ballet's growing financial needs. After several shifts of power, Hernandez signed on to the artistic role, with Pichard handling the money.
Originally from Venezuela, Hernandez has traveled extensively, performing and teaching in South America, Europe and Asia. A former principal dancer with the Southern Ballet Theatre, now known as the Orlando Ballet, he has been active for several years in the Central Florida area. In addition to managing his own organization, the World Ballet Company, Hernandez is experienced in choreography, set design and the development of dance curriculum.
"When you go to different cultures and see different ways of running a ballet company, you absorb the best," he said. "But it also shows you what you don't want to do."
Pichard used to own a dance studio in Tallahassee and has worked in advertising and marketing.
"I think one of the things that helps Henry and me both is that not only has he done the artistic end, but he's also done fundraising," she said. "On the other hand, I also know the dance world. Someone who strictly deals with money might not know what to expect."
Most recently, the duo revamped the seasonal performance of "The Nutcracker," which yielded record ticket sales.
"It's a good thing to have people eager to see what you are doing," Hernandez said. "It puts you in the position that whatever you do next has to be better."
Between his professional experience and her connection to the community, the team of Hernandez and Pichard is well prepared and eager to build upon the current success of The Tallahassee Ballet.
Keeping the Community on its Toes

One of the greatest changes the ballet has seen since it was founded in 1972 is the level of educational outreach.
"We do a lot in the community," Pichard said. Always active, the ballet now offers 10 programs to meet the varying needs of the public.
"Normally only major companies do this type of work, so I think it's a plus for us," Hernandez said. "People need to support that."
Pichard's main job is to find grants and sponsors to keep the programs going, while Hernandez is responsible for stimulating interest in the ballet through quality classes and performances.
Under Hernandez's direction, "DanceChance" nearly doubled in size this year to include 11 local schools. At the beginning of each school year, open auditions are held for third-and fourth-graders at partner schools, and classes are given once a week for 10 weeks in the fall. Students who show promise are invited to a 20-week spring session, and if they continue to progress, they may ultimately be mainstreamed into regular classes at The Tallahassee Ballet.
The zealous artistic director has gone to great lengths to inspire his young dancers. For the first time, a recital has been arranged to bring all of the schools together at Florida A&M University. With many of the students currently practicing in cafeterias or vacant classrooms, the next goal for the program is to be able to provide a designated rehearsal space.
Hernandez believes "DanceChance" provides more than a cultural opportunity.
"Kids need a direction," he said. "Right now, with the Internet and this nonsense, they're all over the place."
Pichard agrees: "Ballet is a discipline. It's a way to learn how to organize your life."
In addition to directing "DanceChance," Hernandez teaches adult and youth courses and has worked to improve the summer intensive workshop, "Turning Pointe." His professional connections helped him secure an impressive guest artist, Yan Chen of American Ballet Theatre, for the summer of 2007.
"It's kind of like bringing in Barry Bonds to teach baseball," Pichard said.
Also new in 2007 is "Joy of Motion," a camp for novice dancers from throughout the community. In collaboration with local studios and the FSU department of dance, the 10-day experience will serve as a comprehensive introduction to dance, with instruction in classical ballet, jazz and contemporary movement.
The Tallahassee Ballet will continue its "Now Playing!" program, offering deeply discounted tickets to five performances throughout the year exclusively for schoolchildren. And "Saturday at the Ballet," held twice a year, offers a behind-the-scenes tour of the ballet and its facilities, including lessons in dance and costuming, as well as a private viewing of a company rehearsal session.
Hernandez likens the workload to that of a football player – only with less money.
"When people think of ballet, they think of a music box, like you can just go twirl around," he said. "It's important that people know how hard it is to do this."
Getting to the Pointe

As if the outreach projects aren't enough of a challenge, Hernandez also plans to expand the current touring schedule and ultimately to incorporate a professional wing.
Watching the dancers come into their own is both a blessing and a curse. The Tallahassee Ballet fosters the development of dancers to the point that they have to move on to companies that can pay them as they continue to grow. While it is a privilege to provide an education, the dream is to give the dancers a reason to stay.
"These dancers work so much and don't get paid," Hernandez said. "It would be nice to be able to offer them that."
According to the ambitious team, what develops a performer is the opportunity to perform. The Tallahassee Ballet can offer dancers soloist and principal roles that would take them years to achieve in a higher-ranked company.
"The caliber of dancers that we can attract and keep is going to be much better if we can pay them," Pichard said.
For all their dreaming, Hernandez and Pichard are aware this will take time … and money.
"It is a huge endeavor because you have to get people, first of all, to believe in what you do," Hernandez said. "We need more patrons and we need more sponsors."
"We'd like to get more people to attend the ballet – particularly to see that with Henry here, we do different things that will appeal to a wide range of audiences," Pichard said.
And they're not interested in glory.
"We're never happy as artists, because we are trying to put our best out there," Hernandez said. "If recognition comes out of that, great. I'm more interested in really taking the company to the next level."
The Tallahassee Ballet's next production is "Alice and Wonderland" and "Paquita" at FSU's Ruby Diamond Auditorium on May 5-6. For more information, call (850) 224-6917 or visit tallaballet.com.