Tallahassee As I Remember It
One Cop On the Beat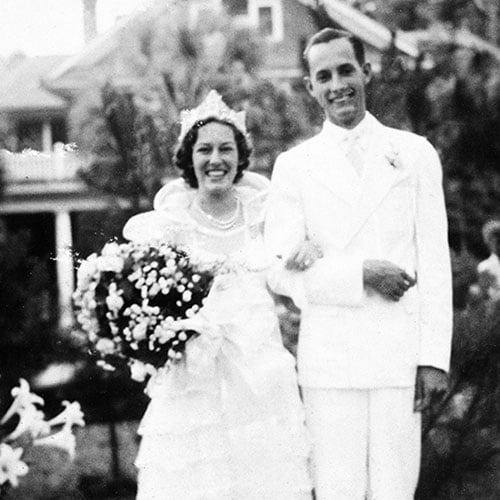 Number, please!" said the operator, and if you asked for "Number l," you got Byrd's Grocery Store; what's more, they delivered your order.
In 1926, at age 5, I lived with my mother, Florence Moore Epperson, and my grandparents, the Marvin C. Mclntoshes, at the Bel-Air Apartments on North Adams Street, not far from the present Greyhound Bus Terminal. I grew up in Tallahassee, graduated from Leon High in 1938 and lived at various times on Calhoun, East Georgia and Gadsden streets. My mother was a secretary at the State Department of Game and Fresh Water Fish, and my stepfather, John Koscielny, was director of the Capital City Band and later orchestra conductor at Leon High.
Tallahassee Magazine fuses the past and present for me and dramatizes the changes and growth that have taken place. There must be many like me and about my age who remember Tallahassee as it was in the 1920s and 1930s, when it had a population of about 15,000. We entered our teens during the Depression years. Nobody had much money, but you could send a post card for a penny (if you had one) or buy candy. Bread was 9 cents a loaf, milk was 12 cents a quart and, for a nickel, you could get a large Hershey bar, a box of chocolate snaps or a hefty Baby Ruth. There was no anxiety about sugar, salt, blood pressure or cholesterol.
May queen Lula Cooper with escort Milton Case, 1938.
State Archives of Florida, Florida Memory
The town had one of everything: a church of each denomination; one movie house (Daffin's); and one policeman. There may have been other policemen, but I remember only old Mr. Bass, a familiar figure who wandered around Tallahassee with great dignity, representing law and order, and who was always on hand for the evening band concerts held each week in the shell between Monroe and Adams streets, near the old brick post office. We had one jail, with broken glass along the top of its walls to discourage escape; and one hospital, Johnson's Sanitarium. Registered nurses could command the exorbitant fee of $10 per day. Most births and deaths occurred at home. Tallahassee had its quota of busy doctors and dentists. But, orthodontia was a new specialty not yet represented here. Irving Fleet and I were patients of Dr. I.W. Bull in Jacksonville.
My grandmother, an ardent club woman, belonged to the DAR, the UDC and garden clubs. For a time I attended Children of the Confederacy meetings and heard talk of Robert E. Lee and Stonewall Jackson. There were always refreshments. There was an annual Elks Carnival with colorful diversions and a small midway at the organization's big house on North Monroe. A car was raffled off each year, and my mother once won a Chevrolet.
But, the May Party, held at the historic oak tree by the old Lewis house, was our big bacchanal. No one had any notion, in those days, that May poles were phallic symbols! For small children the excitement was intense, and we were variously costumed: as vegetables — I was a cabbage in the first grade — fruits or animals. There were parades, cotton candy and courtly drama in which an elected queen reigned with her chosen consort. Lula Cooper (Winn), a violinist classmate of mine who now lives in California, was queen in 1938. Kathryn Reece (Haun) had also been May Queen before going on to an international career as an actress and concert singer. 
"Culture," to a great extent, was provided at the Florida State College for Women (now FSU). Music was always strong there, thanks largely to the administrative skill of Dean Ella Scoble Opperman. The college had an outstanding Artists Series. Throughout my high school years, I studied cello with Professor Owen Sellers and played in the college orchestra conducted by Walter Ruel Cowles. I had piano lessons with Eunice Parker (Anderson), Mary Reeder and Gladys Proctor. In my last Tallahassee cello recital, in 1951, I was fortunate in having Professor Mary Winslow as my pianist. Our concert coincided with a big flu epidemic and took place in the Kate Sullivan School. (Miss Kate Sullivan was my English teacher in the seventh grade, and no one got out of her class without knowing the "parts of speech.")
I was married to Mary Pearson from Tacoma, Washington, in 1941, following our graduation from the Cincinnati Conservatory. Our wedding was in Tallahassee where my aunt, Edna Mae McIntosh, taught nutrition at FSCW. In 1945, she became nutritionist for Gerber Baby Foods in Michigan, where she recently retired. She and my aunt, Onie Rita Moore (Davis), often visit us in Tucson. Our ties to Tallahassee remain strong, though we seldom get back there. Our parents and other relatives are buried in the old and "new" cemeteries, and we have good friends in Tallahassee who are very much alive!
Your piece in an earlier issue of Tallahassee Magazine on the bells at St. John's Church prompted these scattered reminiscences. I used to ring the chimes in the tower there; aside from tennis, it was my most vigorous form of calisthenics. I suppose it was also a religious exercise! But, in any case, that vanished era comes back to me now as a benediction — and celebration.