Tallahassee and How Far it's Come
Tallahassee as a Lassie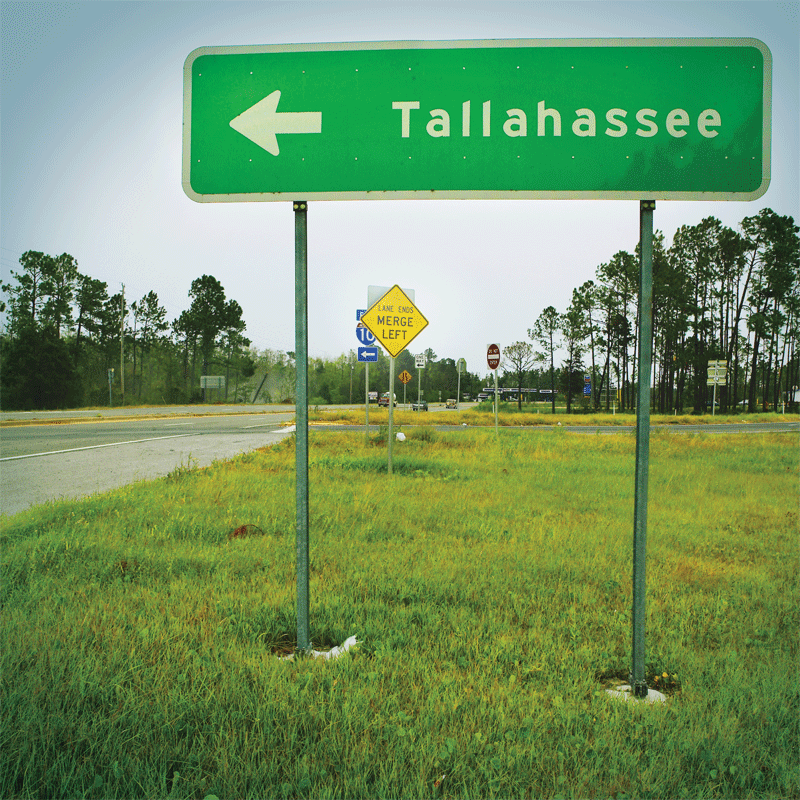 ---
I arrived in Tallahassee 40 years ago, badly in need of peace after a year in Vietnam. Vietnam was a pair of tag team wrestlers who hadn't bathed in a month — gross and very sneaky. Just when you thought you had outwitted one wrestler, the other slammed you on the back of the head. Not fair; but when the opponent writes the rules, that's the way it is, and you live with it.
I came to Tallahassee from the east, right down the beckoning arm of Tennessee Street. That's how I soon thought of Tallahassee. A slender body going north and south — Monroe Street and the welcoming arms of Tennessee Street. Just a child, plain and simple, the girl next door. Oh sure, she had a few well-established features: Florida State University and Florida A&M University and state government and Capital City Country Club.
It wasn't long before I came to know the pretty smile that was Maclay Gardens. After a few years I noticed the little girl had grown and her figure had rounded with the development of Killearn and Golden Eagle. The girl next door had become someone I noticed. Eventually, she became truly voluptuous with the addition of SouthWood.
Without realizing it, her amazing and varied talents grew on me with the discovery of the Tallahassee Little Theater (now Theatre Tallahassee), FSU Mainstage and FAMU's Essential Theater. I soon found out this nice girl had some really good friends, like the Quincy Music Theater, Havana antiques and roses in Thomasville. As more time went on, my girl next door was now a lovely young woman as I found the Junior Museum (now the Tallahassee Museum) and Mission San Luis. What a bent she had for history and nature! I quickly realized she was a superb athlete as well, as shown by the success of the many high schools, FSU and FAMU athletics.
All this was around me, and I just hadn't paid attention. Guess that's how it often is, with the girl next door.
I then found out her breadth of talent with the FSU Symphony and then the enormous versatility displayed with Seven Days of Opening Nights.
But I did find a flaw in what I was beginning to believe was the perfect woman. She had a bit of a temper! Fortunately, it usually flashed only a couple of months of the year, when the Legislature was in town. And that opened up another little quirk of my girl. She could be sneaky! But again, it just seemed to come out with that silly Legislature. First it was the curtained booths at the Silver Slipper with whispered deals, then the agreements struck not in the sunshine, but in the hubbub that is Clyde's. Oh well, I guess we're all allowed a little character defect here and there.
By now I was not surprised at her creative mind when I went to the Tallahassee Antique Car Museum. Not just 131 cars, but 15,000 square feet of any kind of collectible you could imagine. Her whimsy had a collection of beer mugs displayed next to a collection of Matchbox cars — cute.
And appetite? My lord, she liked to eat! She was picky — if she didn't like the food in a place at the first or second meal, that restaurant was toast — but what an eclectic taste she did have. From Bradley's country sausage and Dog et Al, to the venerable Lucy Ho's and Mom & Dad's; Barnacle Bill's to the well-established Hopkins' Eatery and Uptown Café. And who hasn't celebrated at any of Andy Reiss' wonderful places? It was amazing that my girl next door didn't weigh 200 pounds! Of course she made sure she stayed fit by running on the Miccosukee Greenway or with the Gulf Winds Track Club, or even taking the bike trail to St. Marks — RIP Posey's.
In a few more years I realized the unseen intelligence and wisdom she had for even an oldster like me as I discovered the joys and opportunities presented by the Osher Lifelong Learning Institute.
All in all, the girl next door has grown up to be a wonderfully well-rounded person. Perhaps a few wrinkles here and there but so young at heart. She's still growing and still adding to the charm. Now, she's got her temper tantrums still as she snarls about the dumb drivers who are not considerate to others. But she keeps surprising me with little features I never knew she had, like the exhibits and the view from the top of the Capitol or Food Truck Thursday.
Quite a girl, our Tallahassee.