Tallahassee Agencies Are 21st Century Storytellers
They find success through technology, Twitter and truth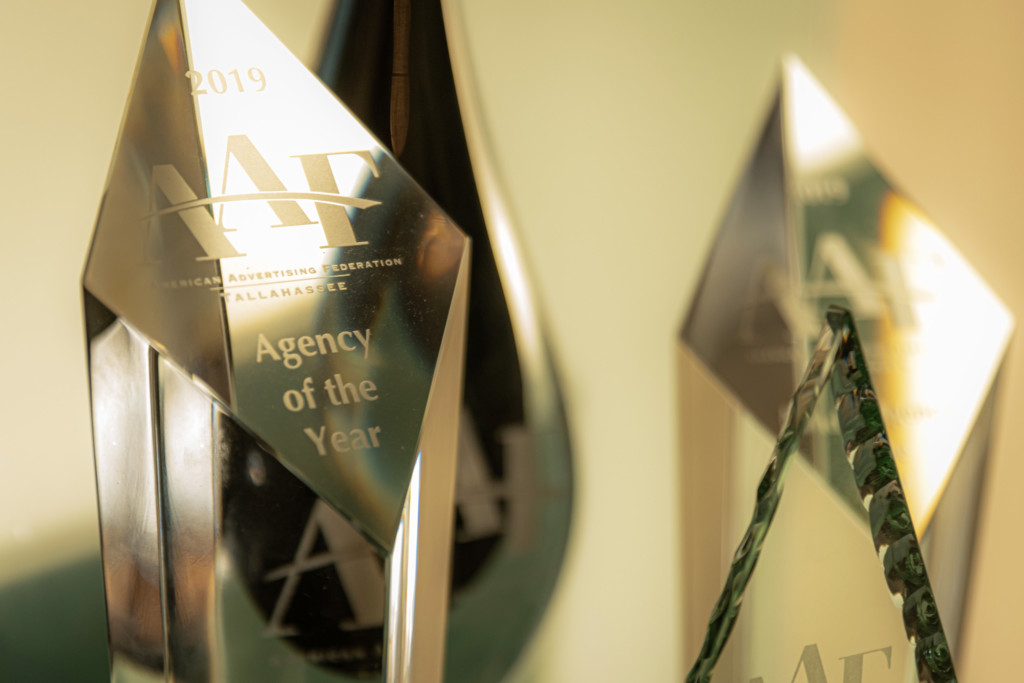 They're the storytellers and the trendsetters. And to the businesses they serve, they're the magicians. Advertising, marketing and public relations companies are not waiting for the next best thing. They've already created it.
Poof! Now you have a catchy and creative ad that thousands will see and remember.
Simple is effective — as T-Mobile's five-tone jingle makes clear — and symbolism is key for companies such as Tallahassee's BowStern Marketing Communications, Compass Marketing & Consulting, The Mitchells Agency and Sachs Media Group.
Some will tell you it's all about connecting in an age when it's difficult to get anybody to look and listen.
"You're looking at 6-second video snips now to capture people's attention versus the 30 seconds that you're used to, or 60 on television," said Robin Stefanovich, president and CEO of The Mitchells Agency. "Now you have to inspire somebody almost immediately to pay attention."
For these agencies, the drab suit-and-tie wearing nine-to-fivers of yesteryear are gone.
"Mad Men?" Forget them.
Enter open doors, collaboration spaces, coffee on tap — and women, who are leading agencies, cultivating culture, inspiring creativity and implementing policies that aim to keep employees growing and feeling valued.
To compete in the digital age, today's agencies must extend far beyond advertising. Many consider themselves one-stop shops that offer services in social media marketing, web development and more.
Tallahassee agencies say they honor and appreciate the homegrown clients who have gotten them where they are today.
But what drives today's agencies? What do they believe in? And how are they standing out from the crowd?
Get answers from these local leaders and award-winning agencies.
BowStern Marketing
CEO: Kelly Robertson
President: Tom Derzypolski
Number of employees: 30, with usually five to eight interns
Locations: 1650 Summit Lake Drive, Suite 101, Tallahassee; plus Jacksonville, Tampa and Savannah, Georgia
Services: The agency touts itself as a fully integrated branding and marketing company that works in web design, social media, public relations, graphic design and videography.
Clients include: Gold's Gym, Word of South festival, Deep Brewing Co.
Company culture and imagery: BowStern's logo is two adjacent squares, one yellow, the other blue. They represent a maritime symbol known as the Kilo flag. When raised, the Kilo flag means a ship has a "desire to communicate." BowStern displays a real World War II Kilo flag behind the office manager's desk.
President Tom Derzypolski is a Navy veteran, and much of these ideas stem from his background.
"It's so simple yet effective," said Robertson of the Kilo flag. "It takes on many different forms and meanings for our team."
The setting: The interior features subtle nods to the nautical and marine. Ernest Hemingway quotes hang around the office, along with portholes, oars and other boating objects. The conference room table is shaped like, you guessed it, a boat.
Otherwise it's open and spacious, including collaboration spaces and even a nursery for new mothers and fathers. In addition to paid maternity leave, BowStern offers paid paternity leave.
As a mother, Robertson values the nursery.
"It made the transition back into working easier for myself," she said.
Away from the nursery, staffers can treat themselves to beer or cold-brew coffee.
"It's tapped out a lot," Robertson said. "We enjoy our beer around here, apparently. But the cold brew taps more quickly than the beer, so we might have more caffeine addicts than alcoholics. Upper in the morning, downer at the end of the day. Everyone's more creative with beer, right?"
The BowStern web site says Robertson "thinks confidence is sexy," "always wants to push ideas / campaigns farther" and "typically has a beer in hand."
A recent ad that exemplifies what they're all about: BowStern won Silver recognition for "Packaging Campaign" in the 2019 American Advertising Awards for its work with — speaking of beer — Tallahassee's Deep Brewing Co. The work focused on can design and packaging for the Spear Pressure British Golden Ale and the Reef Dweller India Pale Ale.
Deep's owner and head brewer, Ryan LaPete, was a professional military diver. The cans pay homage to LaPete's life and Deep's diving nature. The Spear Pressure can features a hammerhead shark with a spear fisher. The Reef Dweller includes an old diving helmet.
BowStern also worked with local Gold's Gym locations to create a viral ad campaign. The agency printed postcards and invited community members to rip one, thereby showing their strength, and win a free membership. "The catch?" BowStern says. "We printed the postcards on non-rip synthetic paper."
"We had so many people coming in and trying to rip it," Robertson said. "It ended up snowballing into this organic effort where people would hand their piece to a friend or spouse or coworker and video the individual trying to rip the piece of paper. It created a whole viral campaign for the clubs."
She added: "How can we break through the clutter of paper mail pieces that are coming across desks? Sometimes it's as simple as the type of paper you are printing on."
National ad they liked: Robertson likes fun and bold social media accounts, such as those of Burger King, Wendy's and MoonPie.
"I like the ones that are a little more edgy," Robertson said. "Their entire tone on Twitter is so snarky and humorous and refreshing. It's fun when clients choose to be that bold, and that's a hard thing to do. It's risky, and at the end of the day there is a lot of money on the line."
Robertson also highlighted a human trafficking billboard in a European transit station that she found creative. The message changed depending on the height of the person looking at it.
"From an adult's vantage point, it was a billboard about human trafficking … and the height for someone who was a smaller child, the billboard read differently: 'If you are being captured right now, here's how you can get help,'" she said. "It was quite literally a different billboard and a different message based on your height. I thought, 'That is so cool. That is very innovative marketing.' Your target audience, not just what they look like and who they are, but what height they are.
"To see people do really interesting things like that, it inspires me."
Compass
Marketing and
Consulting
Agency Director: Daryl Green
Number of employees: 17
Location: 1711 Capital Circle NE, Tallahassee
Services: Compass considers itself a full-service agency. Services include graphic design and layout, website creation, copywriting and editing, social media strategy, branding and "guerilla marketing."
Clients include: Lucky Goat Coffee, Proctor Dealerships, Goodwill Industries Big Bend
Company culture and imagery: "The company name and logo say it all. It's all about direction and," Green said, "helping business owners find their way.
"Marketing and advertising have become a progressively complex thing, particularly as we have morphed into digital," Green said. "So now you've got all these different layers, all these different touch points that you never had before. When you take something like, for example, social media, and there it changes weekly, all the algorithms change, all the interaction points change on a whim. So, to be competitive, you have to have folks who are specialized in that field, who are very adaptive, who are psychologically balanced to be able to come in and relearn their job."
To that end, Green says, every employee receives one hour a day of paid time to devote to continuing education. It could be a YouTube tutorial or an online course, for example. "As long as it's relevant to your career arc," he says, "I'm going to approve it."
Compass also emphasizes fun. In a recent internal video series called "The Nosey Intern," a young woman with a video camera would bombard off-put and perhaps creeped-out employees with questions about themselves as they tried to get their work done. One video featured Green fielding one personal question after another as he sat at his desk and multi-tasked.
Video interviewer: "What do you think of Facebook hashtags?"
Green: "I think that's the most millennial thing I've ever ever heard."
Another interviewer: "List eight things you hate."
Green: "Clowns, monkeys, mimes, Regis Philbin, wicker furniture, phonebooks, the letter F and glitter."
The setting: Green's office features high ceilings, generous windows, artwork of the Compass logo, and an oversized Compass brand style guide. It also includes Charlie, his dog, who follows Green and a visitor around the bright and airy building.
The building is right next door to Proctor Subaru, and that's no accident. The agency launched in 2005 as the marketing arm of Proctor Dealerships.
The agency would become a separate unit of Proctor that includes the dealerships among its clients. "I don't think we as an agency could have been as sort of short-term successful as we have been without that background in automotive," Green said. "Automotive tends to be ahead of the curve with a lot of these things."
Recent ad that exemplifies what they're all about: A campaign for Tallahassee dentist Russell Rainey, DMD. Videos and ads featured "slightly recognizable" Tallahassee residents with full, sparkling smiles in recognizable Tallahassee settings, along with a theme such as "health," "comfort," "courage" and "confidence."
"It's a boutique-style practice, and it's really based around the experience — you know, dental work is not one of those things that people generally think fondly of," Green said. "He is the best when it comes to this. We have no question about that."
The campaign included large print ads that gave the appearance of a magazine cover — one person, one theme word and a brief testimonial that emphasized that theme. Compass framed and put those ads in its client's dentist office.
"I'm not ignorant to the fact that no amount of money you can spend in marketing and advertising replaces word of mouth," Green said. "That's always going to trump everything. So if we can find a way to utilize and elevate that word of mouth into something where somebody can see themselves in that person. … If you go there and look at that series, we tried to be very diverse because we wanted folks to be able to see themselves in that."
National ad they liked: A Mercedes-Benz video in which the narrator explains the relationship between himself and his father, a blind mechanic who had dreamed of driving a car. As the narrator talks, the video shows his father smiling as he works on cars, laughing with his son, and then reading a letter in braille from Mercedes-Benz. The letter says the company's about to make his dream come true.
With his son as a passenger, the man settles into a sports car in an Oregon desert and accelerates to well over 100 mph — smiling and laughing joyfully along the way. The ad ends with father and son embracing beside the car.
"It's not, 'Yay us, Mercedes,' " Green said. "The car is secondary, and that was interesting."
He said the ad aligned with the takeaway from a recent digital marketing conference that Compass attended.
"Make the customer the hero," Green said, emphasizing the message of the conference. "That's something I think a lot of people have gotten away from — make the end-user, make the customer, the hero."
The Mitchells Agency
CEO and president: Robin Stefanovich
Chief creative officer: Erich Stefanovich
Number of employees: 14
Location: 1311 E. 7th Ave., Tallahassee
Services: The Mitchells touts itself as a full-service agency that offers work in marketing, digital media, social media, public relations, web development and even app development.
Clients include: Tallahassee Memorial HealthCare, Florida State University, Tropical Smoothie Cafe
Company culture and imagery: The Mitchells turned a house near Centerville Road and Tallahassee Memorial HealthCare into the agency's home and headquarters. When you walk in, you get a silent greeting from Lloyd, the company's mini llama mascot who stands atop a desk under a hip red light that hangs from the ceiling.
When Robin and Erich Stefanovich took over the agency about three years ago, web designers included a llama on its website.
"You can't make culture. You can't force culture. It just happens," Erich said. "I'm like, OK, I guess it's a llama. It just happened."
The agency says that's OK, as long as it's true and inspirational.
"I think our overarching thing is truth and to not hide from it. It's life and it's real," Erich said. "And let's bring it to you in a way that's not fearful, not scary, but positive, nurturing and inspiring. That's the overarching thing — inspiring people — because we're not on this planet for very long. So it's really nice every day to be inspired about something. Even when I worked in past agencies on tobacco, you know, anti-smoking stuff, it was always with the spin of 'You're worth it. You don't need to do these things to your body. Here's a way out. We can help.' I love that kind of work. Fear does not work. We should embrace and cherish those things that make us human and celebrate them."
The setting: From the lobby area, you see a conference room, and beyond that, you see a bright open area where the work gets done. Even during the summer, Christmas lights hug desks and hang from the ceiling. Generous windows highlight Tallahassee's green and natural outdoors. And artwork features Lloyd the llama looking at you as if to say, "Hey, I'm here."
Lloyd also might be telling visitors: This agency is so in tune that its leaders finish each other's sentences.
"You go down there, and there's Christmas lights hanging up," Erich said in July from the conference-room table. "You don't have control over it." Then he said, referring to team members: "It's just how they interpret their life and their work life and what they need to inspire them. It just happened so, you know … "
"… Lloyd stuck," Robin said.
Erich nodded. "Lloyd stuck."
Recent ad that exemplifies what they're all about: A "Slip 'n' Slide" commercial for Tallahassee Memorial HealthCare that won Best of Broadcast in the 2019 American Advertising Awards.
The ad opens with a yard sprinkler, then shows a determined-looking young girl in a bathing suit, with swimming goggles on her forehead. She asks a girl holding a clipboard who had the best time.
"Friend, 4.9 seconds," the girl with the clipboard responds.
A narrator discusses TMH's partnership with a top-ranked children's hospital, Wolfson, and access to resources for children's care.
When the narrator finishes, the determined girl commands: "Light it." An all-inclusive shot shows flames engulf a Hula-Hoop at the bottom of a hill.
The determined-looking girl jumps up and down at the top of the hill, competitively itching to go down a slip 'n' slide that extends through the burning hoop. "As long as kids will be kids," the narrator says, "we'll be ready."
"Not that parents don't pay attention to their children, but in the blink of an eye, things just happen," Robin Stefanovich said.
Erich Stefanovich added: "The best part of that campaign inspires parents to believe in TMH — I don't have to worry because I know they're there."
The Mitchells' leaders said the idea for the ad came from conversations with parents.
"No one wants to see blood and guts and crashed cars and kids getting hurt," Erich Stefanovich said.
"We finally just said, we'll just ask moms and dads: So tell us about your kids. 'Well, when we're not looking, they're in the backyard, setting up jumps and trying to go over the pool …' So Slip 'n' Slide came from just talking to people about life."
National ad they liked: State Farm's tongue-twisting commercial featuring "Cheryl" on the phone with her agent as her backyard "She Shed" burns. Robin Stefanovich says she thinks the commercial connects.
"It's light-hearted," she said. "Her She Shed burns down, which is really sad. But she's so excited because she's going to get an even She Sheer She Shed."
Erich Stefanovich said he appreciates the Farmers Insurance commercial featuring actor J.K. Simmons with a potential client. "And he's like, you know, we know a thing or two because we've seen a thing or too. And what I love about that commercial is the honesty. And the truth in it is that insurance is one of those commodity-boring things. Do you ever think about it? No. It's like, 'Every month, I've got to write a check for insurance. What am I getting?' But they made the great case that things happen in life. There's some other stuff out there that's just humor for humor sake. I don't want my insurance to be funny. I want my insurance to be something I could believe in or even trust. It's …
"It's smart work," Robin said.
"With a very fun twist to it," Erich said.
Sachs Media Group
CEO: Ron Sachs
President: Michelle Ubben
Number of employees: About 30
Locations: 114 S. Duval St., Tallahassee, plus Orlando, Fort Lauderdale and Washington, D.C.
Services: It bills itself as an integrated marketing and communications company. Services include public relations, public affairs, digital crisis management, web design, social media advertising and research.
Clients include: Lauren's Kids, Florida Department of Veterans Affairs, People's Trust Insurance
Company imagery: Rhinos, at least 70 of them around the office in the form of plush toys and artwork. A large mural of a rhino breaking through a wall can be seen on the main office floor. The company deems itself "The Breakthrough Agency." Get it?
"You know, the mystics say that the rhino's horn has a spiritual power to rip through ambiguity and find clarity on the other side," Ubben said.
"And in the same way, we live in the information age. We have a very cluttered landscape where our clients are trying to break through with their stories, reframe perceptions, and so it fits in very nicely to think about the power of the rhino to break through to clarity in a cluttered landscape for our clients."
Company culture: The agency says it emphasizes both the client and the employee. That means an effort to avoid working nights and weekends.
"We bring excellence and commitment to every outcome for our clients, in everything we do," Sachs said. "But we don't live to work — we work to have a life. So we really work to try to have a work-life balance at our firm. We like people going home on time."
Yet the company expects its employees to deliver. "Our attitude is effort without outcome doesn't mean anything," Sachs said. "We have to get great outcomes."
They do that through storytelling, Sachs said — "telling the facts and truths of our clients' products, services or issues. And doing it in a persuasive way. But always with the facts and truth."
The setting: Nestled in the midst of downtown, the office holds a view of some of the city's most integral structures.
The workspace is open and welcoming, with a central area where several desks merge for collaboration. Toward the back, you'll find a kitchen/break room that offers a place to relax.
And you'll spot rhinos everywhere.
A recent campaign that exemplifies what they're all about: Rebuild Florida.
For that campaign, Sachs Media Group this year won the Dick Pope All Florida Golden Image Award from the Florida Public Relations Association for the best campaign in the state.
In the wake of Hurricane Irma, which battered Florida in September 2017, the firm worked with state agencies to reach residents and make them aware of government benefits available to them.
"In a lot of cases, these were people who were very hard to find, people who were not necessarily trusting of government, who had given up hope," Ubben said.
"We really started with upfront research to understand who they are, where they are, figure out how to target them — and then to work with the state to come up with compelling messaging to break through the barriers that we learned about in our research, to really frame up the messages and the outreach strategy so that very cost effectively we could find those Floridians and make sure that they got connected to the federal dollars."
National ad they liked: "I love the Volkswagen commercial," Ubben said.
Set to Simon and Garfunkel's "The Sound of Silence," VW's Hello Light commercial begins amid darkness, with news reports about the company's devastating emissions scandal.
"You just see employees struggling, burning the midnight oil, tossing paper in the garbage, like starting over," Ubben said. "Then you see a sparks flying and welding and robotics and a car being built. And then from the darkness emerges what will be their new electric vehicle."
At the end, the ad declares, "In the darkness, we found the light." Ubben said she found the ad perfectly executed. "You know, we're human, and corporations, just like humans, make mistakes. But you've got to be able to admit mistakes and then focus on the future."