Talking to Fish
For some, it's a first step in learning to swim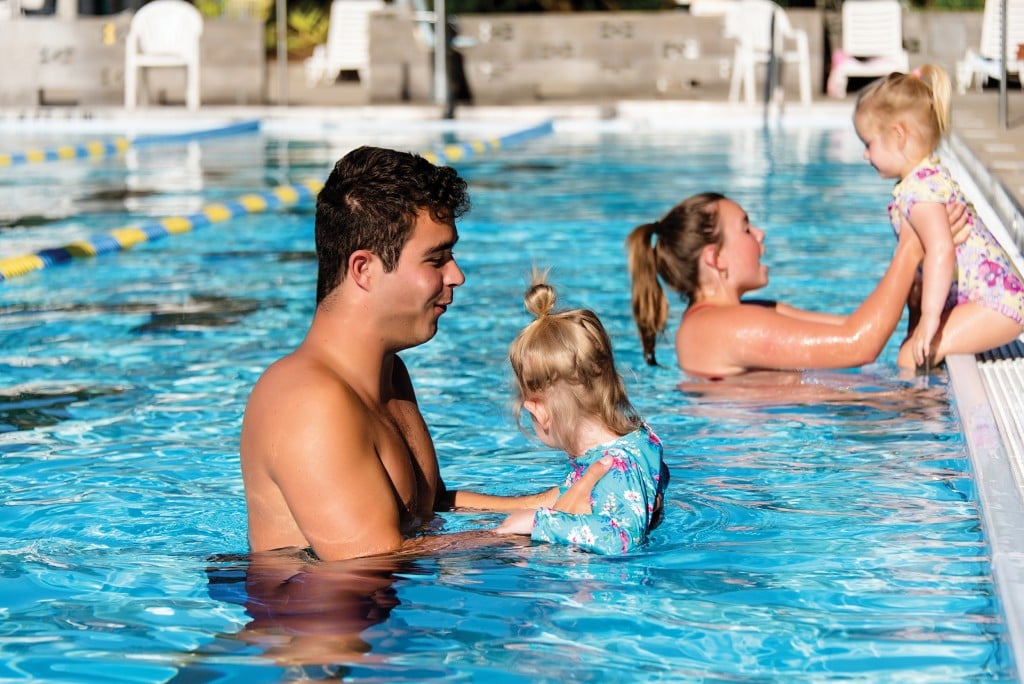 There are no fish swimming beneath the glassy blue surface of the Trousdell Aquatic Center pool, but that doesn't stop Colin McKinnon from telling his more nervous students to strike up a conversation with guppies below.
"One really common fear for kids learning to swim is putting their face and ears in the water," McKinnon said. "So, I tell them to blow bubbles and talk to the fish. Then, they have to put their ears down to hear the fish talk back."
McKinnon, 22, is a swim instructor at the city's various aquatic centers. In the course of four years teaching swimming in Tallahassee and his hometown of Melbourne, he has worked with students of all ages, from 6-month-olds in mother-and-baby lessons to adults. Regardless of age, taking the plunge can be a frightening experience, McKinnon said. He believes his job is to connect with his students and show them that there is a path through that fear.
"One thing that I will do is talk about funny things that happened to me in the pool," McKinnon said. "I swam for years, but I'm not immune to getting scared at times."
McKinnon swam competitively for 12 years, then studied sports management at Tallahassee Community College. Still, an accidental kick to the chest from one of his students was enough to startle him.
The city's aquatic division includes eight sites, including the Trousdell and Wade Wehunt aquatics centers, where swim instructors provide lessons.
Aquatics director Leslie Adams said she trains every lifeguard and swim instructor on staff with care and intensity. Instructors undergo a rigorous three-day training session developed by the Red Cross covering areas including breath management, strategic safety and mastery of basic strokes, as well as how to effectively communicate with different age groups.
"We never run a swim lesson or anything in any of our pools without lifeguards on duty," Adams said. "Not only do they do their initial training, they have in-service training at least once a month. There, they practice those skills to stay fresh. They get recertified annually."
Like McKinnon, Brian O'Brien, 22, has a long history as a competitive swimmer and swimming instructor. A Palm Beach County native attending FSU, he is training to become a swim instructor with Tallahassee Aquatics. O'Brien believes that before you can help a student overcome his fear of the water, you must first acknowledge why that discomfort is present.
"I like to think fear is a good thing in kids who don't know how to swim," O'Brien said. "I'm OK with that because that means they aren't going to jump in the water head first. For our younger students, we like to keep the parents nearby. That helps the child feel safer venturing out, but it also shows the parent that we are taking extra care to ensure their safety."
At 18, Mary Shelton is one of the younger swim instructors with the Aquatics Division. She worked as a lifeguard with the pools for two years and is now entering her second year as a swim instructor. For her, watching the bonds that children make during group lessons is both fun and useful in allaying fear.
"It's definitely that team mindset," Shelton said. "They all sit on the wall together and introduce themselves, and we are together for the next two weeks. It happens so naturally. One moment they don't know each other and then the next, they are joking around and high-fiving and sharing those crazy life stories that they have at 6 years old."
Support and cheers from other kids can do wonders for a new swimmer's confidence.
"Private lessons can be great for some people, but one of the biggest advantages of taking a group lesson, especially for kids, is being able to learn from watching someone else," Adams said. "If you don't want to do something but see that someone else is having fun, you are way more likely to take the plunge."
---
Staying H2O Safe
The state Department of Health's "Water Safety Is Everyone's Responsibility" initiative educates parents, caregivers and communities about drowning risks and prevention strategies. The campaign identifies layers of protection to increase water safety: supervision, barriers and preparedness. More information is available at watersmartfl.com.