Taking TCC from 'Good to Great'
New Tallahassee Community College President, Jim Murdaugh, Steps into Historically Big Shoes - and Steps Up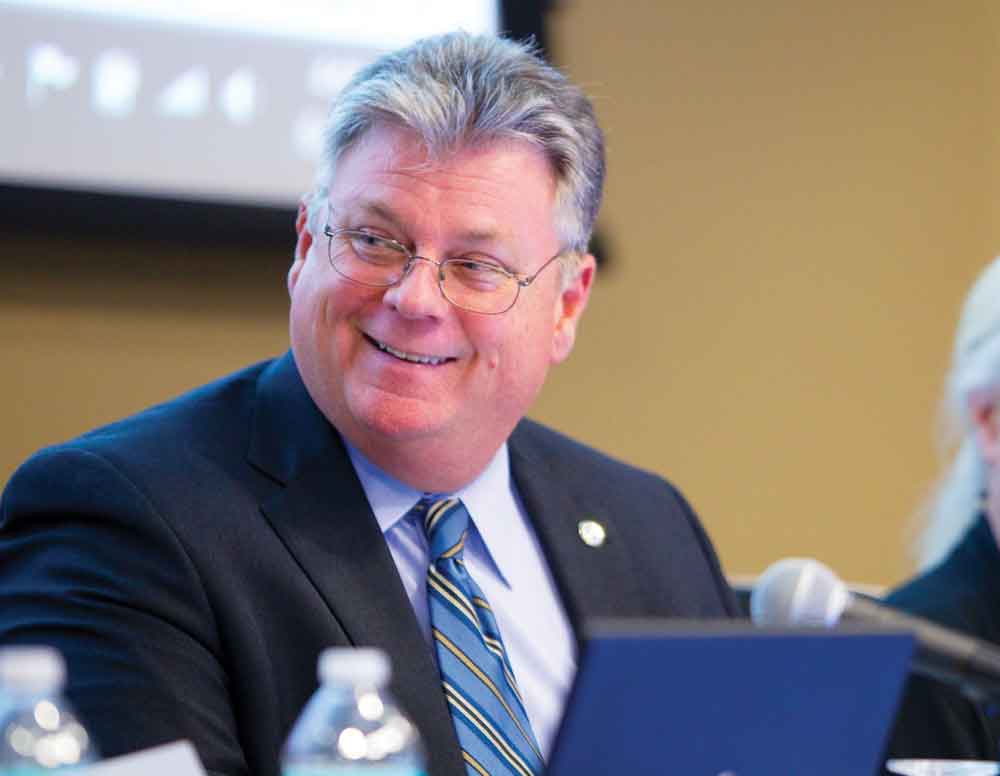 When President Bill Law announced last year that he'd be leaving Tallahassee Community College, his trustees and other local leaders had collective heart failure.
In his eight years at the helm, Law had not only enhanced the 45-year-old college's national reputation. He'd built TCC outposts throughout its service area — in Crawfordville, Quincy and downtown Tallahassee. He'd created The Learning Commons, a sort of academic support lab on steroids, which now notches hundreds of thousands of student visits yearly. He'd chaired the Tallahassee-Leon Economic Development Council and set up TCC's Advanced Manufacturing Training Center to lure business to town. And for the 2009-10 academic year, Law's last in Tallahassee, Community College Week ranked TCC No. 9 among two-year institutions in associate degrees awarded — up 22.2 percent from the year before.
"We knew we wanted a leader who was going to continue the direction we were going," said Karen Moore, then chair of the TCC District Board of Trustees. "So we did a national search … and what we found is: Sometimes the best of the best is in your own backyard."
Their choice: James T. "Jim" Murdaugh, a career law enforcement officer and military reservist who had helmed TCC's Pat Thomas Law Enforcement Academy with outstanding success, expanding his brief to other educational and workforce development programs in Gadsden County.
The search had attracted a wealth of talent, including Tallahassee attorney Randy Hanna and the presidents of colleges in Ohio, South Florida and Washington state — among others.
"I took it as a point of pride that the pool was so rich," said Bill Law, now the president of St. Petersburg College. "What did they have, 10 sitting presidents?"
Less than a year later, Murdaugh has his constituencies purring, from students to other big-time educators to the business community and elected officials. At the June press event for bigbendworks.com, an online collaboration to respond to state layoffs, the room was clogged with dignitaries, and Murdaugh got so many accolades for his leadership role that he was blushing.
"He is off to a very promising start," said Allison DeFoor, vice chairman of the trustees. "He is making quick headway with all of the various constituencies, and that's the hard thing about a college presidency. … He's really proving his ability to pull all those competing interests together."
"I believe in everything the college does," Murdaugh said. "The best thing we can do is make a difference in someone's life so they can earn a living and support a family."
This job isn't the first where the affable Murdaugh has been a calming and collaborative force. Before starting the TCC presidency in November 2010, he spent 11 years as director of the college's Pat Thomas Law Enforcement Academy, tapped by then-TCC President T.K. Wetherell. The transfer of the academy from Lively Technical Center to the college was contentious, Wetherell said, but Murdaugh improved its every aspect and attracted 60-plus law enforcement agencies there to train. Now known as the Florida Public Safety Institute, the academy plays a key role in state training and national security, with an international reputation.
"Frankly, he exceeded our expectations," Wetherell said. "After all the controversy, to bring everybody together, to calm the waters, to articulate a visionary program and get everybody to buy into it — it's amazing."
As president, Murdaugh hit the ground running full-out, yet methodically. First, he wanted an accurate assessment of the college's strengths and weaknesses, so he met with its stakeholders: individually with trustees and community leaders; at a retreat with his executive team led by an independent facilitator; and in forums with students, faculty, staff and community members. Then he convened a Student Success Summit, inviting all hands to take TCC from "Good to Great."
This, too, echoed his tenure at the law enforcement academy. In 2001, Murdaugh wrote a white paper showing how the state could save by training all its officers there — rather than bringing another facility, run by the Florida Highway Patrol, up to code. His economic analysis showed that by investing $8 million in Murdaugh's facility, FHP could break even in cost avoidance, which in fact happened within four years.
"I understood how fiercely proud those agencies are," Murdaugh said, "and I understood that any effort that attempted to take away from a particular agency its pride was going to be doomed. Many people said to me, when we started, 'There is no way you're going to get all these agencies to play together.' And today they would tell you they can't imagine a different model."
His watchwords: accountability and strategic planning.
Now Murdaugh is asking: Does a TCC education lead to jobs and higher degrees? Are graduates staying in the area, contributing to their communities?
"Colleges were originally created to provide access to higher education," he said, "and the reason we are spread out the way we are is that geography was part of being accessible for higher education, as well as cost. Now there's a shift taking place. Providing access is great, but more importantly, access needs to lead to success. And that is something I'm absolutely passionate about — student success."
Once again, Murdaugh is emphasizing strategic partnerships, whether with the K-12 schools, the five universities with branches at TCC — Barry, Embry-Riddle, Flagler, Saint Leo and Thomas — or with Florida State and Florida A&M universities.
"You keep hearing from other universities and other programs that there is sort of a conflict between the different types of institutions in different communities," said FSU President Eric Barron. "But TCC and Florida State are just excellent partners.
"We work from the beginning for students that want to come to FSU and don't quite make it to go to TCC, and TCC works with those students to enable them to be successful and spend their last couple of years at Florida State. It's just a great partnership, and Jim is clearly as keen on continuing it as I am."
FAMU President James Ammons is working with Murdaugh to smooth the transfer of students from the college to his university, establishing a committee with top leaders of both campuses. One goal: a FAMU office at TCC.
"He has worked with me to make the TCC/FAMU collaboration a priority, and the administration has embraced this approach," said Ammons. "FAMU plans to be more visible on the campus of TCC."
Another early move by Murdaugh was to seek a tuition hike after community college funding was cut 8.1 percent in the 2011-2012 state budget. To offer colleges some relief, the Legislature gave them the authority to raise tuition 13.4 percent, from $69.50 to $78.84 per credit hour. Murdaugh asked his trustees for a 10.3 percent hike, to $76.65 per credit, which they approved in May.
Murdaugh "wasn't excited" about the increase, but said it was necessary to maintain the quality of a TCC education. The Great Recession has eroded staff-to-student ratios and increased the percentage of adjuncts, as opposed to full-time faculty, in the classroom. Murdaugh wants to reverse these trends; he especially wants to improve students' experiences with registration and financial aid. His plans also include creation of an Office of Institutional Effectiveness to promote accountability, a provost and expansion of the distance-learning program.
"We have achieved a good balance between success and access with the budget,"
he said. "It gives us enough funding to ensure the kind of success programming we need to have, both in the classroom and out of the classroom — without, in my opinion, tipping it so far that it impedes access.
"But I'm paying way more attention to success. I'm making no apologies for asking for funding to support programs that lead to student success."
That philosophy is especially important since the economy tanked. Before, there was something of a historical divide between the academic and workforce development sides of TCC's institutional culture. But necessity — and Murdaugh — are bridging it.
"There is nothing that requires us to take away from one effort to support another effort," he said.
"He's always working toward a seamless transition," said E.E. Eunice, TCC's campus police chief and Murdaugh's longtime colleague at the Florida Public Safety Institute.
Here's an example: While FPSI is part of the college's workforce development side, its graduates must complete more than the minimum standard for credit hours (which may explain why they almost always have 100 percent pass rates on state exams). Grads are also given 34 hours toward an associate's degree, said Eunice, and Murdaugh always encouraged them to continue their education via distance learning.
"Continuing education means we are ratcheting up the quality and quantity of our graduates," said Eunice.
Distance learning is also integral to Murdaugh's vision. TCC has done well with it, he told the trustees, but needs more credit programming, more faculty, integrated Web resources that are easier to navigate and expansion beyond the college's service area. Murdaugh wants to double TCC's enrollment in distance learning, too, and he's putting his money where his mouth is, with a $250,000 investment. FPSI is launching a pilot for the development and distribution of online education nationwide.
"I'm anxious to see Jim's handiwork," said former president Law. "The fun part will be to see him put behind some of the old stuff I was involved in and put his own flavor on new stuff that drives the ball forward — which is exactly the healthiest thing for an institution."
"It's in good hands," said Wetherell.
What They're Saying About New TCC President Jim Murdaugh
» "I appreciate that there was a competitive search and that we found someone in-house who knew the system, knew the potential and was willing to take it to the next level." Kristin Dozier, Leon County Commissioner and TCC alumna
» "I absolutely think he's got a good business mind … His leadership and his passion for this community — I think that's very important." Virginia Glass, longtime Realtor and member of the Greater Tallahassee Chamber of Commerce
» "He believes that people should be responsible for themselves. He gives them great opportunities and the confidence they can succeed. It works and works well." Frank Messersmith, member of the TCC District Board of Trustees and legislative lobbyist
» "He solves problems by combining analysis and deliberation with carefully listening to the opinions of others. He then displays the unique gift of explaining complicated things so that they are easy to understand. He just makes sense, and you think, 'Yes, that is exactly what we should do.'" Marjorie Turnbull, Florida A&M University trustee and former TCC Foundation director
» "Under his leadership, Tallahassee Community College is leading the way in training and supporting the needs of our existing businesses and nonprofit providers." Sue Dick, president of the Greater Tallahassee Chamber of Commerce
» "He has good management and people skills, and good politics — not Republican or Democrat, but the politics of any major corporation." T.K. Wetherell, former president of both Florida State University and TCC
» "His leadership style is empowerment with oversight. He empowers his people to get the job done right. He does not need to micromanage." Karen Moore, member of the TCC District Board of Trustees and CEO of Moore Consulting Group
» "He knows the lay of the land, and he clearly understands the politics in town. He hit the ground running, and he's been hitting on all cylinders." Bryan Desloge, Leon County Commissioner and president of Desloge Home Oxygen & Medical Equipment
» "He understands the impacts of the college's programs, not only to TCC but to the community he serves … He made a very strong commitment to me that he would be as big an advocate for us as Bill Law was." Kim Williams, chair of the Economic Development Council of Tallahassee/Leon and TCC alumnus
» "Jim is first a good listener … He works strategically. Once he knows all the facts, he steps forward … He's a good man. Our community is lucky to have him." David Ramsay, President and CEO SunTrust Bank, Northwest Florida (retired) and Mission San Luis chair