Take to the Woods
The St. Marks National Wildlife Refuge Offers Hunting Opportunities in a Unique Setting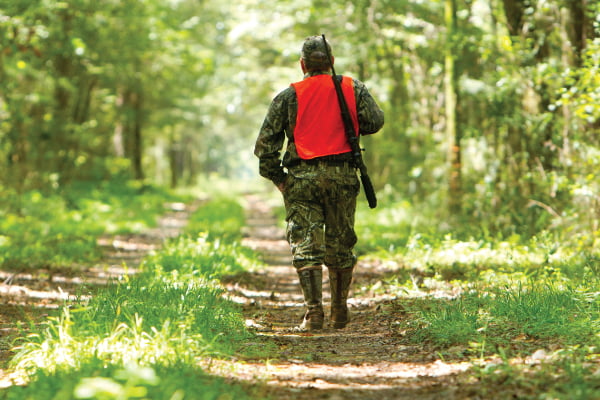 I can still remember the adventure like it was yesterday — my first hunting trip. I was only seven years old and my grandfather allowed me to tag along to a seemingly faraway place. I'd heard the tales, and in my young mind it was a place of mythical proportions; to him it was simply a hunting camp located in the Mississippi Delta near the town of Benoit. No big game was taken on that outing, though a lifelong fire and appreciation for the outdoors and the sport of hunting was fueled, which still burns strong today.
Hunting is a time-honored Southern tradition, and every fall Tallahassee area residents take to the woods in search of some wild, elusive quarry; although any avid outdoors sportsperson will tell you a chilly early morning sunrise, strong coffee, campfires and the camaraderie of friends far outweighs a bulging game bag or a big buck.
Over the last several decades the sport of hunting has grown in popularity among those living in suburban areas and in cities like Tallahassee. And, due to urban sprawl and population growth, the amount of land open to the public for hunting has decreased. Oftentimes people who don't own land, have permission from a landowner, or pay to participate in hunting activities on a privately held lease, have a hard time taking to the outdoors to enjoy the sport. Fortunately, Tallahassee is located in a region rich with public land — resources that are hunter friendly and provide great opportunities to pursue a variety of wild game animals and migratory waterfowl. One such public land owned and controlled by the United States Fish and Wildlife Service and funded by U.S. tax dollars is located just a short drive south of Tallahassee — the St. Marks National Wildlife Refuge (St. Marks NWR).
Established in 1931, the St. Marks NWR is one of 500 national wildlife refuges and part of the national refuge system. The Refuge is presently comprised of 70,000 acres and spans three coastal counties: Wakulla, Jefferson and Taylor. Covering approximately 43 miles of coastline that borders Apalachee Bay, the Refuge is part of a diverse ecosystem. While its primary purpose is to provide conservation and protection of all species of wildlife, hunting is a tool used to maintain sustainable wildlife populations compatible with the habitat on the Refuge.
St. Marks NWR provides outdoors enthusiasts with a unique landscape to enjoy various activities in the great outdoors, and hunting is one of them. Hunting is permitted on approximately 32,000 acres that comprise four units: Panacea, Wakulla, Piney Island Waterfowl Hunt Area and Aucilla. Each year, during specified times, hunters have the opportunity to take various wild game with both conventional firearms and/or archery equipment.
It's a great opportunity, but you must first know and understand the details and regulations involved with participating in the hunts held on the Refuge. For the most part these hunts are used as management tools and do not provide total unrestricted access to the hunter.
St. Marks NWR goes through lengths to explain the regulations and the processes involved in being eligible to hunt through both online (fws.gov/saintmarks/huntinginfo.html) and print media. The process is fairly simple if you just follow the instructions and become familiar with the regulations. If you have any questions, just call the Refuge office at (850) 925-6121. The staff is very knowledgeable and more than willing to help.
The hunts that draw the most attention are for whitetail deer and the Eastern wild turkey. Deer and turkey hunts are by quota only and hunters must posses a quota hunt permit to participate. Permits are limited and issued lottery-style. Participants must have applied during a specific timeframe to be included in the drawing. Quota hunts are unit specific and held only on specified dates. If you are lucky enough to draw one of the coveted quota hunt permits, you will have the opportunity to enjoy hunting in a pristine environment that offers a distinctive experience.
St. Marks NWR also offers a quota hunt for the mobility impaired and this year, for the first time, a youth deer hunt is being conducted in cooperation with the Florida Fish and Wildlife Conservation Commission (FWC).
Whitetail deer and the Eastern Wild Turkey are not the only species of upland game animals available to hunters on this Refuge. Each year a small game season is opened for a short period. There are no quotas, but hunters must possess a non-quota hunt permit that can be obtained for the small game season free of charge by visiting, writing or calling the Refuge office. This permit contains all of the current rules and regulations pertaining to small game season and hunting on the St. Marks NWR. The upcoming non-quota hunt for small game this hunting season will run from Dec. 26th, 2012–Jan. 6, 2013. A signed non-quota hunt permit must be on your person during all times while participating in the small game hunt.
In my opinion the small game season on the St. Marks NWR is a prime opportunity to spend time in a pristine place on quality hunt that doesn't take a lot of effort. As an adult, I try not to forget how I was introduced to hunting when I was a young person. I spent many hours roaming the fields and woods hunting small game.
A small game hunt presents the perfect opportunity to introduce a young person to the sport. Small game hunting is not as restrictive as hunting whitetail deer or turkey. Sitting still in one place for long periods of time is not necessarily required for success, and it can be much more interactive for younger children with shorter attention spans.
Spending time in the woods with a child is the perfect time to talk about conservation and how we should respect wildlife and the environment. Also, how we should preserve special places for future generations so everyone can enjoy the outdoors. It's much easier to mentor a child about healthy habits when they're spending uninterrupted time with you and not glued to a television set. Gray squirrels, rabbits, raccoons and hogs can all be taken during the refuge small game hunt. These species don't necessarily carry the cachet of a whitetail deer or turkey trophy, but believe me they are plenty glamorous, especially to a child. And, as for table fare, wild game is a delicacy — especially when recounting an outing with others.
If you enjoy the sound of whistling wings and watching waterfowl pitch into a decoy spread, Piney Island Waterfowl Hunt Area may be for you. Located in the western reaches of Apalachee Bay and within the Refuge boundaries, the bay waters surrounding Piney Island play host to a number of different species of migrating waterfowl each winter, especially diving ducks. No special permit is needed to hunt in the waterfowl area, and the season runs consistent with Florida's waterfowl season. State and federal regulations apply. However, you are best served to do your homework before embarking upon a hunt, or hunt with someone who is familiar with the area. This portion of the bay is a large, shallow expanse of water. Navigation and access are largely affected by the tides and weather.
The St. Marks NWR offers outdoor persons many ways to enjoy outdoor sports. The freshwater impoundments in the Refuge hold several species of freshwater fish, which can be caught from land or by boat during certain times of year. Not to mention the multiple boat launches and access points that lead to the shallow flats of Apalachee Bay, which is teeming with saltwater species like redfish, trout and flounder.
Beyond the hook and trigger, spending time in one of the most pristine coastal ecosystems left in the state can afford the outdoors person an educational experience like nowhere else, an opportunity to view wildlife and gain a better understanding and appreciation of how wild things live in an almost unrivaled setting. St. Marks NWR is home to 44 species of mammals, 38 species of amphibians, 69 species of reptiles and there have been more than 300 species of birds recorded on the Refuge. With 17,746 acres designated as a National Wilderness Area by Congress, where else can you find such a pristine place so close to home to take to the woods?
St. Marks National
Wildlife Refuge Hunts
Quota Hunts
Fall Archery
Oct. 9–13, 2012
Wakulla
200 Permits
Fall Archery
Nov. 6–10, 2012
Panacea
200 Permits
General Gun
Dec. 7–9, 2012
Wakulla
150 Permits
General Gun
Dec. 14–16, 2012
Panacea
80 Permits
Mobility-impaired Gun Hunt
Dec. 8–10, 2012
Panacea/Buckhorn Creek
15 Permits
Spring Gobbler
April 9–13, 2013
Wakulla/Panacea
100 Permits
(worksheet
available 11/1/12)
Non-Quota Hunts
Small Game
Dec. 26, 2012–
Jan. 6, 2013
Wakulla/Panacea
Refuge Office after Sept. 1.
St. Vincent National
Wildlife Refuge Hunts
Sambar Deer
Nov. 29–Dec.1, 2012
St. Vincent Island
200 Permits (quota)
Archery
Nov. 15–17, 2012
St. Vincent Island
250 Permits
(avail. 7/12/12–9/28/12)
Primitive Weapons
Jan. 24–26, 2013
St. Vincent Island
250 Permits
(avail. 7/12/12–9/28/12)
Extra Tips
If you're planning on spending time on the Refuge hunting, here are a few suggestions from the author, host of the talk show "North Florida Fish and Game Report," which can be heard Saturday mornings at 7 a.m. on ESPN Radio 97.9:
►  Access can be limited, especially during inclement weather, so plan on walking. Wear a good pair of boots that will keep your feet comfortable, dry and offer protection — preferably to the knee.
►  A compass, map and flashlight are a must. A GPS with extra batteries isn't a bad idea, but it isn't necessary. I always include a small whistle as well. I know several people who spent more time than they initially intended in the St. Marks NWR, and not by choice.
►  Depending on what you are hunting, a length of rope or a game drag is nice to have for use in retrieval. A sharp knife is always a must. I carry a small bottle of water and disposable latex gloves to aid in field dressing game.
►  We're in Florida, and it doesn't take much to bring out the biting bugs, so either make sure you have some good bug spray or a ThermaCell.
►  Travel light. Most of the items I pack don't take up much room, weigh very little and can be carried in a small pack or stored handily in my hunting vest.