Take It Outside
Cityscape is canvas as art takes to the street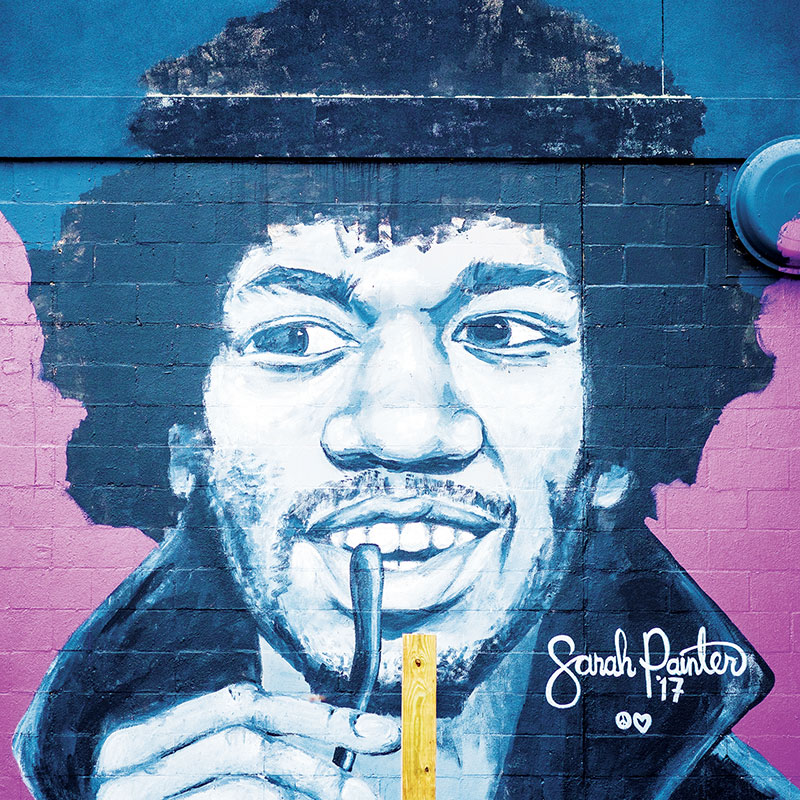 It may seem that not since the cavemen days have so many artists taken to drawing on walls.
Remember the day you got that bottom swat when you "expressed yourself" in neon crayons across the living room wall? Or when Dad's old spray can of purple aerosol let you make pretty ribbons across the front door? Alright, and what about your own small addition to the interior of a bathroom stall involving a dancing elephant and a crescent moon?
Defacement? Yes. Artistic freedom? OK. Public Art? Well, maybe… in the eye of the beholder.
But without a doubt the urge to send messages, visually edify, surprise, delight, and sometimes just visually go ape is strong in and around Tallahassee these days. In colorful windows, bus stop shelters, mosaics, and megalithic murals along sides of buildings, art has burst out of galleries and into the public space. And yet the "public" aspect of art really isn't new.
Taking a look around the capital, or any town from small to large, citizens have always wanted something artist-made to look at. Here, the gleaming dolphins that leap near the State Capitol, the bronze Indians who tread by the R.A. Gray Building, or the numerous metallic educators, from Claude Pepper to Sandy D'Alemberte, who meditate on benches at FSU — all of these sculptures are pieces of public art.
Memorials in the form of cast bronze and stone and glowing walls of colored glass are made to communicate a message that is stirring, contemplative or inspiring — as are the Statue of Liberty and the great rotunda art that wraps the interiors of governmental buildings around the world.
But following the same instincts as the painters at Lascaux, non-artists, too, want a say. What was always around but came to be known as graffiti began to pop up by the late 1940s. The impulse was no longer limited to medieval scrapings onto dungeon walls or scrawling "Kilroy Was Here" at the sites of WW II battles. The advent of the spray paint can in the 1950s changed everything for would-be artists. And the city was their canvas.
By the 1960s, subway cars and railroad containers, overpasses, underpasses, bridges, rocky outcrops, squat buildings and skyscrapers alike all called out to what were variously called creative street artists or vandals who disfigured the city. But the surrounding culture has a way of changing attitudes, and as hip-hop, punk, anime' and digital culture swept the public consciousness, graffiti became art.
In Tallahassee, Amanda Karioth Thompson, assistant director of the Council on Culture and Arts (COCA) and its education and exhibitions manager, says there are more than 200 works of public art here: Some are sculptures, some mosaics, and others elaborate murals painted along the walls of older but particularly re-emerging sections of the city. "Public art is now formalized in that there is an intent," she says. "Typically working with the community in a mural's planning or with the owner of an establishment, artists express ideas or opinions, they educate or memorialize so that the art becomes a landmark." Thompson says that such works can also generate tourism dollars. Miami, for example, is known for its Wynwood Walls murals and hosts several public art festivals. Here, Frenchtown and the Gaines Street corridor have become a nexus of public art displays.
Artists who know first-hand the thrill of seeing their paintings in terms of square feet rather than square inches are Chiara Saldivar-McCluskey and her husband, Danny McCluskey. The duo behind Street Art Tallahassee not only creates wall works but brings together local and national artists to work on projects sponsored by the City of Tallahassee, CRA, KCCI, Tallahassee Memorial Hospital, and private businesses. One of Saldivar-McCluskey's murals, called "Monkey in Eden" pictures a contented primate enjoying a treat at Taco Bout It on Gaines Street. Another massive wall, by Sebastian Coolidge, near Savannah's Country Buffet, whimsically shows a face drifting part by part through a distant triangle. Both are mesmerizing. As is the visage of a 30-foot Jimi Hendrix painted by FSU senior Sarah Painter. "I wanted to paint large," she says. "So, one day I just knocked on the Side Bar's door and got the go-ahead to paint their parking lot wall. I painted it free-hand with the aid of a bamboo stick and a roller duct-taped to its tip!" Painter has now gone on to do commissioned works for restaurants and gyms.
COCA has created an Outdoor Public Art Directory and Map that are both downloadable from their website at tallahasseearts.org. But it is likely that you are viewing outdoor murals every day and along nearly every commercial by-way in Tallahassee. From Cabo's to Bella Bella's, from the Garages on Gaines to the Wilbury Wall, on South Monroe Street, at the Centre of Tallahassee and at the entrance to Midtown, big art seems here to stay … to amuse, to delight, to occasionally make us scratch our heads, and to definitely make us look.