Take a Look at Thomasville and Washington County
Hop in the car and get ready to meet the neighbors!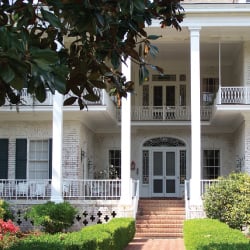 Thomasville
History, Shopping and Fabulous Food Driving Time: 45 minutes | Miles: 35
My husband and I thought we knew the usual suspects of Tallahassee area tourism. We shivered in the cold waters of Wakulla Springs, toured historic Goodwood and visited just about every museum in or around downtown, hitting some twice.
Yet we were surprised to find a hidden gem 30 miles north of Tallahassee.
In the heart of the quaint city of Thomasville (population 20,000), we found the expected: history museums, a bed-and-breakfast and antique shops galore.
But unexpectedly, I also found a shopper's paradise. Along Thomasville's downtown Broad Street I discovered a sportsman's heaven of high-class hunting gear, hip clothing and houseware boutiques, a food shop coveted for its locally made cheeses, a charming bookstore, a sweet-smelling bakery, a coffee shop that rivals any big city's Starbucks — and even an old-fashioned soda fountain with children sipping malted milkshakes.
But this town's got more going on than shopping. Recreational opportunities abound. We blasted 20-gauge shotgun shells at clay pigeons; and had we planned for it, a prestigious 18-hole golf course would have been beckoning.
The Resort Era
There are plenty of lodging choices in Thomasville, from chain hotels like Holiday Inn to bed-and-breakfasts. We stayed at Paxton House Inn, a home built in 1884 that boasts wide porches, cozy cottages and a mouthwatering breakfast that lived up to the hype.
To understand more about Thomasville, we first visited the Thomas County Museum of History, located inside a historic house. The house itself is filled with artifacts, such as the tiny-waisted dresses women wore in the 1800s. There is a handy video tour and a guide will typically show guests around other historic homes on the property.
Unlike other Southern cities, such as Atlanta and Savannah, Thomasville was spared from property and rail damage inflicted during the Civil War. The town was able to bounce back quickly during Reconstruction and focused on tourism, drawing Northerners who wanted a vacation spot with fresh, pine-scented air where they could avoid the mosquito-ridden coasts.
Several resort hotels catering to the super-rich were built during the late 1800s, with the latest and greatest amenities of the time. Unfortunately, Thomasville's resort era drew to a close in the early 20th century when Henry Flagler began building his railroads along Florida's east coast, and South Florida became the new vacation hot spot.
Remnants of this resort era, and the wealth Thomasville accumulated during that time, remain in the Thomas County area, with more than 40 plantations still in existence.
While there is much documented about the wealthy plantation class, little was kept or written down about the lives of black people throughout Thomas County's history.
Luckily for tourists, military veteran and Thomasville resident Jack Hadley decided to turn his personal collection of black memorabilia into a museum. Hadley's Black History Museum features his exhaustive personal collection and donated items.
The sheer variety of photographs and memorabilia can be overwhelming, but Hadley eases any confusion with a detailed tour, pointing to astounding artifacts like rusted chains used to imprison slaves. His own history is equally intriguing. Hadley was born on the area's most well known plantation, Pebble Hill.
Pebble Hill Plantation is a museum that is open to visitors and should be a required stop for all Thomasville tourists. The plantation is simply gorgeous, with magnolias and trees dripping in Spanish moss across 3,000 acres. Visitors can roam the grounds, or pay for a tour of the main house, which was finished in 1936.
Many of the other plantations in the greater Thomasville area are privately owned and rarely seen by the public, which is what makes Pebble Hill special.
A Shopper's Paradise
Unlike many small towns that have watched their Main Streets shrink as the popularity of large indoor shopping malls and superstores rise, Thomasville has successfully fought back. Its Main Street program has revitalized downtown, drawing in tourists.
Visitors should spend an afternoon on Broad Street, where many of the shops are located. (Don't neglect some of the side streets as well). Broad Street features a chic clothing boutique called Ally B with trendy clothes for young women. I adored Relish and Limelight. At Relish, shoppers will find high-end cookware and cookbooks, delicious and decadent desserts, and a fitness clothing store in the back called Dash.
Limelight has something for everyone, from seasonal decorations to clothing and shoes for women and children. For homebodies, Thomasville offers plenty of home decorating stores, such as Nest and Firefly. I spent 30 minutes just smelling Nest's plentiful supply of soaps and lotions, vowing to return with a bucketful of cash.
I'll admit — my husband, Mark, did spend much of his time sitting on benches outside the stores while I shopped, though he liked the running shoe selection at Dash. For the huntin' and fishin' types, Kevin's is the place to go for hunting gear, guns, ammunition and a surprisingly good selection of Southern cookbooks.
Dining Out
Don't leave Thomasville without having the white cheddar cheese grits at Jonah's Fish and Grits. They were truly the best grits I've ever had. Jonah's is regionally known and was recently featured in Southern Living magazine. Mark had their famous shrimp and grits, which are sautéed with bacon and chives and a buttery, light cream sauce. I sampled their tasty fried green tomatoes and fruit-laden harvest salad (and grits, of course).
Also downtown is Sparkle Goat Café, a quirky café with a vegetarian-friendly menu you don't often find in South Georgia. Thumbs up to its belly-warming vegetarian chili and grilled cheese made with spinach and arugula. Go to Sparkle Goat while you can — it is currently for sale.
My personal favorite was Café Marebella. This snug Italian restaurant is located inside a renovated old train depot, with outdoor and indoor dining. The menu is full of tempting choices, such as shrimp fettucine alfredo, and plenty of traditional Italian fare. I had a fettucine linguini that made my eyes roll back in my head — it was that good.
One of the most unique Thomasville dining spots is the Sweet Grass Dairy cheese shop. This shop features cow and goat cheese made entirely by a local farm. It is a foodie's paradise, with exquisite jams, crackers and cheese piled high on tables. There is a bar and several tables where patrons can order wine, beer and cheese sampling trays.
Mark and I tried the Thomasville Tomme, Georgia Gouda, Cyprus and Asher Blue cow cheeses as well as the Eden goat cheese. Their flavors were memorable, with pairings such as honey or jams that complemented each cheese.
For Your Amusement
Whether you've got a lot or a little money to spend, Thomasville has plenty of recreational choices. Thomasville is a veritable hunter's paradise. There are numerous quail and turkey hunting plantations and lodges that will host you, though you have to know where to look, or who to ask, to find out how to book a hunting excursion.
Myrtlewood Hunting Plantation is one lodge that offers fishing, skeet shooting, quail and white-tail deer hunting. These lodges aren't just for the men. I tried my hand at skeet-shooting (the first time I'd ever shot a gun). I was terrified at first, and a terrible shot, but got into the rhythm and managed to obliterate five clay pigeons.
Golfers will love the Glen Arven Country Club, one of the oldest golf clubs in the South. It was established in 1895 and has hosted many of the nation's best golfers as well as luminaries such as then-President Dwight D. Eisenhower.
Thomas County is also known for several local running races, including the famous Boston Mini-Marathon, a 13.1-mile half-marathon that is a favorite of runners because afterward you can boast that you "ran Boston." That's a nod to the challenging Boston Marathon in Massachusetts that requires tough qualifying times just to get in.
And finally, ladies, I have saved the best for last. Located downtown is Metta Day Spa, offering manicures, pedicures, facials and massages. So whether your feet are tired from shopping, your shoulder is stiff from shootin' guns or your mind reeling from 150 years of plantation history, Metta will rejuvenate your spirit.
Where to Go Lodging Paxton House Inn (229) 226-5197, 1884paxtonhouseinn.com
Freedom Oaks Bed and Breakfast (229) 227-1749, freedomoaksbb.com
DiningJonah's Fish and Grits (229) 226-0508, jonahsfish.com
Sparkle Goat Café (229) 225-9030, sparklegoatcafe.com
Café Marebella (229) 225-1496
Liam's (229) 226-9944, liamsofthomasville.com
Sweet Grass Dairy Cheese Shop (229) 228-6704, sweetgrassdairy.com
Moonspin (229) 226-4488, moonspinpizza.com
Local HistoryThomas County Museum of History (229) 226-7664, thomascountyhistory.org
Jack Hadley's Black History Museum (229) 226-5029, jackhadleyblackhistorymuseum.com
Pebble Hill Plantation (229) 226-2344, pebblehill.com
Thomasville Genealogical History and Fine Arts Library (229) 226-9640
ShoppingRelish/Dash (229) 227-0024, isadorapopper.com
Ally B (229) 227-0402
Firefly (229) 226-6363, fireflyhome.com
Nest/At Home in Thomasville (229) 227-0501, athome-online.com
The Limelight (229) 228-4915
Mode (229) 226-8861
Kevin's of Thomasville (229) 226-7766
The Bookshelf & The Gallery (229) 228-7767
Rest and Recreation Metta Day Spa (229) 225-6792, mettadayspa.com
Myrtlewood Hunting Plantation (229) 226-1780, myrtlewoodplantation.com
Glen Arven Country Club (229) 226-1780, glenarven.com
Seasonal Events
Victorian Christmas, December
Thomasville Rose Show and Festival, April 21-23
Boston Mini-Marathon and Festival, October
Plantation Wildlife Arts Festival, November
Washington County
Water, Wolves, Wine and More Driving Time: 2 hours | Miles: 105By Lilly Rockwell
A fluffy-haired white Arctic wolf jogged to where I was sitting on a grassy hillside and started licking my face. Instead of panicking or running away, I giggled.
I wasn't the slightest bit afraid because I had just spent the last few hours getting to know the dozens of wolves that make up Washington County's Seacrest Wolf Preserve.
This extremely rare experience — Seacrest Wolf Preserve is one of a handful of places that allows people to go into wolf enclosures and pet them — was just one of many delightful diversions my husband, Mark, and I experienced as tourists in Washington County.
Sitting just north of populous Bay County, Washington County is often overlooked by tourists as a weekend destination because it is outshined by the coastal attraction of its beach-laden neighbor.
My husband and I assumed Washington County had nothing to offer tourists beyond the fast-food fare we spied out our car windows as we drove along Interstate 10. Oh, how wrong we were.
The Outdoors
Yes, Washington County doesn't have a large city like Pensacola, and you won't find a mall. But what it offers in exchange is the opportunity to glimpse unfettered nature in a way you can't in a larger city.
Just off the intersection of Interstate 10 and Highway 77 is Falling Waters State Park. This pine-forested state park lives up to its name. If visitors are lucky (and there has been a recent rainstorm), they can glimpse the beautiful 73-foot waterfall, the tallest in Florida. Water gushes from the top of fern-covered rocks, dropping dramatically into a large sinkhole below. There are many sinkholes at Falling Waters, which visitors can view from a winding boardwalk that allows you to peer inside them. Falling Waters also offers camping year-round as well as swimming and hiking.
For the hunters and fishers, opportunities to play in Washington County abound. At Hard Labor Creek Plantation, a 2,700-acre spread of land coated in pine trees, visitors can rent an A-frame cottage that sits steps away from an unspoiled blue lake surrounded by wilderness. Owner Ted Everett tells us his land is most popular with hunters. He offers quail and deer hunting as well as archery and skeet-shooting.
And if that's not enough amusement, beginning this year Everett has ambitious plans to turn part of his land into a camping ground and ATV-riding play land. He has developed 20 miles of skull-rattling trails for ATV riders and motocross racers.
For those interested in a more refined outdoor experience, check out the Sunny Hills Golf Course, just off Highway 77. This course was opened in 1974 and designed by renowned professional golfers Gene Sarazen and Ken Venturi.
We aren't avid or skilled golfers, yet we had a blast attempting to aim our ball anywhere near the flag. Each of the 18 holes offered a new, enticing challenge. While waiting our turn, we enjoyed the Bermuda grass-covered course surrounded by sky-high pine trees. Afterward, we ate at Sunny Hills' cafeteria, which had a smorgasbord of hot dogs, hamburgers, salads and more.
For the History Buffs
Everywhere you turn, there's a bit of history to learn about Washington County. At the Knothole Restaurant in New Hope, proprietor Allen White tells us over mouthwatering steaks that the nearby Choctawhatchee River has an island that was once home to post-Civil War marauders who used it as a party crash pad, a bit of historical trivia he shares in his new venture giving "swamp tours" of the river.
In Chipley, Washington's county seat, we took a walking tour of the historic downtown. Washington County Historical Society President Dorothy Odom tells us the town was named after William Dudley Chipley, a man who never lived in the area but was responsible for steering the railroad through it.
Having the railroad made Chipley the economic engine of the county and a good contender for county seat, which it yanked from the city of Vernon in 1927. Visitors on the walking tour will learn the origins and lore behind the town's oldest structures, many built in the late 1800s that managed to survive not one, but two, ravaging fires.
Touring the town with Odom means you'll also learn a little about every county resident she runs into, and with every wave or hello comes a new tidbit or story.
Visitors shouldn't neglect the History Museum in Chipley, which Odom runs. This charming museum is the keeper of all things historical about Washington County. It is a treasure trove of fascinating artifacts, such as a clunky, ancient wooden phone operating system, musty old yearbooks, uniforms and books that explain the area's history.
Our walking tour left us famished, so we stopped into the Gingerbread House, an adorable blue cottage on the periphery of downtown. Owner Beth Goddin offers Boar's Head meats and cheeses, an investment that I could tell pays off once I bit into my yummy three-cheese grilled cheese sandwich. My husband had the Reuben with pastrami and corned beef. Goddin's cottage is so picturesque that she hosts weddings there.
Fun and Games
When we weren't soaking up history or enjoying the outdoors, Mark and I were kept occupied by the myriad choices for entertainment.
The aforementioned Seacrest Wolf Preserve was an unforgettable experience we talked about for days afterward. Owners Cynthia and Wade Watkins started the preserve in 1999 and it is now home to more than 30 wolves. Their desire is to provide a safe haven for wolves, which they believe are misunderstood and wrongly viewed as being violent toward humans. Cynthia Watkins wants to educate the public on wolves' true nature.
She does take precautions, such as requiring visitors to remove hats and jewelry. I was surprised to discover the wolves were just like friendly, slobbering German Shepherds that wanted a little bit of food and attention. They even rolled over on their backs to get their bellies rubbed.
We also visited Three Oaks Winery in Vernon for a tour. This small, local winery produces just 3,000 gallons of wine a year. Owner Byron Biddle likes to explain the winemaking process to visitors, showing us the enormous silver barrels he uses to make wine. He grows his own grapes, using the Conquistar or Muscadine variety for his wine.
He offers tasty samples of his wines, including his Chardonnay and Merlots, made from grapes that were not grown in Florida. One thing that makes his wine unique is its lower alcohol content since Washington is a dry county.
On a Saturday night, Mark and I headed to the Ebro Race Track, which sits in the southwestern corner of Washington County. Founded in 1955, this greyhound racetrack has a long history in the area. When we arrived, the parking lot was packed.
To our surprise, the track offers a formal dining area where we enjoyed a delectable meal — a spicy southwestern burrito on a bed of rice and vegetables for me and a prime rib with a vegetable medley and creamy mashed potatoes for Mark. While we dined, we could place bets on greyhound races happening at other tracks in Florida. We lost our bets, but loved the thrill of rooting for our favorite dog.
Ebro also offers a little bit of Las Vegas with its poker tables. You can play Texas Hold 'Em, Omaha Hi-Lo or Florida Three-Card poker on limit and no-limit tables. But after our embarrassing losses at greyhound races, we decided to call it a night.
Where to Go Lodging
Holiday Inn Express hiexpress.com, (850) 638-3996
Comfort Inn comfortinn.com, (850) 415-1111
Hard Labor Creek Plantation floridaquail.com, (850) 527-6063
Dining
Knothole Restaurant (850) 535-9537
The Gingerbread House (850) 415-5411
Ebro Race Track ebrogreyhoundpark.com, (850) 234-3943
Skins & Bubba's (850) 638-4227
Cancun's Mexican Grill (850) 415-1655
Outdoor Recreation
Hard Labor Creek Plantation floridaquail.com, (850) 527-6063
Falling Waters State Park floridastateparks.org/fallingwaters, (850) 638-6130
Sunny Hills Golf and Country Club sunnyhillsgolfandcountryclub.com, (850) 773-0026
Fun and Games
Seacrest Wolf Preserve seacrestwolfpreserve.org, (850) 773-2897
Ebro Race Track ebrogreyhoundpark.com, (850) 234-3943
Three Oaks Winery threeoakswinery.com, (850) 535-9463
History Museum (850) 638-0358
Swamp Tours (850) 535-9537