Tails Wag for the Tally Top Pet Check Presentation
The culmination of all of the hard work that went into the 2021 Tally Top Pet campaign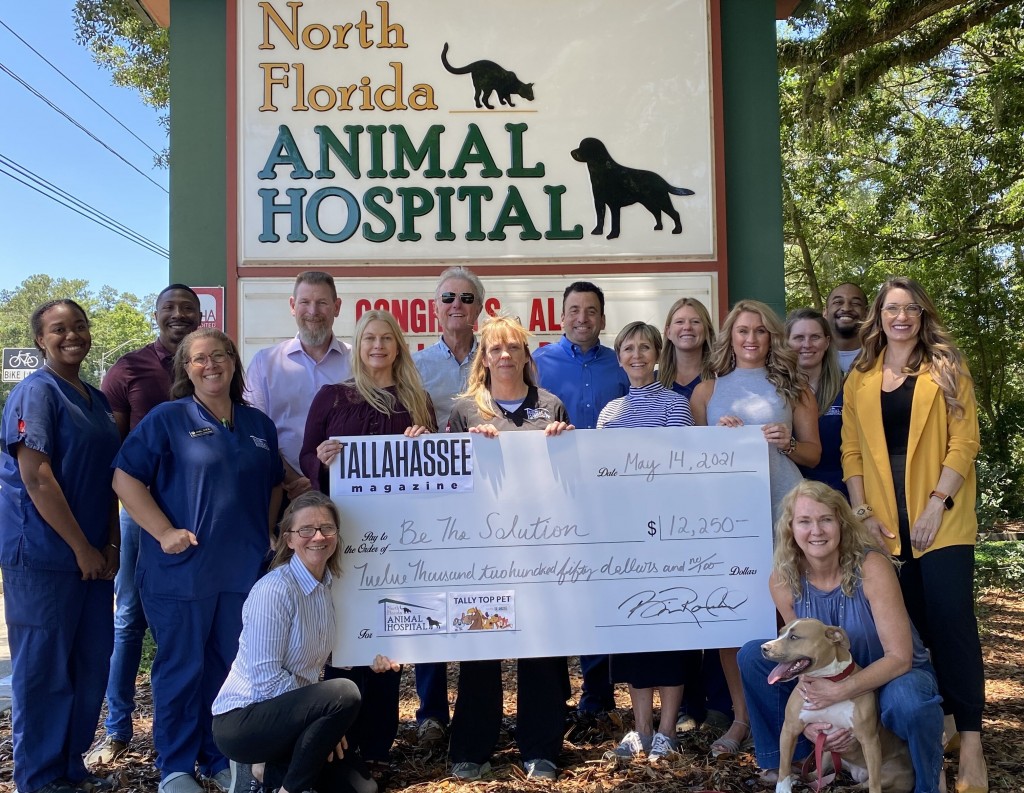 Alice the pitbull was all smiles because she's a happy dog. The humans though, they had another reason to smile on May 14 as a $12,250 check was presented to Be The Solution as a result of the donations raised from the 2021 Tally Top Pet Contest. 
This yearly contest is put on by Tallahassee Magazine and sponsored by North Florida Animal Hospital. It began in September, when hundreds of Tallahassee residents submitted photos of their pets to take part in a bracket-style competition. 
Readers cast votes for $1, with each donation benefitting Be The Solution, a nonprofit whose mission is to combat overpopulation in the Big Bend area through low cost spay-and-neuter vouchers. 
Hundreds of pets filtered to the Sweet 16, the Elite Eight and the Final Four before arriving at the champ — Alice. 
Alice is a survivor of animal abuse and was rescued by Jane Holmes-Cain and her daughter. Before adoption, Alice was not spayed and was chained to a tree day and night, developing skin conditions and fleas. Alice now lives with a loving family that includes friends both two-legged and four-legged, plus a big backyard to explore. 
At the check presentation, Gerry Phipps, founder of Be The Solution and Tally Top Pet, was excited to reunite with Alice, whom she knew prior to the contest. 
"It used to be exciting just to see the one winner, but since our partnership with Tallahassee Magazine, in my eyes, all 16 animals are winners because we get to know them and read their stories, which are equal parts uplifting, heartbreaking and cute," said Phipps. "Alice is a deserving winner and an example of why spaying and neutering is so important to providing animals an improved life." 
Tally Top Pet is near and dear to Phipps' heart for many reasons. She began it in memory of a close friend that she lost. From there it became a way for people to donate to Be The Solution, ultimately providing funding for spays and neuters. It has grown into an education effort that brings awareness to the impact and importance of spaying and neutering. 
North Florida Animal Hospital, the sponsor of Tally Top Pet, has supported Be The Solution for over a dozen years by providing spays and neuters at voucher cost. As a community service effort, the doctors at NFAH perform five spays and neuters per day. 
"We love that Tally Top Pet helps to support Be The Solution, and it also gets people on board with taking the best care they can of their pets," said Alice Malone, office manager of North Florida Animal Hospital. "Seeing Alice on the cover of the magazine encourages people to read about Be The Solution and all of the wonderful businesses providing animal health and wellness." 
Live! in Tallahassee was present at the check presentation to conduct interviews with NFAH, Be The Solution, and with Alice's parent, Jane. Alice and Jane were also presented with a prize package from NFAH and Be The Solution, which included a one-week stay at a beach house on St. George Island. The beachfront home, called Angels Paradise, sleeps six to eight people. They also received a two-night stay at Pet Paradise. 
"It's always fun getting to hold that big check," said Phipps. "I'm grateful for it because it comes from the partnership with Tallahassee Magazine, North Florida Animal Hospital and all of the people that supported the contest. It makes a huge impact on Be The Solution and a difference in the lives of animals."