Jump, Flip and Swing Into Summer at Bob's River Place
Rope swings are the star attraction at this natural flowing Suwannee River swimming hole.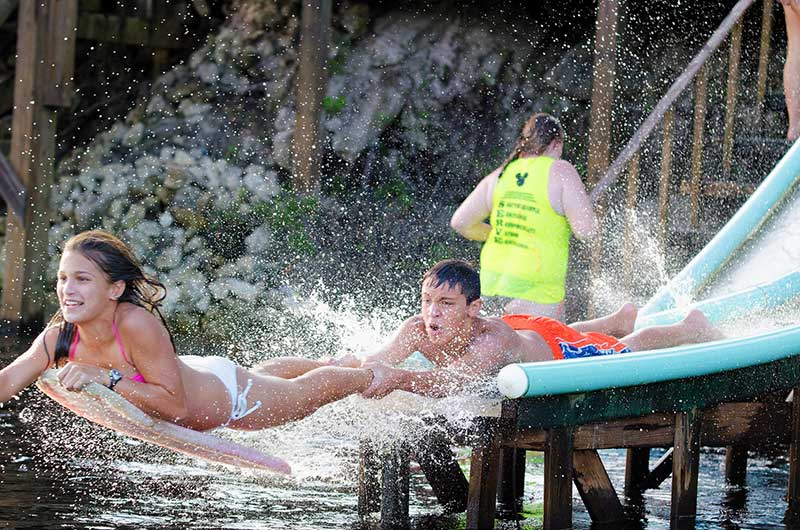 Every spring Bob Hawkins opens to visitors a very special half-mile of the Suwannee River on his property.
About two hours from Tallahassee outside the tiny town of Branford, Florida, Bob's River Place is an easy day trip and, visitors attest, a one-of-a-kind experience.
"This is an amazing place, and everyone in Florida should experience it at least once!" a visitor from last season proclaimed on Yelp.
That's the thing about Bob's River Place: Its popularity is a product of Internet word-of-mouth, the kind of viral marketing that costs corporate amusement parks plenty of money.
Hawkins is 83 years old and has owned this piece of Dixie County for a half century.
He explained: "Fifty years ago, it was just the local people. Then visitors started putting videos (of their experience) up on the Internet. People started coming from other places. We have people from all over the state and country now, people from Australia, Japan, Taiwan."
Bob's is not a water park. "A water park is man-made, and this is natural.
A water park has concrete pools and slides where you have to push yourself along," Hawkins said. By contrast, visitors at Bob's River Place enter a swimming hole in the natural-flowing Suwannee River.
To hear Hawkins tell it, he just happened to build the tree houses, rope swings, water slides and jumping platforms that make the place so much fun — not to mention the floating rafts, volleyball nets, and karaoke stage built right on the water.
Bob's River Place is his private property.
"The first thing we did was put up a rope swing. The locals started stopping off. They'd be driving down the river on a boat and say, 'can I use your rope swing?' and the word got out about this place," Hawkins remembered.
"My rope swings are a big attraction," he continued. "Kids come from all over to try their expertise with flips, double flips, triple flips and so on. Every now and then you find someone who can do four."
It's the kind of playing that older folks may remember doing as kids: vying for king of the dock, swinging high on a rope swing and dunking friends underwater.
Though the water is tested by the state Department of Environmental Protection, in general, Bob's River Place is an "at your own risk" adventure. There are no lifeguards.
Hawkins and other volunteers at the park do their part to let visitors know how to participate in activities safely.
You'll see him by the rope swings or jumping platforms keeping an eye out and using a microphone to talk to those new to the park.
"I make people aware that there is a danger. If you swing off a rope, you could get hurt. But the main reason people come here is that a kid can be a kid again without a bubble to protect them from everything," he said.
Hawkins owned a marina in Miami before settling in Branford. "My wife and I took a trip up here to go camping, and I camped out right next to the bridge on this property. We noticed a 'for sale' sign and ended up buying it," Hawkins remembered.
When the Department of Transportation put a highway through his marina, he moved up permanently.
While the activities at Bob's River Place are mostly geared for teenagers and young adults, the swimming hole is a "bring the whole family" kind of place. Hawkins estimated the appropriate age as 6 to 60.
Bob's River Place is open for three months in the summer and otherwise on weekends; the park sometimes closes due to flooding, so check the website — bobsriverplace.com —or call first.
Visitors are welcome to bring their own food and to barbecue using the provided grills and picnic tables. Public restrooms, changing rooms and showers are available.
Though Hawkins has spent his own time and energy building Bob's River Place and he keeps it open all summer, seven days a week, he's not aiming to profit.
By amusement park standards, the entrance and parking fees are extremely affordable.
For Hawkins, it's a labor of love and no more than that.
He said, "I enjoy seeing people come here and have smiles on their faces. It's a fun thing for me to do. I prefer to do this rather than anything else I can think about."