Swim With Dolphins at SeaWorld's Discovery Cove
Plan the perfect family vacation to include snorkeling with fish, mammals and so much more.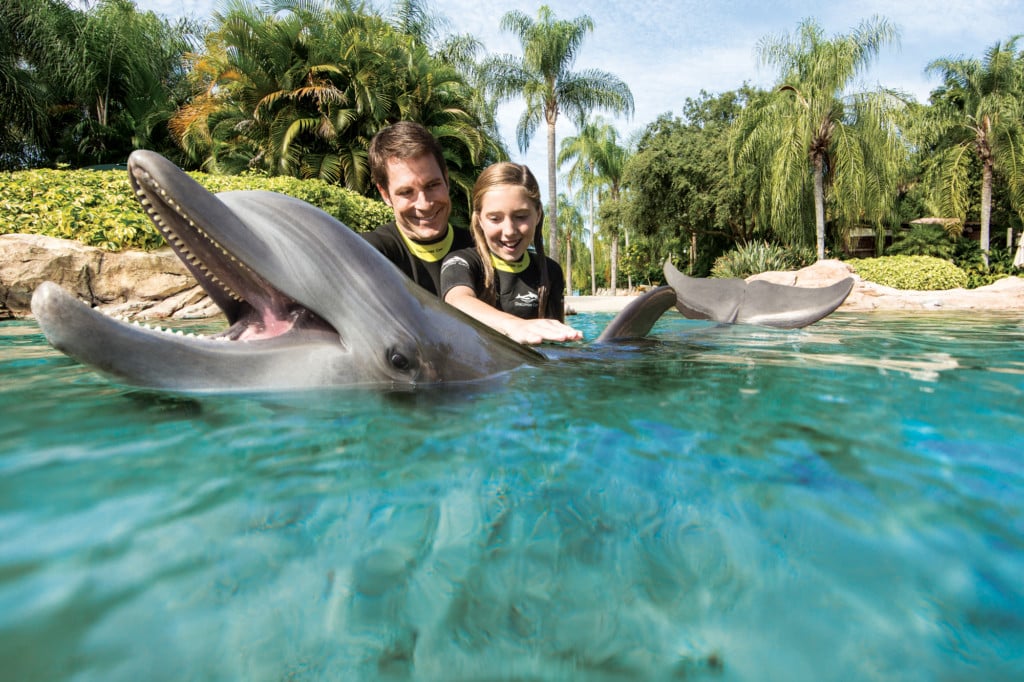 I spent 30 memorable minutes in close proximity to one of the natural world's sweetest, smartest and most beautiful creatures.
The federal Marine Mammal Protection Act prohibits touching or feeding dolphins in the wild, but at SeaWorld's Discovery Cove, visitors slip hands over dolphins' smooth skin, flip fish into their mouths full of oddly conical teeth and may even grab a dorsal fin and enjoy something of a Nantucket sleigh ride.
Two handlers are close by and prepared to answer any and all questions about the care, feeding and biology of the bottlenose dolphin, whose eyes were enough to melt my heart.
Discovery Cove accommodates up to 1,200 people a day, no more.
Your entry fee includes breakfast, lunch, a snack, towels and a chair to chill in when you are not snorkeling among 50 brilliantly colored varieties of fish, holding a parrot or a cockatoo or checking out the frolicking otters.
Because total attendance on a given day is limited, one need not worry about being overrun by people in ways that you might experience at other theme parks.
The cost for a day at the venue varies depending upon the level of the encounter you choose, but everyone departs Discovery Cove feeling that they got their money's worth.
Accommodations options are abundant along International Drive, the main artery in Orlando's entertainment district.
If you are visiting SeaWorld, a preferred destination is the newly renovated DoubleTree by Hilton Hotel Orlando.
Located on a large 28-acre campus, this hotel is within comfortable walking distance to a stop where you can board a tram bound for SeaWorld's Discovery Cove.
Leave your care at the hotel and you will save a lot of time otherwise spent driving and parking; at the height of tourist season, getting in and out of SeaWorld can be a wee frustrating.
The DoubleTree by Hilton comprises a high-rise tower and also a traditional two-story building where you can park right outside your room.
All 1,020 guest rooms have been renovated and updated to provide for a luxury-hotel experience.
Available are PURE Allergy Free Rooms wherein a seven-step process removes 99 percent of air pollutants with special air-handling units.
Hotel amenities include two massive swimming pools surrounded by palm trees, and a recreation center where children enjoy a variety of games and activities.
Food options abound. The centrally located Sonoma Lobby Bar offers signature drinks and small plates.
The Laguna restaurant serves a breakfast buffet each day and specializes in an all-day menu with a variety of appetizers, salads, signature sandwiches, steak and seafood. Ideal for families.
Drop in at The Market for Starbucks coffee and quick bites, including pastries and sandwiches. Pets (under 25 pounds) are welcome at this spectacular, family-friendly destination which is well-suited for getaways, reunions or even weddings.
Several room packages are available at this moderately priced hotel property located just a few minutes off Interstate I-4 at the west end of International Drive adjacent to the Orange County Convention Center.
And, yes, the complimentary cookies are yummy.