Susie Busch-Transou Raises a Glass to Her Next Business Venture
Hearth & Soul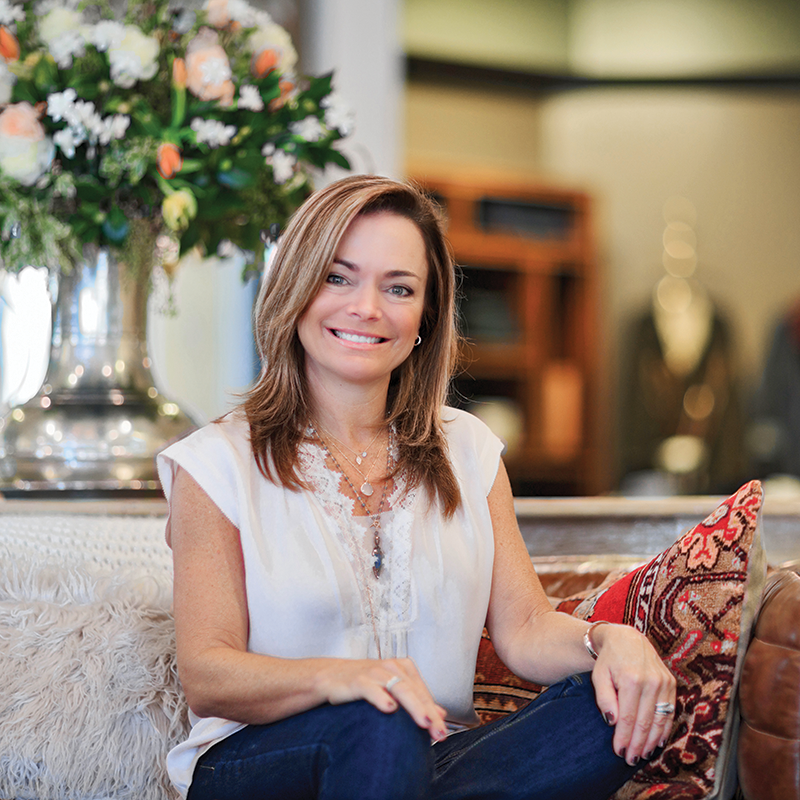 Walking into the newly opened Hearth & Soul in Tallahassee's Market District is a surprisingly familiar experience. In a way, it's kind of like going home.
Well … If your home was a heavenly mix of Williams-Sonoma, Anthropology and all things Garden & Gun.
The flowers are out. The settee has been fluffed. Trail mix is sitting on the counter in grandma's favorite pewter serving dish. And there's Susie Busch-Transou, chatting with a Florida State student who's curious about the retail industry. If you didn't know better, you'd think they were the oldest of friends.
"Don't ever be afraid to ask," Susie had advised the student.
"I was just telling her, you never know what doors will open because of that," she said. "That's the philosophy that I've always taken."
Fearless is a big word for anyone to fill. But standing at five-foot-nothing, Susie doesn't seem to be backing down. Within a year's time, she's brought the concept behind Tallahassee's newest luxury boutique from a day dream she chatted about with her gal pals (and one very mysterious Reverend Catherine — but more on that later) to hosting the grand opening of an avant garde retail experience.
"We designed it to be a place where people find things they love together," said Susie. "And then it's filled with things that feed your soul."
As her maiden name might suggest — think "Making Friends is Our Business" — the St. Louis native knows a thing or two about making people feel welcome, not to mention the hospitality industry. The daughter of August Anheuser Busch III, Susie dove into the "family business" after graduating from Duke University in 1987. The next decade was spent working with everyone from SeaWorld to Tim McGraw as a representative of the Budweiser brand.
"Animal people and beer people tend to be the same type of people," she laughed. "They're just good."
In 1996, she and husband Tripp Transou decided to focus solely on Tri-Eagle Sales, the Tallahassee region's only Anheuser-Busch InBev distributor and, at the time, the couple's newest acquisition. Today, their Midway location employs 110 people from the 850 area code alone. Another 110 industry professionals find work in their Ocala branch servicing a portion of central Florida that includes The Villages.
"I really think that the Hearth & Soul concept is kind of hospitality at retail," said Susie. "I look at the beer business as a hospitality business — people connecting over a cold beer on many different occasions.
"When you take that hospitality aspect, where people are connecting and people are gathered, that's the hospitality nature of Hearth & Soul. That's what I want my home to be, too."
It sounds effortless, but nothing during the initial phase of Hearth & Soul happened by chance. 2015 was a whirlwind of new ideas and big conversations for the Busch-Transou clan. Luckily, the couple's connections at Duke as well as the Kellogg School of Management in Chicago, where both Susie and Tripp simultaneously received their MBA's, tied Susie to an elite group of retail professionals perfectly agreeable to her unparalleled brain picking.
"My first impression was, 'hmmm,'" laughed Tripp. Susie originally approached him with a preliminary business model after a weekend away with the girls. "But I was immediately just so excited. My wife is so passionate.
"Anyone who knows (Susie), when she has an idea, and she puts her mind to it, there's no one that works at the speed that she can. And, for lack of a better word, with the expertise. She's very well trained to be able to do something like this."
He isn't wrong about that.
Following their 2014 holiday season with their three children, Trip, now 21, Teddy, 18 and Sophie, 14, Susie quickly assembled an advisory board made up of CEOs from major fashion brands and Tallahassee marketing gurus, alike. One of her top confidants (and a trusted member of the epiphanic girl's weekend) was Andrea Hyde, her college roommate. The New York City-based CEO of Draper James — Reese Witherspoon's new lifestyle brand — says she can recall the exact moment Hearth & Soul became a twinkle.
It was after a conversation with another weekend guest — the gang's favorite spiritual life coach, Reverend Catherine.
"She's just this amazing soulful person," said Hyde of the reverend. "We brought her with us and she sat with everyone for an hour or so, just talking with them about what was happening in their life and about what was happening in their future.
"Susie being Susie, who can take on anything and is really a magician, took that very seriously. And out of it came Hearth & Soul. She just started canvasing all of us that weekend. All of the girls. 'What feeds your soul? What makes you happy?' She was almost like an investigative reporter doing research."
Their answers now line Hearth & Soul's shelves. Within the 4,000-square-foot flagship location, 200 brands can be found — an interesting combination of locally sourced goods and rare commodities otherwise unavailable in the region. Everything from granola and perfume, to winter boots and chew toys for Fido, are included in the mix.
"It's warm, it's open," started Tripp, whose day-to-day focus at Tri-Eagle is on general management. "It's quality but not overstated. The colors, the feel, the wood. That reflects us. I think when you walk through our house, you get the same thing. It's welcoming."
A "welcoming" business model is one Susie is confident could take hold practically anywhere. Sure, Tallahassee is home for the concept and the couple. In the years ahead, though, suburban communities in major metropolitan areas (or what Susie likes to call "gap markets") may be getting a welcoming surprise all their own.