Supremely Accomplished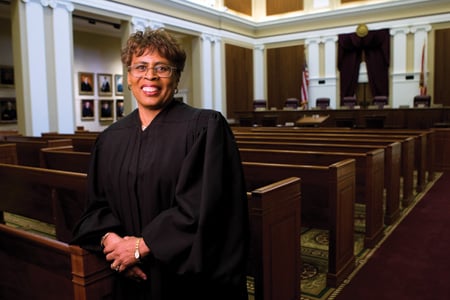 Getting acquainted with Peggy Quince, Florida's chief justice
Photo by Scott Holstein Supreme Accomplishment Florida's new chief justice overcomes a childhood of poverty and a history of racism to reach the top of her profession.
By Maria Mallory White
With a swiftness of stride that belies her petite stature – as anyone who has ever walked alongside her can attest – Peggy A. Quince is a pacesetter.
Quince's journey to the top of the state's judicial system culminates a career trajectory in which she has shattered the double-paned glass ceiling of racism and sexism. In so doing, Quince has given new meaning to the iconic legal phrase "with all deliberate speed" as she ascends to ever-greater heights in service.
Some 60 years after Virgil D. Hawkins began his quest to integrate the state's law schools and three decades after her own admittance to The Florida Bar, Quince continues to make history. With the "passing of the gavel," planned for June 27, this dynamic woman will stand tall atop the state's legal hierarchy as chief justice of Florida's Supreme Court – the first African-American woman in Sunshine State history to head a branch of government.
Although the position will place even greater demands on her, Quince's colleagues say she's up to the challenge.
"It's a lot of work, and I'm sure she's very eager to accept the additional responsibilities that come with it," says longtime friend Bob Krauss, who succeeded Quince as Tampa Criminal Bureau chief in the Attorney General's Office. "She just has the energy. She just keeps going and going."
On top of her 9-to-5 job as a Florida Supreme Court justice, Quince leads a fast-paced life with a perpetually overloaded extracurricular events calendar. A recent sampling: One day it's a jaunt to Jamaica to preview the site for next year's Judicial Council meeting, where she will take over as chair of this National Bar Association group of judges. Then a weekend in Tampa to serve on panels and conduct workshops at the regional gathering of her beloved Alpha Kappa Alpha Sorority Inc., the nation's oldest African-American Greek-letter organization for women. Then there are the local meetings of The Links Inc., the Urban League and Jack and Jill of America Inc., and time she dedicates to mentoring Tallahassee girls. Her public speaking schedule keeps her hopscotching across the state, but more often than not, she finds her way to the early-morning service at Jerusalem Missionary Baptist Church on Lake Bradford Road.
A member of numerous legal, civic and social organizations, some might wonder how she does it – but those who know Quince don't.
"She has such a strong commitment to everything that she does," says Administrative Law Judge June C. McKinney, a close friend and frequent traveling companion. Recently, when McKinney's father was hospitalized for nearly two months, Quince not only visited him roughly once a week but also brought him a gift from her Jamaica trip. "She doesn't have time for that," McKinney says. "But she has such a giving spirit."
Living Through History
An elementary school student at the time of the landmark Brown v. Board of Education decision of 1954, the adolescent Peggy Ann was ensconced in the segregated schools of her native Norfolk, Va. A year later, "with all deliberate speed" was the resounding legal decree prescribed by the U.S. Supreme Court to transform the social, institutional and political landscape of the nation by abolishing its separate and unequal education system. Because ardent segregationists fought educational fairness for the nation's black children and continued to make a mockery of the ruling during the next decade, Quince would grow up and then graduate from an all-black high school. (She eventually had the option to switch to a white school, but decided against doing so in her senior year.) She made her way to a historically black college and took her place among a blossoming generation of students determined to use education to break down the barriers that had, in part, held their parents back.
In the process, Quince's story has become both a microcosm of the civic and social advancement of African-Americans in this country and the amplification of what dreams can come true in an America that isn't always so beautiful.
All of this makes Quince, 60, a living icon who looms large for many.
"She may be 5-feet-2, but what she's done for women, and specifically African-American women in the legal community, is well beyond anything I thought I would see," says 30-something Kendra Davis-Briggs, a Washington, D.C., attorney who, as a first-year law student, interned in Quince's office at the Florida Supreme Court. Davis-Briggs likens the significance of her mentor's accomplishment to that of Barack Obama, should he be elected president. "For black people, that's going to be a 'Wow!' moment" she says. "Now we can look up (at Quince) and be like, 'Wow!'"
Civil Rights in Florida
For some, what's most remarkable lies in the transition that has seen The Florida Bar move from its good ol' (white) boy days to an institution headed by a black woman.
"The history of African-Americans in The Florida Bar hasn't been pleasant," says Tallahassee Women Lawyers immediate past president C. SháRon James, with understatement.
In 1949, the year after Quince's birth, former Bethune-Cookman College faculty member Virgil D. Hawkins applied to the law school at the University of Florida. Because of Florida's Jim Crow laws, Hawkins was denied admission solely because of the color of his skin. He appealed to the state's all-white-male Supreme Court.
Determining that although Hawkins had "all the scholastic, moral and other qualifications except as to race and color," the Florida high court nevertheless prevented his admission. The court's opinion said that the state could either pay for Hawkins to matriculate in a different state or build a separate law school for black students. The latter option was in open defiance of a U.S. Supreme Court opinion handed down earlier in a similar Texas case. (Florida A&M University's law school was opened to black students in 1951, in an attempt to maintain segregation. The Legislature would close the FAMU school in 1968, transferring its funding to a new law school at Florida State University. In 2000, FAMU would get its law school back, this time located in Orlando.)
Hawkins would continue to press his case in a nine-year court battle. Although another black male student admitted in 1958 would be the first African-American UF law student, Hawkins was the catalyst for integrating Florida's university system. Four years later, another black male became the first African-American UF law school graduate.
For black law students and attorneys, progress came slowly.
"I've been practicing law for 43 years, and when I first came back to Florida in 1964, there was not a black lawyer in any position of power or influence," recalls Delano Stewart of Tampa. "Not a state attorney, not a public defender, not a municipal judge, not a county judge. Consequently, when we were in a courtroom, we couldn't feel like we were receiving justice. There was no way in the world you could feel like you were gaining justice."
Though he would ultimately chair the nominating commission that presided over Quince's application to the Second District Court of Appeal, not long after Stewart's return to Florida from Howard University Law School, Quince, then a coed at that Washington, D.C., university, was energized by the hope and mission of the Civil Rights Movement. Quince fondly remembers her college days. As a freshman, she was a founding member of Nu Lambda Bama, a sorority launched by students not yet old enough to qualify for the established Greek-letter organizations. Then, in 1969, she initiated into Alpha Kappa Alpha, which had been founded on Howard's campus in 1908.
She wore an afro – not the huge style of 'fro sported by activist Angela Davis, but a "natural" just the same. (Always practical, Quince says she kept her hair at a more moderate length because "the Angela Davis size is not an easy hairstyle. You have to work really hard on that!") Quince embraced the style as a statement.
"Black is beautiful," she says. "It was the whole Afrocentric (affirmation that) we are beautiful without having to go through all of the trappings of the majority society."
During her college years, Quince witnessed not only the social transformation instigated by the Civil Rights Movement but also the student involvement in protesting for civil rights and the end of the Vietnam War. She even took part in the takeover of the university's administration building.
"I took my blanket and pillow, and we were there at least overnight," she remembers. "It made you feel like you were part of a solution."
Increasingly, Quince says, she became aware of the role and rule of law. "I saw people who were protesting, going to jail and having to appear (in court)," she recalls, "and it just seemed to me that all of our lives were just really controlled by law. It made me interested in helping people understand these laws and what to do if they came up against these laws. It was such a tense time in the country, and law seemed to be the answer."
In 1970, Quince earned an undergraduate degree in zoology, the first member of her immediate family to complete college. And though her days in the energy and flow of black collegiate life tempted her to join her classmates by wearing dashikis instead of traditional graduation robes as a protest, Quince opted out.
"I felt the least that I could do was to wear a robe for him," she says.
Her father, that is.
A Father's Influence
Quince, the second oldest among five siblings, was raised by her father after her parents' breakup. A civilian who worked for the Navy, Solomon Roosevelt Quince Sr. was one in a family of some 20 children reared in rural North Carolina.
"He had very little formal education, but he really understood the value of education," Peggy Quince says. "He worked as a manual laborer. When they had bad times, there was always the question of whether he was going to be the one laid off, the one to be riffed, and I think that that really instilled for him that if he had had more education … he would not be so subject to that kind of anxiety and pressure when the (employer) was going through tough times. He instilled in us how important it was to go to school, because you didn't always want to be at the mercy of someone else."
Her father ruled the house. Each of his children had housework to accomplish.
"We grew up with, I guess, a work ethic," Quince says. "Once you were able to walk and talk, you had some kind of chore that you had to do."
The Quince children's primary job, however, was to be serious about school and get their educations.
"If a teacher called the house, you were going to get a spanking," says Quince, who sheepishly acknowledges that she was the subject of a call or two home. "Not very often," she maintains, "but my teachers thought I had a problem with talking a lot."
Along with chores and homework, getting to bed by 8:30 p.m. was a Quince family mandate she says her father never wavered on.
"In my household, doing your homework and getting a good night's sleep were paramount," Quince says. "You could not watch TV, you could not play – you could not do anything until your homework was done. Even after your homework was done, you had to be in bed by 8:30. Sunday through Thursdays." Even when her father would fall asleep before the children, he seemed to have an inner alarm clock, she says, because he would inevitably wake up and pronounce, "Time to go to bed." It's a practice that stuck with Quince, who says that to this day she is in bed by 10 p.m. Even throughout her college days, "If we were going out on the weekends, to a party or something, I'd have to take a nap," she says.
Where her father left off at home, Quince says her teachers picked up the slack at school.
"For the most part, my teachers knew that my father was essentially raising us alone, and he did not have a lot of money, and it takes money to raise five children," she says. "So they would do things like, if there was a trip, the teachers – who are not paid well now and were paid even less then, especially in segregated schools … would pay for the trip."
Back then, Quince says, her teachers helped keep students in line, evaluating their potential and then pushing them to live up to it, especially in high school.
"The teachers kept your feet to the fire," she says. "At that time, those (African-American) teachers understood the same thing my father understood, which was that education was the way of progress, not only for the individual, but for the race as a whole. And I think that's why they took such an interest in students."
Quince says her high school alma mater was known for sending more students to college than any other high school in the area, even the white ones, "and I think that that's because the teachers pounded it in you: This is what you should do. I didn't know anything else but that you had to go to college, and I knew that in order to do that, I needed to make good grades because I needed to get a scholarship to go." Her undergraduate tuition was just $200 a semester at Howard, she reports. But "for poor, poor people like my family, that was a lot of money."
For some, there is a certain poetic justice to her rise to the chief justice post, because life for Quince "ain't been no crystal stair," to borrow the words of writer Langston Hughes.
For Tallahassee attorney James, what makes Quince's ascent all the more inspirational is her down-to-earth manner. Observing Quince's interaction with the PACE Center mentoring program for troubled teens, James says she witnessed in Quince a volunteer deeply involved with the 60 or so girls in the program.
"She wouldn't just come in and speak and leave. She would connect with the girls and would tell her own personal stories," says James, who admits being struck by how "real" Quince is and her willingness to share her story with the young girls. "She didn't start out a step ahead … There are people in our community that were well off, and they had some of the same barriers as everybody else, but the fact that they were products of individuals that were already well off … (they) came from wealthy families, but she didn't."
Judge Carolyn Fulmer acknowledges Quince's down-to-earth manner. The two were appointed in 1993 to the Second District Court of Appeal, making Quince the first African-American woman named to Florida's appellate court system.
"I was impressed by the fact that 'the robe' did not inflate her ego," says Fulmer, who still serves on the Second District Court of Appeal.
Starting a Legal Career
After college graduation, Quince worked two years with an insurance firm in Washington, D.C., before beginning law school at the Catholic University of America in that same city.
"At the time, I was really naïve about law school," she admits. "I didn't know any lawyers. I didn't know any judges. Never even watched any court proceedings. I don't think I had ever even been in a courtroom."
To support herself while in school, Quince worked the 3-to-11 shift as a computer operator for the insurance company.
"These were industrial-size computers," she says. "You could put a job on. Sometimes it would run for hours and hours, and you didn't have to do much except make sure it ran properly." That gave her plenty of time to study.
In law school, Quince got her first real taste of legal work. She signed up for the legal clinic practicum and spent at least 20 hours a week working as a legal advocate with Columbus Community Legal Services. Ellen Scully, a staff attorney at the time, remembers that Quince shined bright.
"Even back when she was doing the clinic all those years ago, you got a sense she was very mature and brought to the clinic her experiences," says Scully, "and there were a lot of remarkable people who did the clinic at that time, but she stood out even in that."
With Quince, Scully says, there was more than just the application of legal knowledge.
"She brought to it her background and her experience, and it wasn't that she talked about it all the time, but she brought it with her," Scully says. "It was clear to me then that the client's well-being was paramount."
A few years ago, for the 50th anniversary of the Brown v. Board of Education decision, Quince returned to lecture at Catholic University, and Scully was impressed all over again.
"She described her schooling, and there was segregation in her early school years … When she was describing this to students, you could just see people understanding more fully the impact of that decision, and why it was needed," Scully says. "She lived it. She has experienced it … If you've been through things like that, if you've experienced discrimination, it expands your ability to relate to people."
After finishing law school just two short decades after Florida's first black law student, Quince sat for the state bar exam, passing it on her first try. Married two years earlier to her law school sweetheart, Fred L. Buckine, the couple moved to his hometown of Bradenton to help take care of his ailing mother and begin raising their own family. After the birth of their two daughters in 1977 and 1980, Quince found her place in private practice while her husband worked as an assistant state attorney.
From there, she signed on with the state Attorney General's Office in 1980, where she was elevated to Tampa bureau chief. She held that post for 13 ½ years, focusing on death sentence cases for three of those years. Next came Quince's appointment to the Second District Court of Appeal.
She would join Florida's Supreme Court – again, a first for an African-American woman – six years later in an appointment made jointly by governors Lawton Chiles and Jeb Bush.
Quince and her fellow Supreme Court justices would take center stage in the 2000 presidential election debacle. Joining the majority opinion, she was in favor of ordering a recount of contested county vote tallies. Of course, George W. Bush ultimately would corner the Oval Office after the Florida justices' decision was overturned by the U.S. Supreme Court.
At the time, Newsweek handicapped Bush's chances of prevailing in a state then run by his brother this way:
Governor Jeb Bush had a hand in choosing only one justice, Peggy Quince, who was a joint selection with outgoing Governor Chiles in 1999. But Quince is a "hard-core liberal and judicial activist who is committed to the African-American agenda," said a dispirited Republican lawyer. Added the lawyer: "Anybody who looked at this cast of characters should have known what was going to happen."
Undaunted by such political pigeonholing and labeling, Quince offers a pragmatic analysis on the law: "Not many things are clear-cut," she says. "Even the statutes. Even the (state) constitution." Take a statute: The placement of a comma might make a big difference in the interpretation or where a modifier is placed, she points out. "We wouldn't have any cases, we wouldn't have any court battles, if it were (perfectly) clear-cut … If it were that clear-cut, we would have unanimous opinions all the time."
Attorney James admires Quince's demeanor under pressure.
"I have seen her and witnessed her handle confrontation with the highest level of gracefulness," she says. "That speaks to her being a woman and the fact that there's nothing wrong with that. There's a beauty in it.
"She is definitely a woman and very feminine and very graceful and very confident and very intelligent without coming across as being cocky or domineering or controlling," James continues. "She is very good about communicating what she wants and what she wants to see happen without being controlling. You may even look up later, hours later, and realize that you're doing something she wanted you to do, exactly how she asked."
Understanding 'Want'
In her early years as an undergrad, Quince says she worked to influence law and later as a law student and attorney in private practice, she advocated for her clients. All the while, she brought a perspective that helped her see into her clients' challenges. For instance, "With a lot of economic crimes, I can probably look at (them) differently because I understand 'want,' and this society makes you focus on want," she says. "It's hard to live in a society where you see so many people having, and you don't have. I think that's what drives a lot of the drug culture. People want, and some people find what they think is the easy way."
Since becoming a judge, Quince says she spends her days trying to define what the law is.
"As an appellate court judge, you are really limited, and you don't touch the people the way you do in county court or circuit court," she says. "Appellate is more sterile. You actually may never see the persons involved in the case."
Even Quince allows that she is in possession of a certain stature that does not immediately register with many people.
"You would be amazed at the number of people who come to me and say, 'You know, I would never have thought you were that short, seeing you on the bench,'" laughs the jurist, who was inducted in 2007 into the Florida Women's Hall of Fame.
In the decades since Virgil Hawkins integrated Florida's law schools and Quince herself became a lawyer, she has moved swiftly across the changing social, political and cultural landscape.
"(Quince's accomplishment) is another first that I know Virgil would be very proud of," says Tampa attorney Harley Herman. He befriended the legal pioneer and then, after Hawkins fell on hard times and resigned from the Bar, he lobbied for and won Hawkins' posthumous reinstatement. "When Justice (Joseph) Hatchett was first brought on the bench, Virgil made the trip up there with very limited funds. I've heard similar stories of when Justice (Leander) Shaw got on the court," Herman says. "Looking down from heaven, I know (Quince's elevation to chief justice) is a moment of pride for him."
Race and gender aside, "What she has achieved as an individual … is an extraordinary accomplishment," says Catholic University's Scully. "Peggy is awesome. That's the bottom line."