Supping at the Seineyard
Seafood sizzles and Sam's stories come for free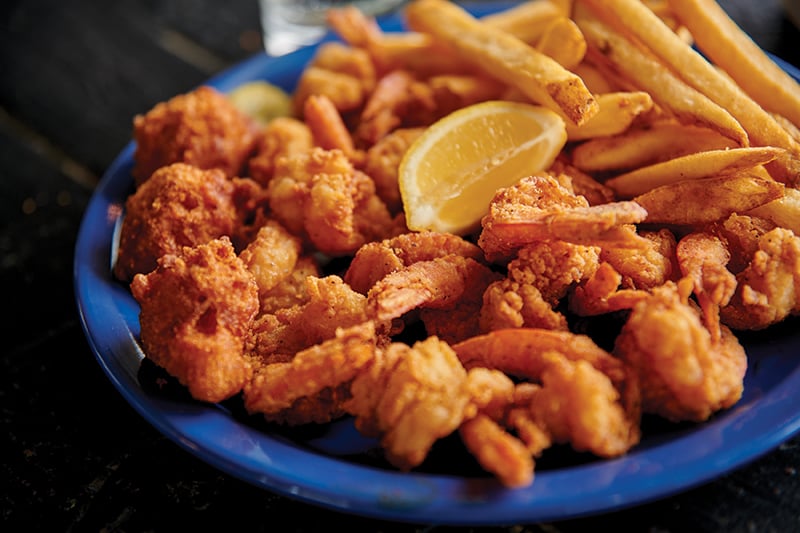 Sam Dunlap observed with interest the traffic to an Italian restaurant located in a strip center in Woodville and reasoned that he could do just as well or better offering people food they'd really like.
"That place was just busy, busy," he recalled.
Dunlap, who had been a restaurant employee for much of his life, was working as a seafood wholesaler and knew where and how to go about sourcing fresh fish, shrimp and crab. He would establish the first of the three Seineyard restaurants he now owns with his wife, Starr, in the space that had been occupied by the seller of pizza, meatballs and red sauce.
"When they finally went out, we went in," said Dunlap, who vividly recalls his opening night.
"We had really worked hard getting everything ready. We had 40 seats. People were lined up. We had these big, plate glass windows, and they were staring in at us, and it scared me and Starr to death. And we ran out of seafood. I mean, we didn't have nothin'."
Tears ran down the couple's cheeks.
"We said, 'What have we done?' But the next day, I went and bought some more seafood, and I made sure we had plenty that night."
Twenty-eight years later, he's still making sure.
"We had a good 10-year run at the strip mall," Dunlap said. "It was really good. The economy was good."
Then, in 2005, he clambered over the usual permitting hurdles and expenses and built a restaurant across the street. Sam and Starr also co-own Seineyard restaurants in Wakulla County — in Panacea and near Medart.
Tastes vary as you move among the three establishments. In Woodville, which is reasonably convenient to south Tallahassee, the clientele is mostly Black.
"They come for the fried mullet and catfish, oysters and shrimp — simple things," Dunlap said. "I don't sell a lot of stuffed flounder or stuffed grouper. Fried fish, grits and slaw. That's how we made our name up there."
While governor, Lawton Chiles stopped by Woodville from time to time. FDLE agents would enter the restaurant first to do a security check while Chiles and other customers waited outside.
"They would check everybody out, want to know who was workin'," Dunlap recalled. "Then they'd send me outside to let the governor know his table was ready."
The restaurateur and the governor once joined in a kidding exchange.
"He asked me, 'Sammy, you got any of them mullet?' And I told him, 'Governor, you outlawed them when you signed the net ban.'"
Chiles was not to be outdone.
"He said, 'Sammy, them bootleg mullet eat better anyway.'"
At Dunlap's Coastal Highway location at the Wildwood Country Club, the crowd is local — Crawfordville, Shell Point and new neighborhoods in the area of Rehwinkle Road.
Wildwood diners eat a lot of fried shrimp. More than once, the restaurant has won "Best Shrimp Dinner" honors from the Wakulla County News.
"We sell a lot of ribeye steaks there, too, and we serve hamburger steak with onions and gravy," Dunlap said. "Give you a big ol' roll to sop that gravy up with."
Wildwood is large enough to accommodate a buffet — what Dunlap calls a "hot and a lot." He offers them on holidays including Valentine's Day, "mama day and daddy day." Diners fill their plates with prime rib, fried shrimp, grilled shrimp, chicken (bone-in and fingers), salad bar sides, casseroles, corn pudding (a popular favorite), squash casserole, broccoli and cheese, and green beans, while somehow saving room for dessert.
In the fall, visiting college football teams that have traveled to play FSU often stay at the Magnuson Hotel located next to the Wildwood Seineyard.
"I work with some FAMU opponents, too, but the ACC and SEC teams, they spend awful amounts of money for food — it's crazy," Dunlap said. "And the rule is, you don't run out of anything. You got 80 players, you bring 'em over here and we'll feed 'em. They eat two to three times more than regular people, and you gotta charge 'em for it, but it's good business."
Sam and Starr live in Panacea on Dickerson Bay-front property that has long been in her family. Their next-door neighbor is the specimen collector/aquarium operator/firebrand Jack Rudloe. At their Rock Landing location, combo plates — stuffed grouper and shrimp — sell well.
"I'd tell you more about our customers there if I ever saw them more than once," Dunlap said.
"Panacea used to be a little crab-pickin' town. Now, the tourism business has picked up. People come for the weekend, they come to fish, a lot of Tallahassee people come down. Some people come to ride the bicycle trails. You can go from St. Marks to Sopchoppy."
At both Wildwood and Rock Landing, Dunlap moves a lot of "sticky shrimp," made with pure cane syrup that he obtains from a supplier in Medart.
"You can't use store bought," he said. "It won't caramelize; it won't cook down. I've probably got 40 cases of cane syrup in storage."
Much has changed since the days when Dunlap sold seafood wholesale. Seafood has become a global enterprise. Japanese buyers pay top prices for the best product caught by American fishermen.
"What happens in Taiwan with the farm-raised shrimp affects what happens in South America and that affects what happens in the United States," Dunlap said. "The price of shrimp varies like the price of oil."
Dunlap recalls when runs of hopper shrimp attracted a fleet of trawlers that lined up from Ochlockonee Bay to
St. James. He remembers seeing millions of migrating mullet fall out of the Everglades at Goodland on Marco Island where fishermen used to deploy 1,200-foot gill nets and fill the mesh with fish.
"I swear Jesus walked across the water on the backs of mullet," Dunlap said.
Oysters that used to sell for 80 cents a dozen now sell for 80 cents apiece. These days, Dunlap pays $17 to $22 a pound for grouper fillets.
But Dunlap keeps adapting, keeps making sure he has enough. He has his Woodville restaurant listed for sale, but he isn't ready to retire.
"It's like they say about people who come to Florida and can't get the sand out of their shoes," Dunlap said. "I just like the sound of dishes and silverware clanging. I line-cooked for years, and you don't cook with just your sight. You use your ears, too. When that oyster gets to cooking, you'll hear it slow down, and it will go 'pssshhh' and even if you've got your back turned, you know it's about ready."
And Dunlap loves the sound of his own stories.
"You and I are friends. If we were strangers, everything I told you this morning would have been a lie. But being that we're friends, it's entertainment."
---
The Seineyard Locations
Rock Landing in Panacea
​99 Rock Landing Rd. | (850) 713-0020
Woodville
8056 Woodville Hwy. | (850) 421-9191
Wildwood in Crawfordville
3870 Coastal Hwy. } (850) 926-9191
---