Supervisor Ion Sancho
His passion for the voting franchise never waned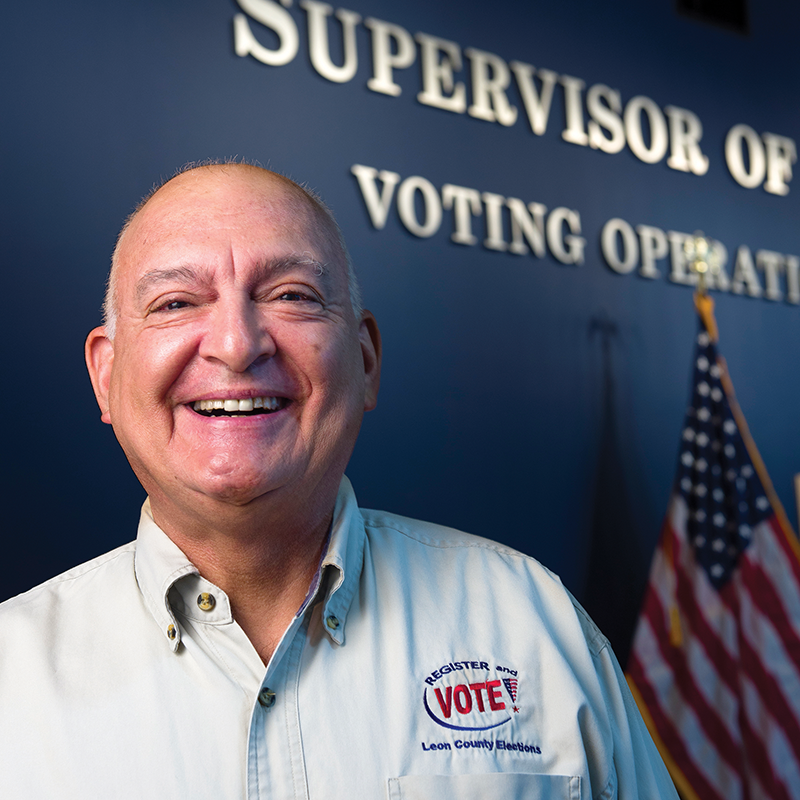 It was 1986 and Ion Sancho — a third-year student at Florida State University's law school with a desire to become politically active — was running for Leon County's newly created County Commission District 5.
It was the first primary election for new Supervisor of Elections Jan Pietrzyk, and after a series of missteps and blunders, it imploded, with problems affecting nearly half of the county precincts.
"I was on the ballot in the primary as one of six candidates when that primary melted down," Sancho recalled. "My first indication … came when my wife came home crying, saying, 'I'm not sure I voted for you.'"
Post-mortem analysis of the disaster identified voting-machine breakdowns, improperly trained poll workers and incorrect voter registration cards as problems that may have disfranchised 5,000 voters.
"I didn't win the county commission race (Gary Yordon did), but I immediately went into court and tried to have the election set aside because of the irregularities," he said.
After a multi-day trial, the judge dismissed the case, saying there wasn't a precedent in Florida for an election being set aside. "It's true, I couldn't, because no election had been destroyed as thoroughly as Leon County's. … There had not been an election debacle of that size anywhere in the state. But I remember Judge Hall looked me straight in the eye and said, 'Mr. Sancho, your remedy here is not legal, it's political.'"
Sancho took that advice to heart. He would finish his last semester of law school and, on his own dime, learn how the voting machines Leon County had at the time were programmed. When the next vote for election's supervisor rolled around in 1988, Sancho challenged Pietrzyk and won handily.
And won, and won and won again — seven terms in all — Sancho is the only supervisor of elections many Leon County voters have ever known. At age 65, he decided finally not to run again and to retire after 28 years in the office.
"He is unquestionably the elections supervisor who turned things around for not only Leon County, but truly the state due to his passionate — at times almost maniacal — passion for voting rights as the cornerstone of liberty and the necessity to guard them and improve them and keep up with technology," said Mary Ann Lindley, who has followed his career first as a columnist for the Tallahassee Democrat and now as a member of the Leon County Commission. "He is, quite simply, a living legend. We are fortunate to had him at the helm all these years."
Calling himself a "New Yorican," the "living legend" was born in New York City to parents who both immigrated from Puerto Rico, which, he said, gives him an "interesting" perspective on American culture.
"One of the things my father had discovered early on in his career was discrimination. As a child we were not allowed to speak Spanish at the house. It was strictly forbidden," he recalled. "We had to pass as Anglos; that was his rule. If we could pass as Anglo, we wouldn't have problems like he had problems, like my mom had problems. My mother never could learn to speak English properly. She would speak to us in Spanish; we would answer in English."
A "military brat," his family moved around the country, following his father, who served in the Army Air Corps during World War II and transitioned to the Strategic Air Command. Much of Sancho's father's work was high-tech, which is why he named his son, Ion, for the electrically charged atom.
Sancho ultimately settled in Orlando in the early '70s when he could "smell the orange blossoms" as he drove to work as an occupational therapy technician at Florida Hospital. After putting his then-wife through college, he started taking classes and graduated from Valencia Community College, then commuted from Orlando to Deland for three years to earn his degree from Stetson University. He was active in student government there and was in charge of student elections.
Sancho got a "wonderful education" in the small classes at Stetson. "It armed me as a researcher, because if you're in a class with only four other students and the professor calls on you … there's nowhere to hide," he said. "I like digging for information that could have relevance and make a difference."
After graduation, a politically savvy friend encouraged Sancho to head north. "My friend said if you have any interest in politics, you've got to go to Tallahassee … that's where all the political highways cross in this state," he recalled. And as orange groves gave way to Orlando's Tourist Industrial Complex, Sancho became ready to go.
He went to work for the Secretary of State's office as an archivist's assistant. While it sounds dry and dusty, part of his job was to review records from different agencies before they were destroyed to see if they might be historically significant.
Sancho recalled a "tussle" he had with the Florida Department of Law Enforcement after he found transcripts from a wiretap of FSU's "Radical" Jack Lieberman on a Miami public telephone outside of the 1972 Democratic National Convention.
"Excuse me, but was anybody aware that the FDLE was wiretapping student government activists around the state at that time? I refused to sign off on the destruction of the document," Sancho said. He was in a standoff with the agency until his boss intervened and let him take the records.
That story, he said, illustrates "this tension between what the state wants to keep secret and what the citizens should know about their own history. That to me is the exciting part of history — what really happened and what you haven't learned yet."
Sancho was able to finish law school after losing the botched election, but because he was in the thick of his first supervisor of election's race, he never did sit for the Florida Bar exam.
Even so, his legal training taught him the fine art of finding "gaps" and "chinks" in laws laid down by the Legislature. As an example, he notes that instructions to voters enumerated in the law can be full of "11th-grade words." Because the Supreme Court requires only "substantial compliance" with the law, "I can drop that down to the sixth-grade (level) and say the same thing and get better understanding," he said.
Perhaps his greatest achievement in chink-finding resulted in early voting, a process he learned of at a conference in Texas. Perusing Florida law, he realized there was a provision for "in-office absentee voting," but no directions for how it actually worked. In an "ah-ha" moment, he realized it was possible to encourage people to come to the office to vote before election day. It was introduced in Leon County, codified into law by the Legislature in the early '90s and has "evolved into what is now the most popular method of voting in the state of Florida," Sancho said. "In some counties, more than 50 percent of the people are voting early."
Sancho has a fierce commitment to encouraging every eligible citizen to register and vote, combined with an encyclopedic knowledge of the nuances of election laws and technology. He is a huge fan of the optical scanning method of voting that he introduced soon after his election as supervisor — and totally averse to non-paper methods of voting, such as the touch screen.
The paper ballots used in Leon County's scanning system allow for a true count — and recount, if necessary — of every vote cast. And after the presidential election of 2000, when a recount of Florida's results was begun to determine the outcome of the presidential race, Sancho's opinion was vindicated.
Near the end of the 36-day process, he was tapped to serve as the technical advisor to the judges doing the recount, and Sancho was convinced an accurate recount of the ballots was possible. But just as he was beginning, the U.S. Supreme Court stopped the process and declared George W. Bush the winner. That action still rankles Sancho.
"You have to understand that is the first and only time in the history of the United States that a state was barred from completing an election," he said. "That election was prevented by the U.S. Supreme Court to be counted."
Although Leon County — and its supervisor — came out smelling like a rose in the aftermath, Sancho said it had a lasting effect on him.
"It hurts; it's damaged me. I'm not the same person that I was prior to the 2000 election," he said. "I know a truth that I have to tell, but to do so I have to leave … because I respect this office and don't want to pull the Leon County Supervisor of Elections office into any political controversy — and this has the potential of being a huge political controversy, possibly the biggest in our electoral history."
Sancho says the first order of business after he leaves office in January is a little R&R followed by a lot of muckraking. "The first thing I plan on doing after I take a little rest and fishing the spring redfish season is writing a book on why the 2000 election was stolen and who stole it," he declared. "A warning for individuals out there, there is no statute of limitations (for voting rights violations) and I know where the bodies are buried."