Fifth and Thomas: Superior Sound and Scrumptious Menu
Fifth and Thomas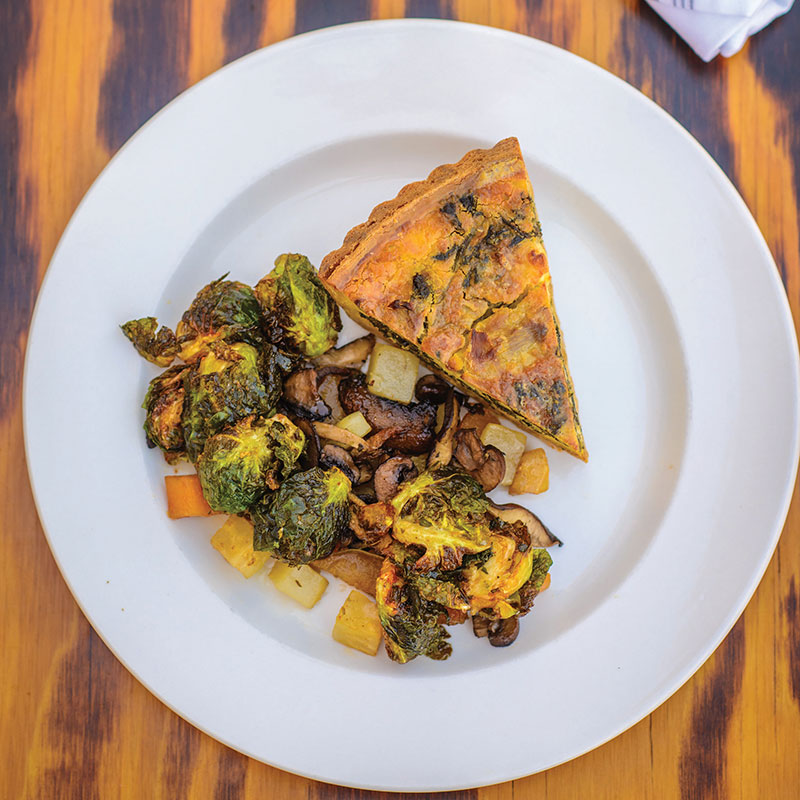 Although many optimistic folks have uttered the words, "Let's open a restaurant!" with the same naiveté that Mickey Rooney squealed, "Let's put on a show!", the long-term results haven't always equaled the original excitement. Let's face it: In Tallahassee, restaurants do come and they do go.
But a Midtown newbie may be the exception. Yes, the enthusiasm is there all right, but so is a grounding in experience, longevity (more on that in a minute) and a willingness to go slow, building on business as it comes. Fifth and Thomas on North Thomasville Road seeks to be more than a new restaurant: It wants to be one where you can also listen to first-tier musicians on a spacious, yet intimate stage. "We want it to be a kitchen and music house, too," says co-owner, Shannon Moore.
If the name of Moore in conjunction with the Midtown zone sounds familiar, it may be because Shannon's husband, Bruce, and his partners are the founders of the 11-year-old Finnegan's in Midtown Manor. Bruce, a professional geologist in addition to pub owner, has always had aspirations of growing the comfortable bar into some kind of music venue. So several years ago, when the Brazilian steakery across the hall went bust, he and Shannon took on the lease, operating it as The Tap Room.
"Business was great," says Shannon, "but it evolved more as a club atmosphere than a place you came to hear music." Still, the couple operated The Tap Room successfully for the next five years.
Meanwhile, Shannon, a registered dietitian who received her master's degree from FSU, worked on the corporate level and traveled to various long-term care facilities to revamp and design their dietary programs. But like many young mothers have discovered, traveling and raising a young child didn't mix. And besides, there was that dream of a music venue. And she and Bruce did hold a lease to a place with a kitchen and a stage … 
The time seemed right. With a carefully designed business plan in place and a concept and venue designer, Matt Burke, in charge of the aesthetic aspects of the project, the Moores decided to open incrementally: some music first, then the restaurant a few days a week, next a lounge, then outside brunches and a cozy garden setting with its own stage and fire-pits for frosty weather. Soon, the Moores were on the road to becoming restaurateurs exceptionnel.
Today, with a diverse yet Cajun-tilted menu, sleek seating, high tables and an elegant copper bar overseen by Haute Homz's Darcy Cavell, the old Tap Room is a long-ago memory.
"We put a lot into the stage, too," says Shannon. "With a great sound system, new lighting and an array of national — as well as local — artists, we are a place where people who like Ashville, Atlanta or Austin can feel at home … a place that is both a restaurant and a club."
And just like it works out in the movies, the Moores are indeed running a restaurant and — "golly gee" — "putting on a show"!  
---
FORK AND FIDDLE
The menu at Fifth and Thomas changes seasonally, but at the moment, available dishes include sherry-braised veal short ribs, cornmeal-dusted catfish and iron-seared beef strip loin. For dessert, there's the pecan tart, orange cake, apple-cranberry cobbler (with cinnamon toast ice cream!) or the delicious coconut bread pudding. A wide variety of wines and cocktails are served from a sophisticated bar.
While local artists Chris Skene and the Adventures of Annabelle Lynn draw on their own following, Fifth and Thomas will continue to grow its bi-monthly out-of-town performers. 
The Kitchen/Music House is also open for private functions and parties.
Currently open
For Dinner:
Thursday, Friday, Saturday; Wednesdays during Session
For Brunch:
Sunday
Check Times at:
(850) 391-9553; in person: 1122 Thomasville Road, Midtown Manor
---