Super Sliders Make for the Perfect Superbowl Snack
Make-ahead mini-sandwiches satisfy crowds and let you watch the game.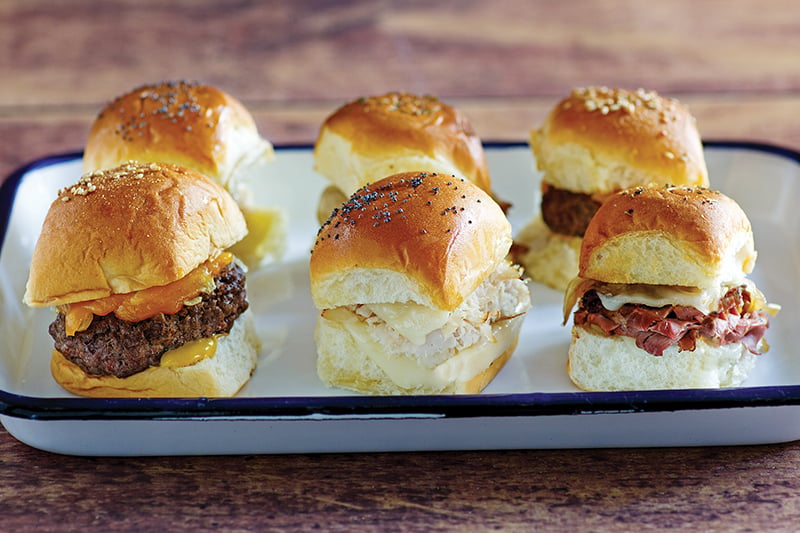 With at least four and a half hours of party time — and that's not including pre-gaming — it takes lots of chow to keep ravening hordes happy. Thedailymeal.com ranks pizza, chili and chicken wings as the top three Super Bowl food choices, but if you're looking for an easy, surefire crowd pleaser, consider the slider.
While the itty-bitty burger is the best-known iteration, pretty much anything you can put between two slices of bread can be downsized into a little, baked three-bite sandwich.
Sliders are infinitely less messy than wings and other party foods. They're also "super" easy to prep, heat and serve, so you won't be stuck in the kitchen and miss a TD or JT. (Justin Timberlake is the halftime performer.)
The base for sliders is a package of stuck-together dinner rolls. Most recipes specify a 12-count pack of King's Hawaiian rolls, and the brand's website has a huge selection of slider and other recipes (kingshawaiian.com/recipes).
Generally, the rolls are cut in half while still attached to each other, the sandwich fixings are layered on the bottoms and then topped with the other half. A brush with melted butter and a special garnish — poppy seeds, parmesan cheese, sesame seeds and such — and the pan is popped in the oven for 15 to 20 minutes. Then, just cut the rolls apart and the sliders are hot and ready to serve.
While a simple meat-and-cheese slider tastes great, it's fun to introduce other flavors and condiments into the mix — horseradish cheese on a roast beef slider or honey mustard mixed into the butter on a turkey roll, for example. Follow these recipes, or create a personal take on your Super Bowl samitch.