Sundance, Tribeca, Tallahassee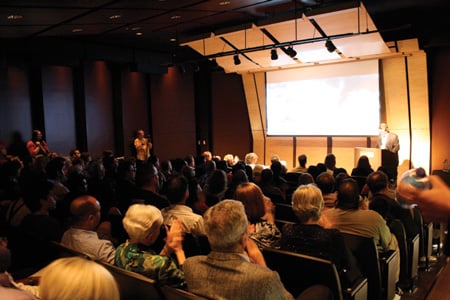 The creative forces behind the Tallahassee Film Festival share their vision for the inaugural event
Photo by Scott Holstein 
Event Planners – Gloria Pugh (left) and Jeanne Curtin at FSU's Student Life CinemaSundance, Tribeca, TallahasseeFilm Festival Organizers Hope to Make the City the Next Big Thing in Filmmaking
Lights, camera, and a whole lot of action! Presented by Florida Commerce Credit Union, the first Tallahassee Film Festival kicks off Thursday, May 15, and the whole community is getting involved.
The women organizing the festival aren't film experts, but they are getting a lot of expertise from prominent film authorities in the area. The president of the festival, Jeanne Curtin, is a partner in the Hartman & Curtin law firm, while President-Elect Gloria Pugh owns A Man With a Truck Movers (AMWAT) moving company. These prominent businesswomen have put on new hats, taking on the great task of putting together an array of events to support Tallahassee's arts community.
The festival's many components are bringing Tallahassee's filmmakers and movie lovers together. In its first year, the festival will offer a variety of professional and amateur film screenings. There are free training seminars available to those wanting to learn the filmmaking process and a 24-hour filmmaking contest to test those skills. The festival plays host to opportunities for film celebration throughout – and that's only scratching the surface.
For schedules, prizes and other information, visit the organization's website at tallahasseefilm.com.
Aside from the fun and creativity a film festival offers, Curtin and Pugh have higher hopes. Both recently sat down with Tallahassee Magazine writer Erin Sobel to discuss their vision for the future of the Tallahassee Film Festival.
TM: What are your film backgrounds?
Together: None! (Laughter)
Pugh: I just wanted to do an art festival: music, visual arts and everything. Then Jeanne recognized the Film School at FSU and decided a film festival would be much more manageable.
Curtin: What's been great about this is we've had so many people supporting us.
Pugh: It's not just Jeanne and Gloria. If it was not for the involvement of FSU, TCC and FAMU, all the professionals and their knowledge, we would not be as far along as we are today. We've committed to this for five years, so in five years we will know enough to be producing our own films.
TM: What inspired the idea for a film festival?
Curtin: The idea stems from the Knight Creative Communities Initiative (a venture that aims to enhance the community's overall prosperity) in Tallahassee. A group from the community were selected to implement changes to attract and retain what's known as the creative class, the people you want for a healthy community and economy. Since then, we have partnered with the International Creativities Center, a nonprofit group.
TM: How have you set the Tallahassee Film Festival apart from other festivals?
Curtin: A nice thing about our festival is the education component. Previously, you had to be a professional to get your hands on the equipment.
Pugh: We tap into our regional assets and showcase them and the talent we have. We want people to leave different from when they came here. We want it to have a message, to have content, to have meaning.
TM: The 24-Hour Film Contest is open to the public. Who do you want to see participate?
Curtin: Anyone of any age. We are looking to have a professional and an amateur component, people who think, "Wow, this would be fun." A lot of people have a hidden filmmaker in them that is just waiting to come out.
TM: What do you hope for the film festival in the future?
Pugh: We hope to become as big as Tribeca (Film Festival), Sundance (Film Festival); we want to be a major competitor. We definitely want to bring positive focus to the region and assist it economically. If it grows to what we are envisioning, it would help tremendously.
Curtin: And (we want to make) a fun event, a cool, hip event for people who live here or want to travel here. We want people to come see what a neat place we live in, how pretty it is and all the assets we have here. And then just have a great time.