Summertime Scalloping
To Enjoy This Tasty Bivalve, You'll Have to Dive for Your Dinner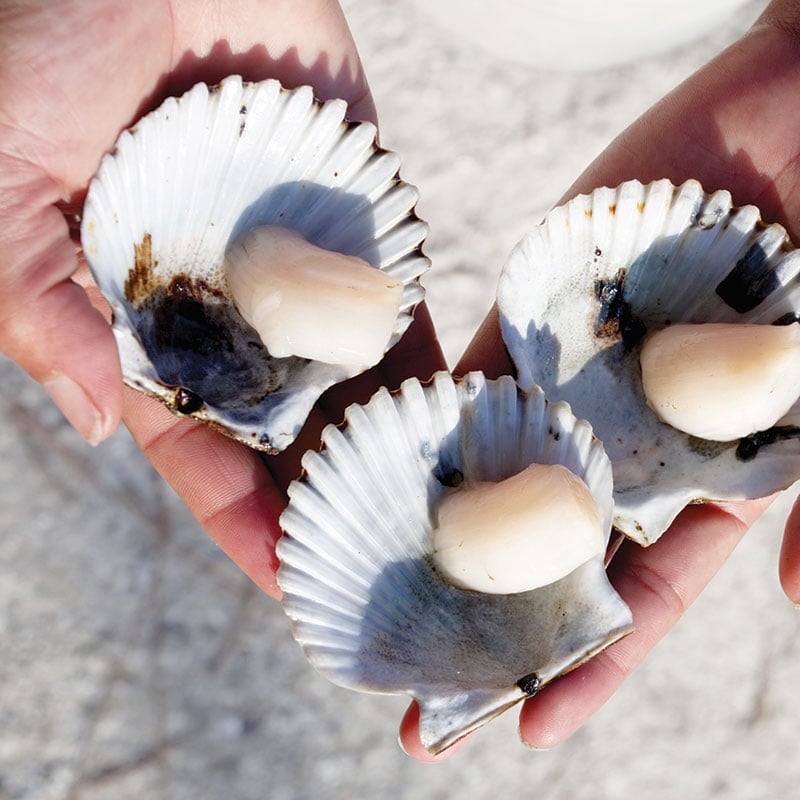 Half snorkeling, half fishing, and with the promise of a meal at the end of all the fun, scalloping is a quintessential Florida experience. The Sunshine State is home to great scalloping and, fortunately for Tallahassee residents, some of the best can be found right here in the Big Bend.
From just north of Tampa Bay, around the Big Bend and west to Port St. Joe and Cape San Blas are the only harvest areas in Florida during the recreational scallop season, which runs this year from June 27 until Sept. 24. Because the season takes place during the scorching heat of summer, it's great fun to cool off in the Gulf while catching your dinner at the same time.
While other types of fishing are generally done from above the water, scalloping is different, as it is completely hands-on, immersing you in the water, bringing you face-to-face with your catch. All you need for scalloping is fins, a mask, a snorkel, and a net or bag to keep your scallops together while gathering more. The ideal depth of water for scalloping is between 4 and 6 feet.
Scalloping is often referred to as "the Easter egg hunt of the sea," and with scallops cozily nestled in sea grass and very easy to spot and grab, it's not hard to understand why. They are an off-white, yellowish color, sometimes open, just waiting to be plucked and eaten. To be safe, it would probably be best to catch more scallops than you think necessary, as bay scallops, the type found off the Gulf coast, are about an inch smaller in diameter than the sea scallops found off the coast of New England. There are 10 to 20 sea scallops in a pound, while it takes 50 to 90 bay scallops to make that weight. Bay scallops are prized for their tenderness and much sweeter flavor. Once you've caught your limit of scallops (2 gallons in the shell per person, per day), just head back to shore and prepare to cook.
Opening the scallops may be the hardest part of the whole process. To do this, lay an unopened scallop down on its flat side, press a knife inside the shell and slice it all the way to the back. This will split the shell open and finally reveal the much-anticipated scallop meat. Once opened, scoop the scallop out of the shell with a spoon and pull off all of the extra goo and meat. Once stripped down, the raw scallops will be thick, small and round. Wash the scallops in cold water and get ready to cook!