Students and Parents Are Discovering New, Different Ways to Learn
The Changing Schoolhouse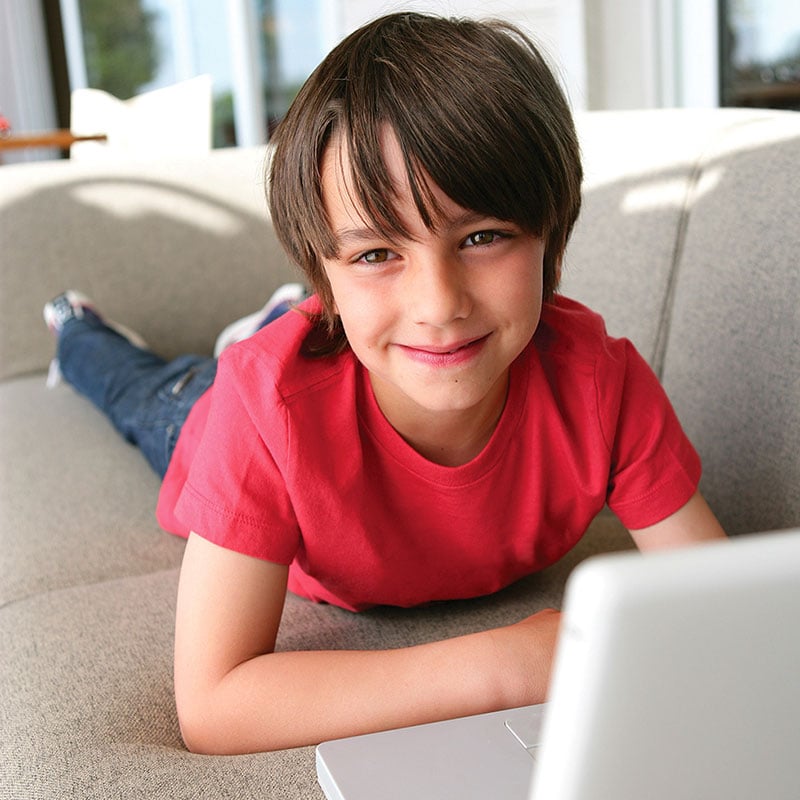 On a bustling Friday morning, the basement of Cynthia Covington's north Tallahassee home is a haven of tranquility. The room is pleasantly lit, quiet — but not silent — and kids and young adults are lounging comfortably in cushy chairs, eyes fixed casually on computer screens. One of them leans back in his chair, eyes closed — taking a short break from the glow of the screen in front of him.
"Back to work," he says softly, picking his head up and opening his eyes once again before returning his focus to the computer in front of him. After all, it's a Friday and, unsurprisingly, he's in school.
It's a fact that's becoming increasingly clear to students, parents, teachers and policymakers: The schoolhouse is changing. While the vast majority of students will be once again catching buses and driving to public and private schools in August, others are learning in old (homeschooling), new (Florida Virtual School) and different ways.
Covington runs one of those "different" entities. Her Homeschool Classroom Inc. is a school-esque business that provides virtual-school students, particularly those with attention deficit hyperactivity disorder, with a classroom setting in which to work and seek help.
Homeschool Classroom probably isn't what you would think of when imagining a typical classroom. Covington, a former nurse and homeschool parent, holds class in a room of her home; there are no rows of desks, buzzing fluorescent lights or chalky blackboards. The room is, instead, adorned with a single large table, beanbag chairs, toys and pillows, all of which are part of Covington's idea that students should be comfortable while they learn.
"We believe that kids work better when they're comfortable, when they can make some of their own decisions," Covington says. "I want this to feel like home; I want it to be more laid-back. We don't follow the clock, we follow how we feel."
With a teacher-student ratio of 1-to-6 and personalized scheduling (students aren't required to be in the classroom for any specific amount of time), Covington says her focus is on individualized attention and developing close relationships with her students and their parents, making education a kind of team effort. The in-class curriculum isn't geared toward traditional subjects — she says students learn those through their virtual schoolwork — but rather hinges on developing life skills, such as time management (students choose when they eat, take breaks and work on certain activities) and respect for others.
"We're working with kids who might not have been able to do well in the public school system, kids who may have been bullied, kids who might not be able to focus well, kids who might not work well in large settings," Covington says. "For some reason, that kind of schooling doesn't fit them. And we don't want those kids to fall through the cracks. That's the main goal: Don't let them fall through the cracks."
Covington almost acts as an extra parent to her students. She's the liaison between their virtual-school teachers and their parents, supervising her students in a way that resembles a mother making sure her children are doing their work. She allows them to make their own scheduling decisions, gently guiding them when they need help.
"I really just want what's best for these kids," she says.
Covington's teaching method is, indeed, a departure from traditional education. But it's one that she claims works for certain people, though it's by no means a "one size fits all" model.
"Everyone learns in different ways," she says. "There's a tendency to force kids into learning a certain way, saying that they have to be in a classroom. But I think it's about identifying what your kids need — an individualized approach. And there are a lot of options out there."
Homeschool Classroom is a newer take on more conventional home education. Most students who aren't enrolled in typical schoolhouse settings opt for homeschooling in a more traditional sense, educated by a parent or guardian or, in some cases, a tutor.
For Terri Hall, home education was an alternative to enrolling her children in the academically low-performing public schools they were zoned for at the time. Hall, a former public-school teacher and mother of four, had previously homeschooled her oldest child in kindergarten but enrolled her in public school until she was in fifth grade. It wasn't until Hall's family began preparing to move to Montgomery, Alabama, that she decided to return to homeschooling.
"I was teaching in a small system in Enterprise, Alabama, and a couple of my students, when they found out I was moving to Montgomery, said, 'Ms. Hall, I have cousins in Montgomery, you don't want to put your kids in school there,'" Hall says. "So I listened to those kids and decided to give homeschooling another shot."
With Hall's background in education, her children's early experiences with homeschooling were characterized by much of the same structure and organization as traditional classroom education, she says. School days began at 8 a.m. with a recitation of the Pledge of Allegiance; subjects were taught one after the other and school days typically ended between 3 and 4 p.m.
"I grew up in public school," Hall says, "and that's what I was taught to do as a teacher."
But as her children progressed through homeschool, Hall says the learning process became less formal and more individualized. While subjects like math and languages were taught deliberatively, other subjects, such as history and sciences, were handled in a less regimented manner.
"Most (homeschoolers) are very intentional about making sure our kids get certain concepts, because there are a certain set of facts that you need to get," she says. "But you can stimulate interest in sciences and history and let kids learn that in a much more relaxed way."
St. Marks trip
cOURTESY TERRI HALL
Since she began homeschooling, Hall's four children have all gone on to receive college degrees from universities including Auburn and the University of Florida. But while her kids may be out of the house, Hall remains active in home education. A science teacher by training, she continues to tutor about 45 homeschooled students between grades 8 and 12 in the sciences. The idea, she says, is that parents who might not feel confident teaching certain subjects can supplement part of their children's education with a tutor.
"I had one friend who's very good with English literature," she recalls. "So she taught literature and Latin and I taught the sciences, and we would swap kids for those subjects. It helps to play to your strengths. You want your kids to get the best education possible."
It's a concern of many parents who choose to pursue non-traditional education for their children: ensuring that their students are getting the help they need when they're not in the classroom. For Hall, and many other homeschool parents, that means allowing their children to work with tutors who specialize in certain subjects. For others, it means giving their students a structured environment to work in.
Florida Virtual School (FLVS) is one way for students to structure their education outside of a traditional schoolhouse setting. It's a sort of online classroom complete with mapped-out lesson plans, homework, tests and teachers. FLVS is an alternative that has grown exponentially since its inception less than 20 years ago.
While FLVS is currently the largest online state public school in the United States, it began in 1997 as an exploratory initiative in distance learning — the first of its kind — with 77 students, five courses and a $200,000 grant from the Florida Department of Education. Three years after its first classes were launched, the state Legislature dubbed the program an independent educational entity, complete with its own governing body and $3.8 million in funding.
Since then, FLVS has grown exponentially: As of the 2013-2014 school year, the school employs 1,263 full-time teachers, offers 120 courses and serves nearly 198,000 full-time and part-time students across the state. What's more, the online school has surpassed Florida public-school averages on Advanced Placement exams, as well as on the state's end-of-course assessments.
Despite the innovative nature of FLVS, the school boasts aspects of a more normative school experience as well. Students can participate in school clubs, student activities and, if they choose, an in-person high-school graduation ceremony.
But even after 18 years, virtual school remains a novel idea for parents, teachers and students alike. Only about 3 percent of FLVS enrollees are considered full-time students; the rest are enrolled in more traditional schools and take virtual classes part time, usually to supplement some part of their in-class education — an option somewhere between public school and home education.