Student Power 'Drives' the Walking School Bus at FSUS
Walking School Bus at FSUS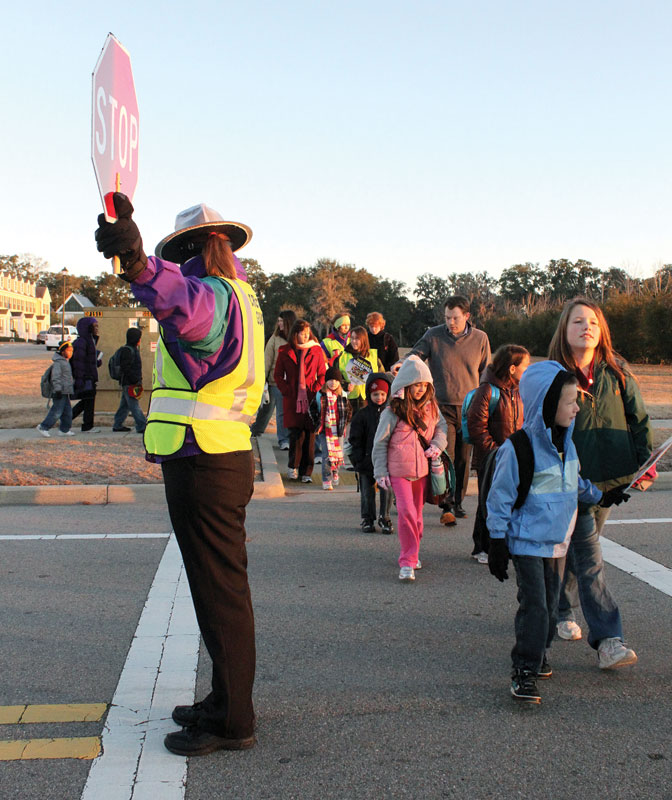 It takes about 15 minutes to walk to Florida State University School from the SouthWood Town Center.
Less if you're skipping.
Just ask the kids who participate in the school's Walking School Bus, a program that allows students to meet up and walk to school one Wednesday each month.
On a cold winter morning, eight children and six parent volunteers gather in a parking lot behind the Town Center. Children excitedly jump out of their cars and huddle together, ready to begin their walk to school, even though it's literally freezing at 32 degrees.
Last year, one of the recommendations to come out of the school's safe route to school workshop was to increase the number of students walking to school to lower the number of cars dropping children off, said Robin Spillias, president of the Parent Teacher Student Association. FSUS is a commuter school, and it does not have a busing system, so traffic congestion in the morning can be a problem.
The program encourages the 50 to 60 students who live in SouthWood to walk or bike to school and also allows for children who live outside of the neighborhood to get the walking-to-school experience.
Children can be dropped off at a designated spot away from campus. From there, with parent volunteers, the group walks the rest of the way. About 90 people joined in on the first walk in November.
"They were just exhilarated by it, and that got people excited about the first walk," Spillias said. She believes it creates a good atmosphere where the children can interact before school starts. "They like carrying their backpacks to school and walking hand and hand with their friends," she said.
However, the cold months caused numbers to dwindle. Only 30 people showed up the second time, and 15 the time after that. "I foresee in the spring that a lot of parents will drop their children off," she said.
The group leaves a little after 7:30 a.m. and walks along the sidewalk to school. Parent volunteers hold up special stop signs when it's time to cross an intersection. By the time the children reach the outside of campus and meet up with the school's crossing guards, they're crosswalk pros.
School starts at 8, and the group arrives with a few minutes to spare. As the first bell rings, parents hug and kiss their children and say their goodbyes.
Kurt Hammon said his children, 8-year-old Caroline and 5-year-old Will, love the new program.
A resident of SouthWood, he believes walking is a good alternative to riding in personal cars to get to school. "It's a fun way to encourage exercise, and the kids enjoy doing it with their friends," he said.
Children and volunteers who participate in the walk to school are provided with yellow safety vests and stop signs. "I like wearing the vests … because I think it's cool," said Hammon's daughter Caroline, an FSUS third grader. She and her friends talk about the program at school, and she looks forward to it every month.
On that cold January morning, Spillias considered canceling the walk and having everyone pile into a minivan to ride to school. But when four energetic children bundled in winter coats come skipping to the rest of the group, she didn't think twice and the "bus" was strolling along.
---
MyKey for Safe Teen Driving
The key to safer teen driving may lie in Ford's innovative MyKey technology. Designed to encourage good driving habits, MyKey is a programmable key that can limit a vehicle's top speed and radio volume as well as promoting safety belt usage by muting the radio until front-seat occupants buckle up. The latest version of MyKey, which is standard equipment in most Ford vehicles, also allows parents to block explicit satellite radio content in the vehicle. In a poll conducted by Penn, Schoen & Berland, more than half of parents said they would allow their teens to use the family vehicle more often if it were equipped with MyKey. — Holly Brooks
A New Way to Plan Trips
Forget travel agents — why not let the kids take the reins when it comes to planning your next vacation? Haven Books is launching a series of travel guidebooks for kids ages 7 to 14. The kidsGo! series of pocket travel guides are based on recommendations by residents and well-traveled children. The guides feature fast facts, basic foreign phrases, things to spot and tidbits of history and culture. KidsGo! guides get kids engaged in planning trips and interested in learning about new places. The kidsGo! series launches its first six guidebooks this spring, along with its website, kidsgotravelguides.com.
— Holly Brooks