Strings Attached
The Javacya Conservatory extends music's reach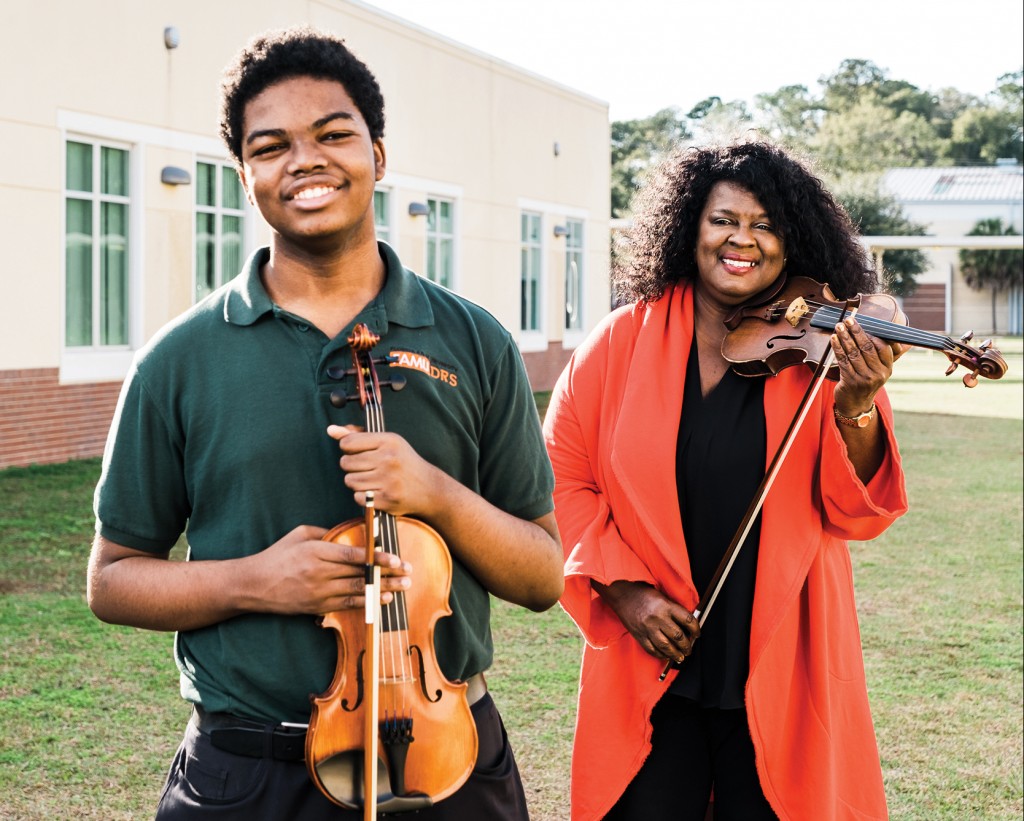 Sometimes love at first sight turns into a lifelong commitment. Sometimes it happens even before you know how to love. The touch, the voice, the look of the beloved may be all it takes to sweep you into a relationship that will last forever.
We're talking here about falling in love with music, or at least the instrument that makes it.
And for many members of the Javacya Conservatory's various classical string groups, their love affair began in earnest when they were first handed a violin by Patrice Floyd, the founder of Javacya (Jah-VAY-cee-ah). But along with it would come expectations for practice, academic study and commitments to the music and themselves.
A professional violinist, Floyd, 64, knows that the opportunity to be exposed to classical music, never mind learning to play an instrument that makes such music, is rare for a Black or Latinx child. But she guessed that there existed potential Mozarts or Paganinis of a different hue who deserved the chance to develop their talents.
Now, 40 years after Floyd began teaching in Tallahassee, she can point to hundreds of students who have turned professional or who have developed a lifelong understanding and love of classical works. From the Javacya Symphony's Sextet, to the Javacya Elite Chamber Orchestra, to the Southside Youth Orchestra Project and the FAMU String Robotics Program, Floyd has turned talented youths into artists ready to step into professional careers.
Like many Black children, Floyd had heard plenty of moving music every week in church. And growing up in Palm Beach, she was also exposed to the music of Cuba and the islands. But it was during a school assembly visited by Julliard-trained string players who performed classical quartets that little Patrice heard sounds that awakened her soul. One other important fact: The group's cellist was Black.
"Thankfully, my mother found the money to rent a violin for $15 a month, and I began taking lessons at the school," Floyd said.
Floyd would go on to study violin with Robert Sedore at Florida State when she was 17; later, she was mentored by Leander Kirksey, a musical legend at FAMU. Summers were spent at University of Kansas summer camps. And before she knew it, Floyd was in demand for symphonic gigs across the country.
"I played at universities, did workshops, traveled to Africa, Europe and the Middle East. I still do!" she laughed.
Married and with four children — one of whom, Ashanti Floyd, the "Mad Violinist," would become a six-time, Grammy-nominated musician — Floyd began to spread her passion in her neighborhood.
"It seemed like once a few children on the block began violin lessons with me, all of them wanted to!" she said.
Eventually, with 25 children in and out of her home for classes each week, Dr. Julian White, the famed FAMU conductor, invited her to use some of the university's studio space. And Floyd's musical horizons expanded.
In 1981, she established the Javacya Arts Conservatory for ages 3–18. From it flowed musical groups as well as collaborations with the Royal Conservatory of Music in Toronto whose syllabus and that of Julliard form the basis for much of Javacya's program.
"Using theirs as a kind of template enables our students to transition to elite programs all over the world," Floyd said. As others heard her students, there were calls for her to establish "satellite" schools elsewhere. Currently, there are Javacya programs in South Carolina and in Orlando.
Locally, Floyd conducts a music program at the FAMU Research Development Lab where 35 students from third-graders to high school sophomores play. The Southside Harmony Youth Orchestra has nearly 50 players and follows Javacya's curriculum. There, each child is provided with a violin to play and take home. The Javacya Sextet and Elite Chamber Orchestra rehearse and perform at St. Peter's Anglican Church.
Floyd sees to it that Black and brown youth are given the opportunity to play music created by people who look like they do.
"The African musical diaspora stretches everywhere," she said. "Particularly with the Sextet, the foundational players of our symphony, I want to highlight what's not being heard — the music of African American composers."
Phillip Rumlin-Bond, 14, is the concertmaster of the Javacya Elite Chamber Orchestra and attends the FAMU Lab School. He initially fell in love with the violin the "modern" way — online.
"I saw it being played on LiveTV and immediately wanted one," he said. "I was 9 and already kind of old. Most violinists start at 3 or 4."
Floyd had high standards he said, and initially, he found practicing hard. But soon, he didn't want to stop.
"It got easier, and I met other kids like me," Rumlin-Bond said.
Recently, Rumlin-Bond auditioned for the Sphinx Virtuosi. He submitted an audition recording of the Mozart Violin Concerto No. 4 in D Major in which a FAMU professor accompanied him. His goal is to go to a top music college and one day join a professional orchestra.
Floyd says that though Black worship services may be filled with music, and African American vernacular music is the basis for much of American music and jazz today, it remains rare to find a venue where young Black students can learn theory, be exposed to classical opera, concerti and symphonies. It is unusual to find Black children who can express themselves in sonatas or rondos, or aspire to one day play in a professional orchestra.
Floyd is well on the way to rectifying that problem by opening music's doors to all.
Follow the performances of Javacya's various musical groups at javacyaarts.com.