Striking Gold
Tallahassee coach leads skater to long-term success on short track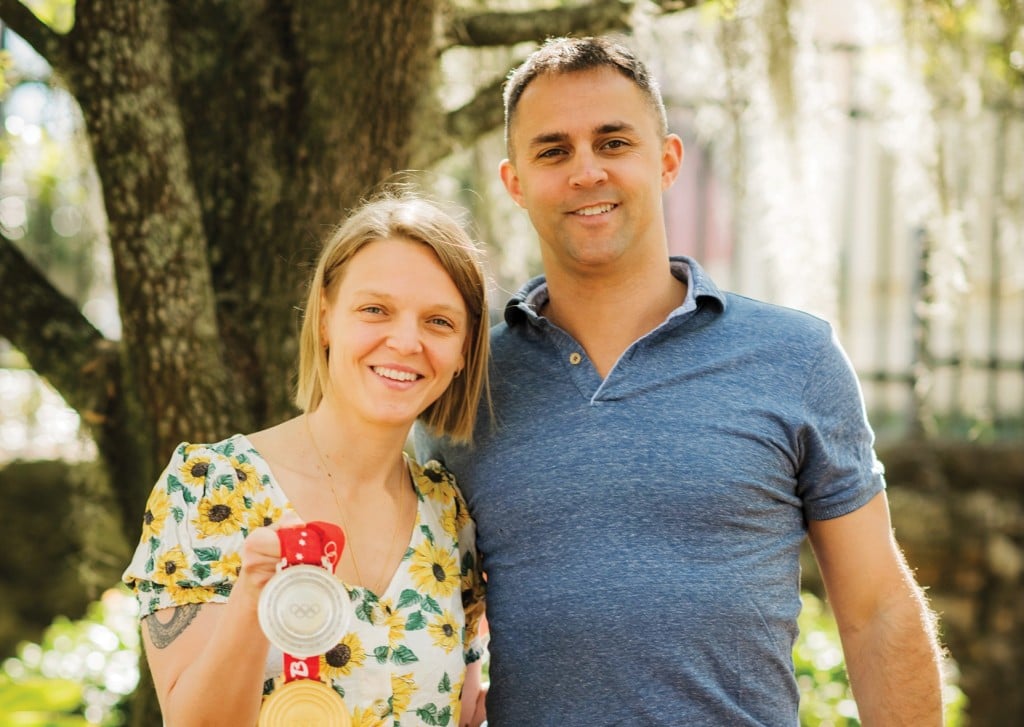 It's a brilliant morning when the two appear at my door. Azaleas and live oak blossoms sway in the sun. She is cute, petite and fresh-scrubbed. He is strong, handsome and outgoing. One of them is admittedly jet-lagged. But because they are parts of a pair — a kind of uni-mind that when joined, overcomes the most daunting of obstacles — yesterday's transcontinental, transoceanic jaunt from Italy is really nothing to get in the way.
Just in from Milan, Olympic gold medalist Arianna Fontana, blonde and only appearing delicate, sits at the kitchen table sipping iced coffee. In a soft Italian accent, she talks about how she loves Tallahassee, its greenness and canopy roads.
"I had always thought of Florida as beaches," she said. "Miami and traffic. I love the quiet of this city and the people."
So much so that she and her Tallahassee-born husband and coach, Anthony Lobello, are renovating a home in Killearn.
Lobello smiles at her from across the table. They have been married for nearly 10 years. Much of that time has been spent training for one competition after another with Fontana committing herself to Lobello's arduous training regimen, which they believe has made possible her competitive longevity as she turns 32. But the relationship is clearly not one of a Svengali and a sycophant who follows dictates. Theirs is a partnership based on respect and a mutual competitive streak that strides over fatigue and pain to finish lines.
In the Beginning
Fontana started skating at age 4 following the lead of an older brother who liked to compete. In their small town near Lake Como, she discovered the exhilaration of coming in first. And she wasn't afraid of work. By 13, she had been invited to train in short-track competitions with Italian athletes headed for the Olympics. At 15, she was made part of the Italian team that skated in Torino and was the youngest Olympic Winter Games competitor ever to win a medal — a "beautiful" bronze.
Over ensuing years, Fontana would go on to beat every European short-track speed skater in sight. With more than two dozen World Cup, European and World Championship first-place finishes, she has now competed in five Olympic Games and won 11 Olympic medals, including two golds, to make her the Italian athlete with the highest number of Winter Olympic medals and the second-most decorated Italian athlete in Olympic history. She is petite at 5-foot-3, but she is nothing if not formidable.
The life of an athlete has a heart, too — a romantic one that came to life on the ice for American speed skater Lobello. A Maclay and later Florida State MBA graduate, Lobello had begun his athletic career loving inline skating but dreamed of competing in the Olympics. Pragmatically, he switched to ice blades, traveled to Kissimmee to hone his talents on a new surface, and at 19, enrolled at Northern Michigan University to take advantage of its winter sports program.
After only 36 months on the ice, Lobello, in 2006, tried out for and was named to the U.S. Olympic speed skating team. Two years later he was ranked seventh fastest in the world at 500 meters, and after another two years, fifth. Due to ill health, however, he didn't make the 2010 Olympics in Vancouver.
Frustrated, he "began building a system of training that would work for me." He devised a regimen of "incredible" intensity — weights, diet, "a different kind of off-ice program." And, with both an eye to his sport and to the girl he had fallen in love with — the Italian wunderkind Arianna Fontana — Lobello obtained dual Italian/American citizenship, and in 2014 made the Italian Olympic Team. They married later that year, and together Lobello's carefully tailored regimen and Fontana's natural talent and "stone-cold killer" instincts have prevailed.
In Tallahassee
Today, months after the 2022 Winter Games, the pair is still taking a "sports break." After a grueling Olympics in Beijing, Arianna is enjoying down time.
"I just went on a shopping spree in Milan with a girlfriend," she said with a twinkle in her eye. She also has taken up boxing to keep in shape. Lobello listens to her almost like a doctor, sensing "where her body is, where she is. If she wants to go for another Olympics in 2025, that would be 20 years of competition at the very highest level. No one else has ever done that," he said. "But I will be setting up a regimen for her body to accomplish her goal if that is her decision."
Of course, there are other more pressing considerations now that the pair is together again in Tallahassee: Whether to choose Gordos, El Jalisco's or Table 23 from among their favorite restaurants. If the fishing will be good in the waters off of Gulf Shores. If Arianna will actually catch a tuna again (a lifetime highlight.) And even the timing to start their family. "We're young," Lobello said, "and I do have that MBA!"