Stories that Fly
Author Adrian Fogelin brings hope — and stories that kids can relate to — to her Tallahassee neighborhood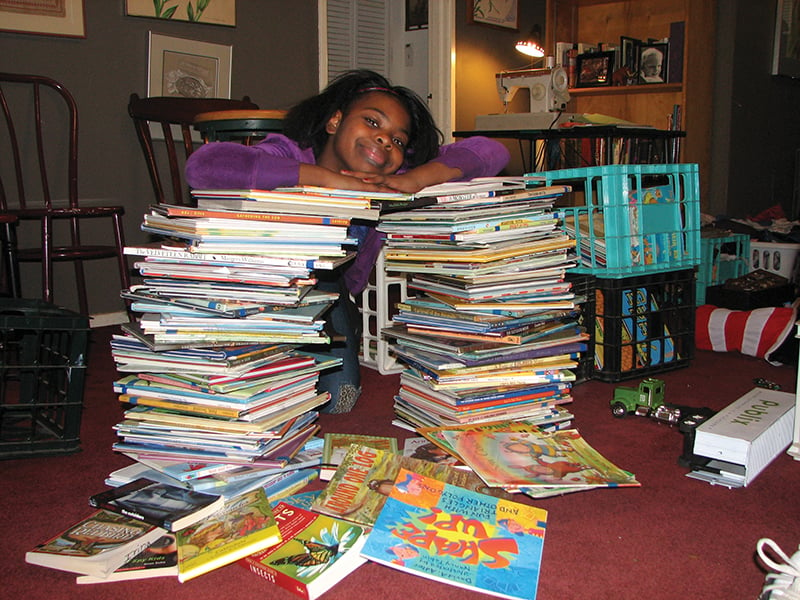 In spending time with the kids in her area, Fogelin, an award-winning writer of middle grade and young adult fiction, has come to realize that her young neighbors are "exposed to reality very, very early." The issues that they face can be troubling, but the way in which they face them can often be inspiring. Both ideas are reflected in Fogelin's novels, which feature ordinary kids and address universal coming-of-age themes with honesty and optimism. Her characters experience struggles and triumphs that help them to learn about who they are and find their place in the world — even if it's just the world of Tallahassee.
Although she is the author of nine published books, several of which have been translated into multiple languages, Fogelin is, admittedly, "not a business person." Instead, her skills lie in other areas: Aside from being a writer, she is a devoted wife, mother, grandmother, artist, gardener, freelance book editor, musician (half of the popular duo, Hot Tamale), educator and co-founder of the innovative Front Porch Library.
The Front Porch Library was created in 2009 in the winter home of Fogelin's late father.
What began as a collection of books placed on the front porch for neighborhood kids to read has evolved into a much-valued neighborhood resource with a collection of over 3,000 books. Seminole Manor youngsters can get a library card and check out four books at a time, with no due date.
"The Front Porch Library means access to books for kids whose families don't have many — or any — books," said Kary Kublin, a Tallahassee educator and the other co-founder of the Front Porch Library. 
Every Sunday afternoon, anywhere from a handful to 15 or more neighborhood kids stop by the Front Porch to participate in games or activities, organized by Fogelin and volunteers, that involve science, history, nature, music or storytelling.
"We bring the world into the library," Fogelin said. "This is really where my heart is."
Although Fogelin adores her neighborhood, she does venture outside of it — particularly willingly when she visits Tallahassee schools to present her "Think Like an Author" creative writing program for fourth graders. 
"The students love it because she uses real life items — shoes, rocks, photos — to spark the creative process," said Meg Gibson, media specialist at Gilchrist Elementary. "They also love her.  She is enthusiastic, gentle, supportive and kind. The children love her books (because) they are mostly set right here in Tallahassee, and the characters are their age and deal with many of the same issues they are dealing with."
A number of those issues, which include racism, poverty, fitting in and acceptance, are captured in Fogelin's acclaimed, six-book "Neighborhood" series, of which "Crossing Jordan" is the first installment. 
Family is important to Fogelin, whose mother, Maria Bontempi Fogelin, was a prolific novelist.
"My mother was really the model for many things in my life," Fogelin said. "She wrote stories so people could fly. I take after my mother. I write stories like hers."  
---
Adrian Fogelin's Books
Crossing Jordan (2002)
My Brother's Hero (2005)
The Big Nothing (2006)
The Sorta Sisters (2011)
Anna Casey's Place in the World (2014)
The Real Question (2014)
Sister Spider Knows All (2014)
Summer on the Moon (2014)
Some Kind of Magic (2015)
---
Adrian Fogelin was born in Pearl River, New York and studied sculpture at the Rhode Island School of Design. She met her husband, Ray Faass, while working as an illustrator at the Baltimore Zoo. They have one daughter, Josie Faass, and a grandson, Matt. The author of nine published books, Fogelin lives, writes and jams (she's one-half of the band, Hot Tamale, with Craig Reeder) in Tallahassee. 
For more information on Fogelin, visit adrianfogelin.com. To learn more about her music, visit hottamale.weebly.com. To find out all about her neighborhood project, the Front Porch Library, visit thefrontporchlibrary.com.