Stories of the 600,000
David Powell tells the stories of Cubans who fled the Castro regime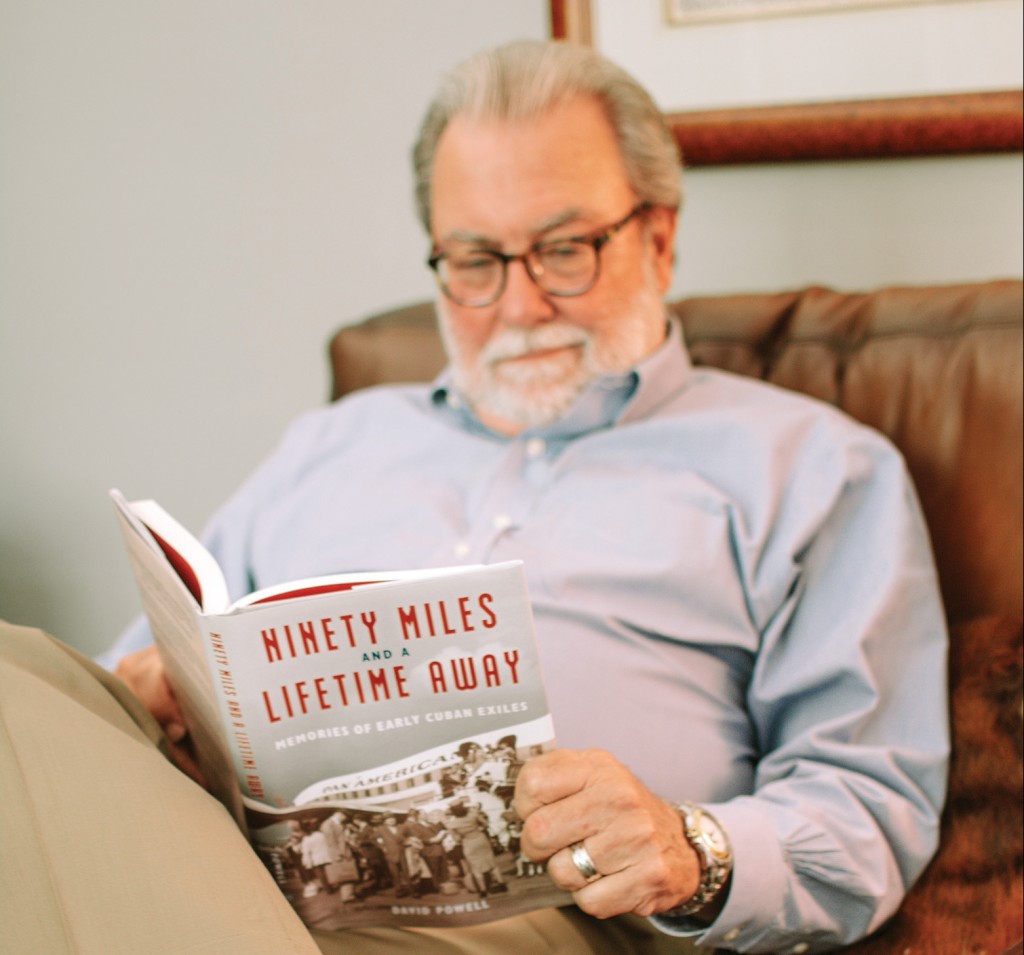 Oral histories have long been the thread that unifies the larger, more vivid tapestry of communities. Throughout the telling of these histories, there is always a scribe, a careful and empathetic listener entrusted to pass along these accounts.
In his book, Ninety Miles and a Lifetime Away: Memories of Early Cuban Exiles, David Powell shares the stories of 54 Cuban refugees who left Cuba when Fidel Castro took control of the country in 1959 to the 1962 Missile Crisis, as well as those who embarked on the Freedom Flights in the late 1960s and early 1970s.
Long before being entrusted with the tragedies and triumphs of these interview subjects, Powell considered himself a storyteller.
Upon graduating from the University of Texas at Austin and the Columbia Journalism School, Powell began as a reporter for the Associated Press in New York City. His role as a journalist took him to Florida to tell the stories of Miami residents, and in 1976, he was transferred to Tallahassee, where he decided to stay.
His experience as a reporter resulted in an interest in law — he soon after switched direction and pursued a law degree from Florida State University. Powell represented clients in the planning and entitlement of complex real estate negotiations. Through his work and the civic organizations he was involved in, he found himself in the company of many Cuban Americans. As a man who knows the value of listening, he was privy to stories that moved him.
In 2016, he decided to conduct a few interviews with those whom he had met, which eventually put him in touch with friends of friends who wished to sit and share their histories.
"In journalism and in law, the essence of the work is being a storyteller," said Powell. "Storytellers are advocates. Storytelling is the heart of this book."
On average, the interviews lasted two hours with the questions stemming from an eight-page outline that he provided the narrators in advance. Each recording was transcribed, audited and edited before being sent to the narrator for any changes or corrections. Few asked for any.
Eighty percent of the book is direct interviews, and the other 20 percent comes from Powell's perspective as derived from over 100 books and scholarly articles he read on the subject matter to create a backdrop and introduction to the testimonials.
"In many ways, writing a work of nonfiction is like organizing material to go to trial," said Powell. "Each chapter is akin to writing a brief, conveying what is most essential to provide a shared understanding."
The result is an overwhelming representation of the experiences of 600,000 Cubans seeking refuge in America. Powell states that as of 2022, 1.4 million people in the United States were born in Cuba, and another 1 million are descendants of Cuban exiles. Of that 2.4 million, 66 percent of Cubans live in Florida.
Among those Powell interviewed were fellow lawyers, educators, legislators, artists, musicians, doctors, engineers and more, most of which did not begin their journeys in the United States in comparable roles.
Powell recounts that many of his narrators and their family members led upper middle-class lives in Cuba, but upon arriving in the United States, they were living hand-to-mouth. A particular narrator shared that his father was a prominent lawyer in Cuba who had to resort to selling smoked fish at markets in Miami to make ends meet.
"To me, the most moving accounts were when people talked of changes so drastically imposed by Castro that the families knew they had to leave even when it meant forfeiting their homes, their belongings, family members, their livelihoods and their entire identities," said Powell.
In 2021, the University of Miami acquired Powell's recordings and transcripts to include in the United States largest repository of Cuban artifacts, The Cuban Heritage Collection.
Powell's words merge the visceral imagery of a bygone era, yet the urgency of his words proves this is not solely history, but an examination of our present and a questioning of our future.
"My hope is readers understand this reflects America at its best, not perfect, but the land of refuge and opportunity that it's always been for oppressed people from around the world," Powell said, "a land that it still is today."