Still Riding After All These Years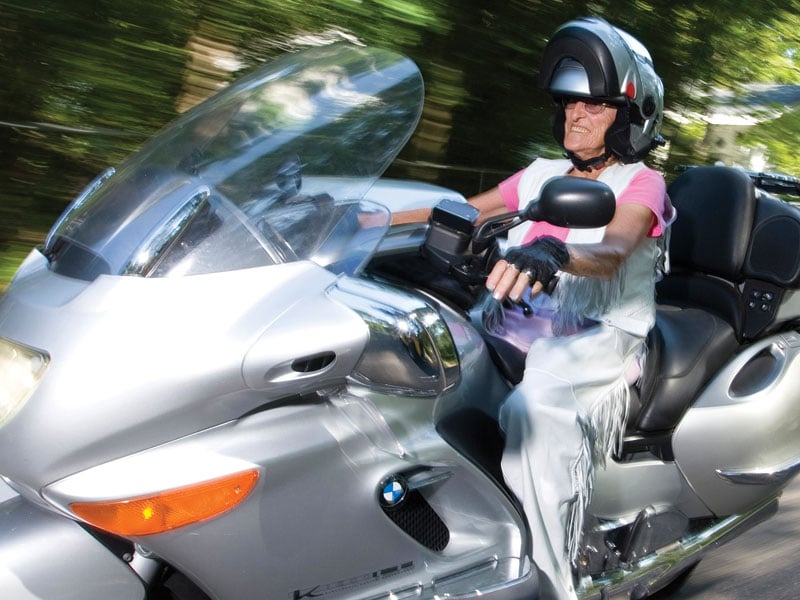 86-year-old Chrome Diva Rosalie Meyers slows down to share her storyRosalie MyersStill Riding After All These Years
By Rosanne Dunkelberger
    Click for larger image.
 
The women of Tallahassee's Chrome Divas turn heads in their outfits, which are heavy on the leather and sparkles, as they have fun and do good works from the backs of motorcycles.
But most folks do a double- or triple-take when they see charter member Rosalie Myers in action.
For one thing, her favored mode of transportation is a motorcycle with a sidecar, often bedecked with flowers and stuffed with teddy bears or diapers for local charity drives. But the most astounding thing about the lady is not her new white, fringed leather outfit – it's the fact that she is 86 years old. (Some other local reporting and Web sites are exaggerating when they list her age as 95 or 96.)
"Oh yes," Myers says, she does wear a helmet when riding, to protect her after suffering a bleeding concussion in 2006. But it wasn't a motorcycle accident that caused the injury; she took a header off a curb.
Myers' love affair with motorcycles dates back to 1939, when her "mechanical" father refurbished one for her and her brother to use. Her father installed a governor so the two wouldn't ride too fast, but her brother – also mechanical – knew how to adjust a screw so that they could zoom around the New Jersey countryside.
Myers and her daughter, Jacque (who also is a Chrome Diva), have owned up to six bikes at one time, most customized with sidecars and trailers.
The plain-spoken octogenarian came to Tallahassee nearly 50 years ago with her husband, who was transferred here to work as a prison officer at the Federal Correctional Institution. He died a few years after they moved here, and Myers has retired from three careers in the intervening years. Most recently she left her job at the U.S. Postal Service less than a year ago – after which she headed off for a motorcycle trip across Italy. Myers also worked in the nuclear physics lab at Florida State University and taught entomology (the study of bugs, for students learning about pest control) at Florida A&M University.
Today, mother and daughter live together on acreage in southern Leon County that they share with a menagerie of animals, including 23 horses. (The number varies. They have two world-champion stallions, two junior stallions starting their show careers, and three "gentle giant" Cyldesdales.) There are also seven goats, four sheep (featured in local live Nativity scenes), three potbellied pigs, chickens, white peacocks, Dalmatians, Guinea hens, five sociable turkeys and a houseful of delicate songbirds that they breed and sell. The yard also is home to the wide variety of the businesses (horse trailers and carriages) and hobbies (motorcycles, bicycles, windsurfers and Hobie Cat sailboats) they share.
The most recent addition to the mother/daughter enthusiasms has been participation in the Florida Senior Games. At 53, Jacque Myers is at the younger end of the spectrum, while her mother competes in the 85- to 89-year-old age group, the second-oldest age category. Together, they won dozens of gold medals and set a few records in the 2006 regional and statewide competitions in track and field events. They qualified for the national event but didn't go, said Rosalie Myers, because their ages put their events at either end of a two-week-long competition.
Recently, Myers was sidelined by surgery – required because of pain caused by deterioration in her spine brought on by an injury in her youth.
"I've got titanium screws in my back, and they hurt like the dickens," she said as she made her way around the yard using a rolling walker. "Once you get up to 85 or so, you're going to get arthritis whether you like it or not," she groused. "But you can bet I will be back running at the Gulf Wind Track Club events soon!"
Myers enjoys the attention she has been getting lately, but she isn't quite sure what all the fuss is about.
"I don't see what the hell is so important about me that it would make the papers," she said. "I've had more fun being myself and enjoying what I was doing."