Steve Wozniak, The Man Who Shaped the Computer Industry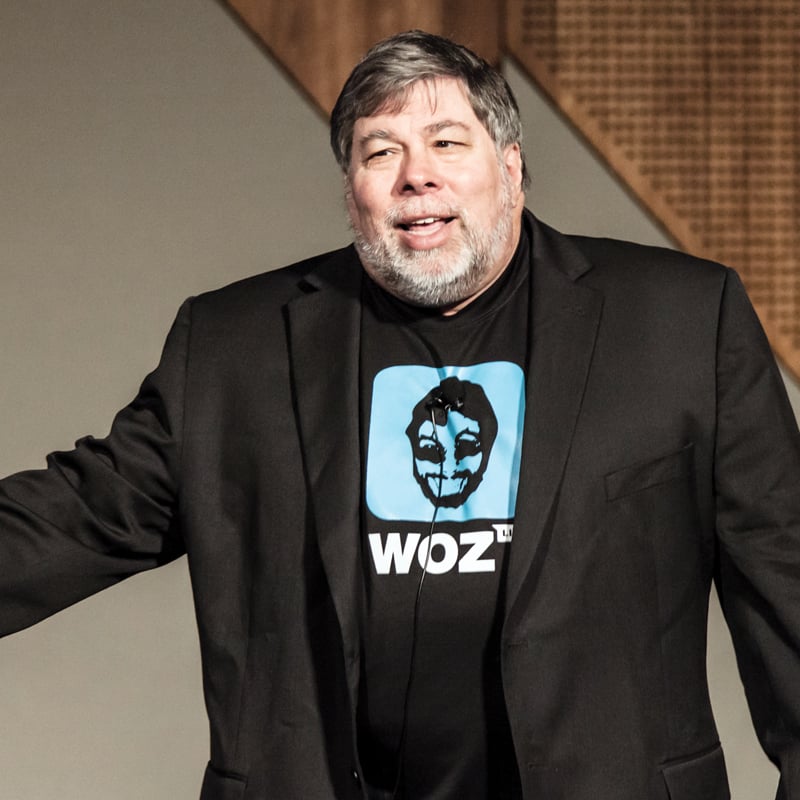 Mention the word "Apple" and the name Steve Jobs likely comes to mind. But while Jobs was the public face marketing the computer giant, Steve Wozniak, was the engineering genius — and equal partner — behind him. Together, with an equal third partner who funded their work, they took Apple from a garage to being the second-biggest information technology company in the world.
Wozniak, a Silicon Valley icon who helped shape the computing industry with his design of Apple's first computers, will be in Tallahassee Nov. 5 to talk about that journey and his own story as part of the Power Forward Speaker Series, co-presented by First Commerce Credit Union and the Florida State University College of Business.
While he still receives a "small paycheck" from Apple, Wozniak (nicknamed "Woz") is currently chief scientist for Fusion-io and wrote the New York Times best-selling autobiography, "iWoz: From Computer Geek to Cult Icon." Earlier this year he was honored with the Hoover Medal, an American engineering prize given for "outstanding extra-career services by engineers to humanity."
Wozniak, who permanently left Apple in 1987, recently spoke with Tallahassee Magazine about Apple, his career, his advice to young entrepreneurs and the role computers should play in the classroom.
No 'dogs' in Apple's Future
"Taking phones with keyboards and turning them into a flat panel, that sort of change doesn't happen very often. It doesn't happen every year.
"Where does Apple get its greatness? Where do they get the royalties from? It's from brand recognition. It's what Apple has done over time, which is make one great product after another after another, not take sloppy little intermediate steps that aren't excellent products. There are no real crappy products, no dogs come out of Apple.
"Apple isn't going to put out something great that can sell. It's got to be like Steve Jobs used to say, it's got to be insanely great. It's got to grab everyone by surprise and be the finest in its class if it's a new idea. I'm sure that's going on quite a bit behind the curtains."
Advice to Young Entrepreneurs
"First of all, it takes a lot of discipline and a lot of professionalism, which you don't have when you are young. Steve and I were very young, and our funder (Michael Markkula) was really the leader who told us how to establish a company, what sort of people we had to hire, how much expense should go into which department. He really established the business as a business.
"Ideas aren't worth that much, because 10,000 people in the world are having the same idea as you. Go and make working models. Be a builder. Actually make things. If you are more a thinker … you'd better link up with someone technical, maybe an engineering student, who can build some things and get some demos, even if it's just a demonstration on a computer screen.
"Go after products you want yourself. When it comes from inside your passion, your heart, that's when you get real great products and the big successes in life and business.
"Be willing to take a job. When you are young you have such great mental and physical energy. Put those into your own ideas in your own time; don't waste your time away when you're out of work just partying. You're limiting your chances for success."
Classroom Learning
"As long as we have a class of 30 kids all learning the same thing, the problems aren't going to go away just because we have great computers. The school teaches them the measure of intelligence is the score you get on the test that comes Friday, it covers these pages in the book and the right answer is the same as everyone else's. It's not your answer from your thinking.
"I taught for eight years, elementary to middle school … and I learned that class size is probably the biggest limiting factor in the way schools are run. I thought computers would be the teacher, but a computer doesn't have a personality; it doesn't attract a student to believe in it. It's just a machine."