Stephen Early Duggar Sr. Has A Second Chance at Life
Wharf Casual Seafood founder survives brain tumor, embraces three adopted grandchildren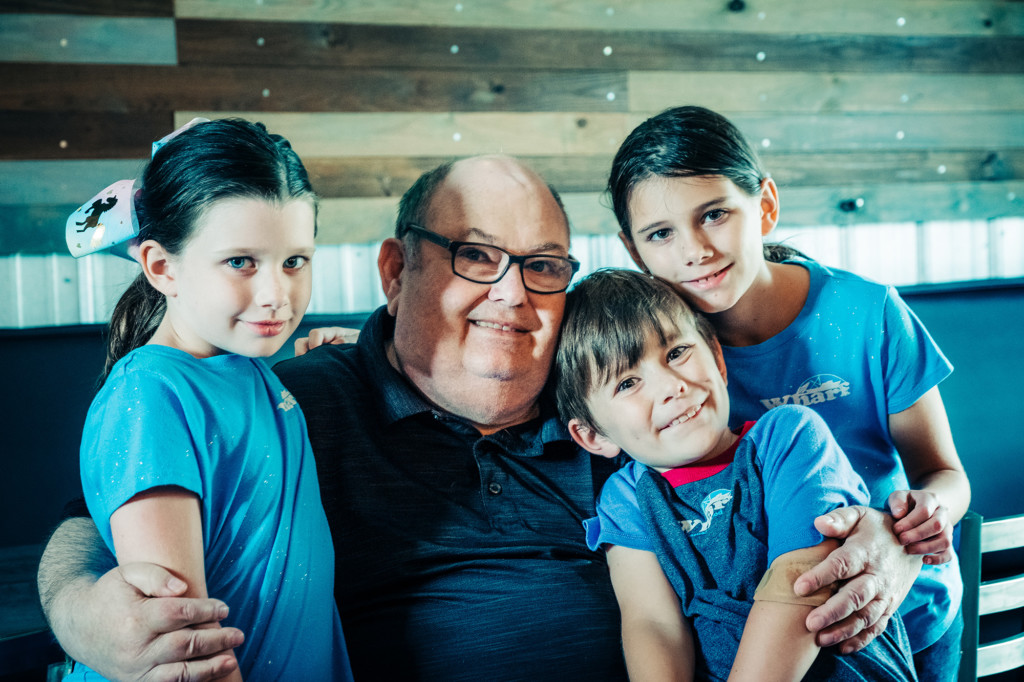 We invite you to cozy up to a story about survival, togetherness, expansion and love.
This one also is about brand-new starts. And some say it is about miracles.
It is about Stephen Early Duggar Sr., founder of Tallahassee-based Wharf Casual Seafood, and his growing family.
Duggar in 2015 was diagnosed with glioblastoma, a brain tumor. Doctors gave him two to four months to live.
Nearly five years later, he's still cooking.
"Too mean to die," Duggar says with a chuckle.
He's also too busy to die. He's still working as president and CEO of the restaurant company that he founded more than three decades ago. His company has grown to five locations, with a sixth on the way.
That doesn't match the growth rate of his family, which expanded significantly last year when his son and daughter-in-law adopted three young siblings who had lived in foster care.
The kids call their new grandfather "Big Dad," just as his two other grandkids have done.
"It's been a blessing," Duggar says.
Duggar says he had been treated for headaches and fatigue in April 2015 when an MRI revealed a brain tumor.
After surgery, he began chemotherapy treatment and baffled doctors, who gave him a slim chance to survive beyond the short term.
Tallahassee Memorial HealthCare shares "Cancer Patient Stories" on its website and says about Duggar, who goes by "Early": "What started as a 2-4 month prognosis has now turned into a second chance at life. Early has surpassed all odds … His goal is to inspire others with glioblastoma and remind anyone with cancer (to) 'just stay positive.' "
If they receive only discouraging news, Duggar tells Tallahassee Magazine, patients will "sit in a corner and die in four months. They need encouragement."
In June, Duggar and his wife, Eva, celebrated their 51st wedding anniversary.
Eva Duggar attributes her husband's recovery to the divine.
"There's no other explanation for it," she says. "He's here for a reason. I don't know if He's got something really big left for him to do on this earth."
Maybe that's where Big Dad comes in. He'd already been granddad to Seph and Adam — the children of his daughter, Genny Bailey, a teacher at Maclay School — before he and his family embraced three more kids.
His son, Stephen Jr., and daughter-in-law, Lee, wanted children but were OK without children, Lee says.
They led busy lives, her as a realtor and him as executive vice president of the family business.
In 2017, a friend told the couple about three siblings at DeSoto Trail Elementary School who were in foster care.
Every so often, the friend would show them photos of the children until Stephen Jr. and Lee decided to adopt all three.
"Our thinking was, 'We're not going to separate these kids,' " Lee says.
Aleah-Marie, 10, Stephen, 9, and Sharron, 8, moved in with the couple in April 2018, Lee says, and the adoption became official that summer.
The transition has gone as you might expect, she says — smoothly on some days and extremely challenging on others.
Overall, she says: "This has been the most amazing thing we'll probably ever do. They're amazing, and our family is amazing."
You might find it interesting that they happened to bring yet another Stephen into the family.
"There's a story there, too," Lee says.
The boy's name was Preston when Stephen Jr. and Lee adopted him. Before the adoption, another family had intended to adopt Preston and his two sisters but returned them to foster care.
That family had planned to make Preston a "junior," after the father, Lee says.
"We would have preferred that he keep his name because we loved his name," she says. "That was his identity. We had no intention of changing it. He insisted."
The family patriarch agreed with his new grandson.
"I said, 'What about that little fellow in a couple of years? What would he think? He'd think you didn't love him,' " Early Duggar says. "So he became Stephen Early Duggar III. So we've got the legacy."
Early Duggar opened The Wharf Seafood Restaurant in 1986 after hurricanes Elena and Kate pummeled the Gulf Coast and his wholesale seafood business.
With an adjusted name, the company today boasts two Tallahassee locations, plus one in Marianna and two in Montgomery, Alabama.
The restaurants offer a menu that trumpets the Gulf, the South and New Orleans, with a selection of fish, shrimp, crab claws, grits, po'boys and then some.
Stephen Jr. serves as the master of menu in addition to other executive duties.
"Steve can create the best dishes," his dad says.
As CEO, Early Duggar handles the buying for the company, which employs 120 and aims to soon hire more amid the planned opening of a store in Dothan, Alabama.
Also in the works: an aggressive plan to franchise.
About his company, Duggar, 70, talks with the enthusiasm of a 20-year-old.
"I don't feel any different," he says. "I just get tired and can't go as long. I was always the kind of guy who could outwork anybody. I just can't do that anymore."
His wife said in August that the effects of his chemotherapy treatment give him pain in his calves. She also pointed out that her husband lost most of his hair.
"He said that's what kept him going — me kissing the top of his head," Eva Duggar says. "He said, 'I love my kisses.' He's already had one today."
Zachary Bethel contributed to this article.